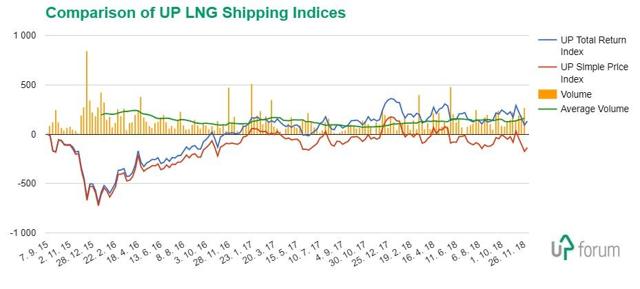 The most discussed stock was again (NYSE:DLNG) in the past week, because of speculations about a reduction in distribution. Despite adding over 12 % in one day, there still are scared investors and enthusiastical speculators, as we can see on abnormal volumes.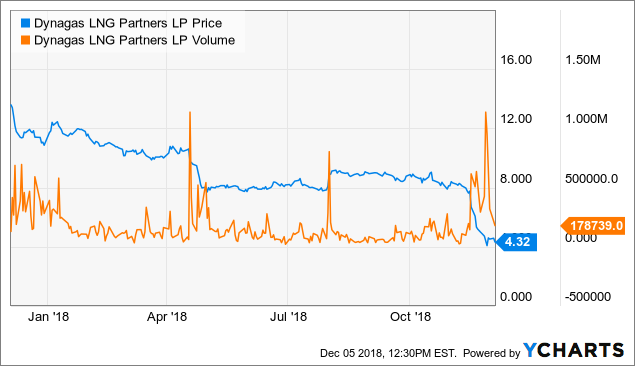 Losers were also (NYSE:GLOP) and (NASDAQ:GMLP) opposite to gainers (NASDAQ:GLNG), (NYSE:TGP), (NYSE:GLOG), and especially (NYSE:HMLP) after results. That was enough for the growth. Volumes were again higher than in history, but considering their overall increase in recent times, they were rather average.
VALUES OF UP LNG SHIPPING INDICES FOR 3rd DECEMBER
| | | |
| --- | --- | --- |
| UP Total Return Index | 130.92 | |
| weekly change | +39.4 | |
| | -135.9 | |
| weekly change | +39.4 | |
| UP Volume Trend Index | 2657.32 | |
| weekly change | 754.3 | |
In my last comment, I outlined the support-resist trendline and expected what would happen. It is delighting that the line has served the market as a support now.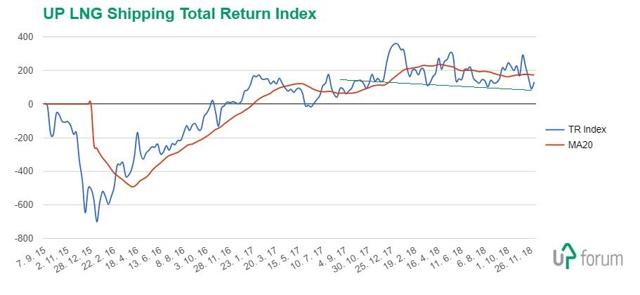 Because the results and earning calls are over, it depends now on the overall development and sentiment of the markets. Rising volume shows us changes in portfolios. Investors and analysts have so long been expecting a decline until it has come. This may be related to QE and other nonstandard tools that did not solve the problem but triggered growth. LNG sector has been rising on a long-term basis, albeit recently from a small basis. This also applies to LNG carriers - there is rising interest about their service.
Hopefully, there is already big enough money in LNG industry that prevents protectionist measures towards China and others.
LNG attractions of the past week
Disclosure: I am/we are long GMLP, DLNG.