Values of UP LNG Shipping Indices for 15th March
| | | |
| --- | --- | --- |
| UP Total Return Index | 68.89 | |
| weekly change | + 68.26 | |
| UP Simple Price Index | -223.60 | |
| weekly change | + 68.26 | |
| UP Preferred Simple Price Index | -122.92 | |
| weekly change | - 15.79 | |
| UP Volume Trend Index | 1283.41 | |
| weekly change | + 289.80 | |
(source: Author)
Normally UP indices move between 30 and 60 points, so last week´s rise was above average.
All stocks and units of UP indices rose, especially GasLog (GLOG) which gain 8%. In terms of technical analysis, stocks and units are still in line with 1-2-3 pattern, which I have outlined in one of the previous comments. Unfortunately, the volume remains below average, although the situation is not same for all the stocks.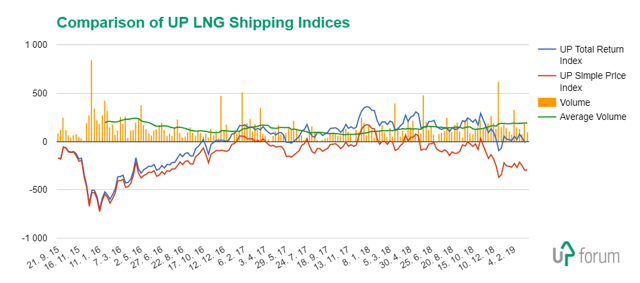 (source: Author)
Dynagas (DLNG), Golar LNG Partners (GMLP) and Teekay LNG (TGP) remained below average. Volume of Höegh LNG LP (HMLP) was twice as high as normally. Also GasLog (GLOG) volume was above its average as well. Not only LNG shipping sector was rising, as confirmed by the chart of UP Total Return Index vs. SPY.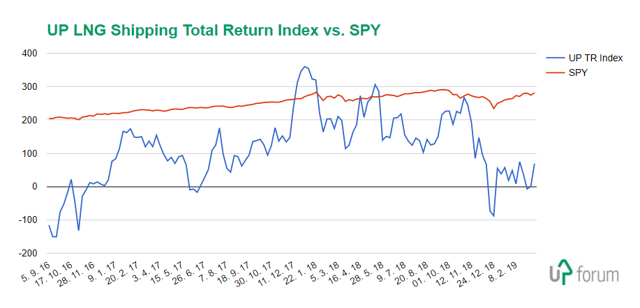 (source: Author)
In the second week, the decline in preference shares continued and we could practically leave a comment from last week. Just instead of "obligatory loss" for Dynagas shares (DLNG-PA) and (DLNG-PB), we should write about a carnage at which these two stocks almost reached low December values ​​and lost 7 and 6 %.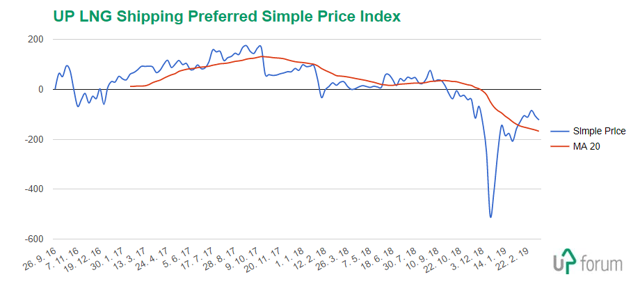 (source: Author)
Tomorrow Dynagas will announce its results for the last quarter of past year, as the last one of the sector. We can only speculate whether we will hear positive news about the October refinancing of $250 million debt, or not.
Other preferred stocks ranged from +/- 0.5%. Exceptions are Golar LNG LP preferred (GMLPP), which has achieved 1.5% and Teekays-PA (TGP-PA) with growth of 1%.
Personal Note
Yesterday I have automatically closed my position on GasLog (GLOG) on profit target. It was just a short-term trade based on technical analysis and I still have positive mid-term view as written on my previous comment. But have no position now.
LNG highlights
GasLog Partners secures $450 million loan covering LNG quintet, writes LNG World News. Cheniere completes Sabine Pass LNG train 5. Venture Global boosts LNG development scope to 60 mtpa. Japan's LNG imports to decrease with post-Fukushima restart of nuclear reactors. Shipping companies invests on gas carriers due to growing LNG demand.