Values of UP LNG Shipping Indices for 3rd May
| | | |
| --- | --- | --- |
| UP Total Return Index | 69.2 | |
| weekly change | +24.23 | |
| UP Simple Price Index | -226.7 | |
| weekly change | +17.74 | |
| UP Preferred Simple Price Index | -89.69 | |
| weekly change | +20.97 | |
| UP Volume Trend Index | 1002.32 | |
| weekly change | +345.98 | |
(source: author)
This week all UP LNG Shipping Indices rose. UP Total Return Index was supported by ex-dividend dates of Dynagas LP (NYSE:DLNG) and GasLog LP (NYSE:GLOP), what made additional gain of 6,49 pts to UP Simple Price Index. Next week will be similar, while Golar LNG LP (NASDAQ:GMLP) and Teeaky LNG LP (NYSE:TGP) have their ex-date.
Every investor knows about ex-date, that is nothing to stress in post about UP Indices. The reason I write about that is different.
Both UP Total Return and UP Simple Price indices continue to rise along a trendline.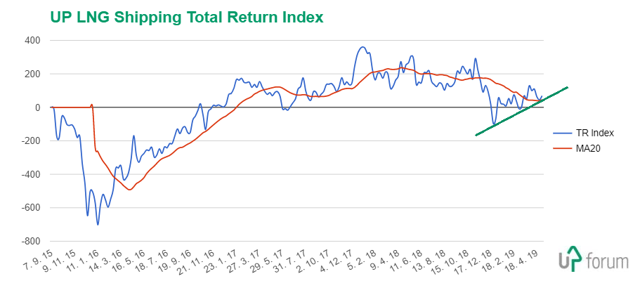 (source: author)
This is important in these uncertain times. With some optimism we can see a target somewhere at 125 pts, where will index meet a long-time line of resistance.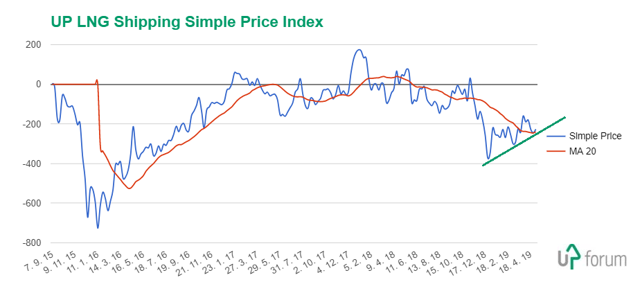 (source: author)
Let´s go back to cinema and watch our LNG western movie. Some villagers like Teekay LP (TGP) and Golar LNG LP (GMLP) found their courage to support hero Höegh LNG LP (NYSE:HMLP). This inspired Golar LNG (NASDAQ:GLNG) to break ex-support line (now resist line) and gain 5.7 %. Their support is really important for hero Höegh LNG LP (HMLP), who seems a bit tired.
GasLog (NYSE:GLOG) also tried to rise. It was busy Friday for this partnership - earning call, distribution declaration and also earnings. At first investors were optimistic, but during the day GLOG turn to red. And finished trading on same price like last Friday. GLOG is back on support line.
Ex-dividend
Volume and price action after ex-dates show what type of investors participate. Nor Dynagas neither GasLog LP lost significantly yet. But a day before ex-dates many traders closed their position in both. Majority in these two partnerships should have mid- and long-term investors now. I expect some stabilization of price and gradual rise. But again - I will do no action now.
On Monday Golar LNG LP (GMLP) and Teekay LNG LP (TGP) have their ex-date.
UP Indices vs. SPY
Sell in May and go away? I am pesimistic about future market gains, but I try to follow the market and act on its action. On chart with UP TR Index and ETF SPY (NYSEARCA:SPY) we can see that UP index has synchronised its move with etf. There is huge space for UP indices to catch the ETF back and vice versa.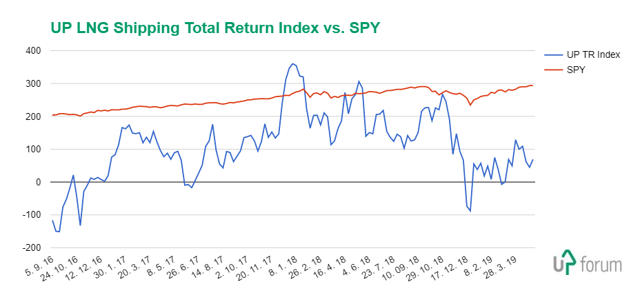 (source: author)
UP Preferred Simple Price Index has rose again. Only preferred by HMLP (NYSE:HMLP.PA) has lost a few cents. Preferreds offer about 8.6 % on average and this is still enough money with better comfort than common stocks offer. So I expect continuing rise.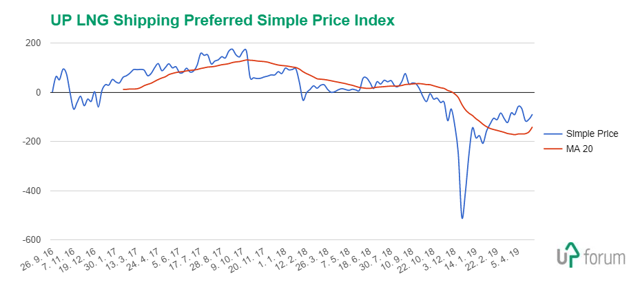 (source: author)
My experience is that as I tell an opinion on market, right the opposite will happen. So look at UP LNG Shipping indices and make your own interpretation. I will be glad if you right your ideas as comments.
Disclosure: I am/we are long DLNG, GMLP.
Additional disclosure: I also have small positions for study purposes in each of other seven stocks included in UP indices.