Values of UP LNG Shipping Indices for 7th June
| | | |
| --- | --- | --- |
| UP Total Return Index | -35.63 | |
| weekly change | -16.47 | |
| UP Simple Price Index | -343.06 | |
| weekly change | -16.47 | |
| UP Preferred Simple Price Index | -151.07 | |
| weekly change | -21.63 | |
| UP Volume Trend Index | 590.1 | |
| weekly change | -233.73 | |
(source: author)
On Monday and Thursday everything wen well, but since Wednesday have the LNG shippings stocks been losing.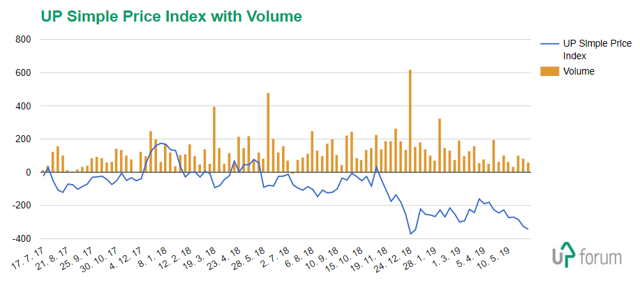 (source: author)
My last week clasification of stocks is still valid. The main losers were the biggest companies GasLog (NYSE:GLOG) and Golar LNG (NASDAQ:GLNG), so UP indices lost too. The most positive was Höegh LNG Partners (NYSE:HMLP) and Teekay LNG Partners (NYSE:TGP).
Personal note: The biggest opportunity for me is Dynagas LNG Partners (NYSE:DLNG), as there is limitied risk - $0 level is close. Everything is bad with this partnership, they might (will) cut distribution to zero. The market sentiment is also negative (read the comments under SA articels), so I have read the SEC filling (20-F), especially the Risk releating to Partnership. There is written about all bad that can happen and it is better than all earning calls. The best management can do is stopping the distribution and start repaying debts. This can influence the price and price gain will be better for investors than the distribution. I know this is hard to hear from MLP, which is based on distribution. Tony Laurizen said during last earning call that GP have not sold nor bought any stock. But quite heavy volume is still there. I look at DLNG as a pure price speculation which will take some time and I work with all tools I have. I wrote this just to be open to my readers and it is not an advice.
Next chart shows that whole market represented by etf SPY (NYSEARCA:SPY) rose. As gains of LNG shipping stocks were lower than loses, I guess it is negative news.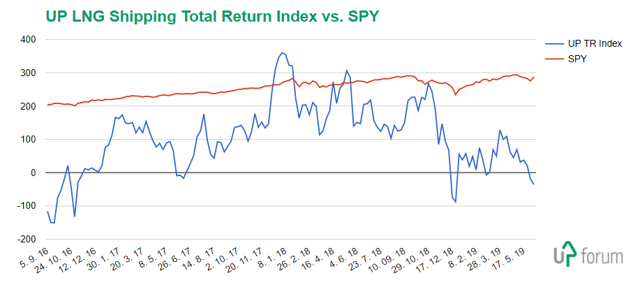 (source: author)
Preferred stocks lost what they gain last week, but here I am not so negative.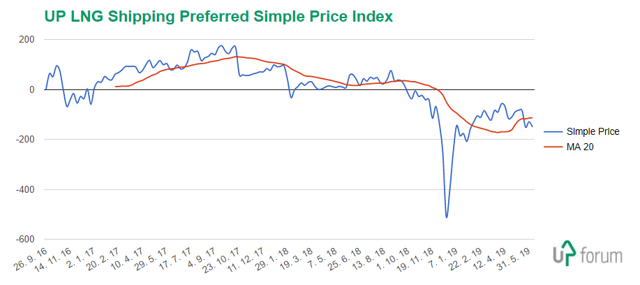 (source: author)
The main losers were both Dynagas and all Golar LNG Partners preferred, other stocks have almost risen. Golar LNG Partners preferred (NASDAQ:GMLPP) copied its unit (NASDAQ:GMLP).
Disclosure: I am/we are long DLNG, GMLP.
Additional disclosure: I also have small positions for study purposes in each of seven stocks included in UP LNG Shipping indices.