Values of UP LNG Shipping Indices for 5th July
| | | |
| --- | --- | --- |
| UP Total Return Index | 1.66 | |
| weekly change | +3.38 | |
| UP Simple Price Index | -243.94 | |
| weekly change | +3.38 | |
| UP Preferred Simple Price Index | -118.75 | |
| weekly change | +23.45 | |
| UP Volume Trend Index | 142.8 | |
| weekly change | -907.55 | |
(source: author)
It was quite sucesfull week for LNG shipping stocks, despite UP LNG indices gained only 3 points.
Many stocks opend above previous week close and went down, but rose at the end of week. A lot of them is set to rise again.
I am long in GasLog (NYSE:GLOG) with options, but Gaslog LNG Partners (NYSE:GLOP), Golar LNG Partners (NASDAQ:GMLP), Höegh LNG Partners (NYSE:HMLP), Teekay LNG Partners (NYSE:TGP) have also potential to grow now.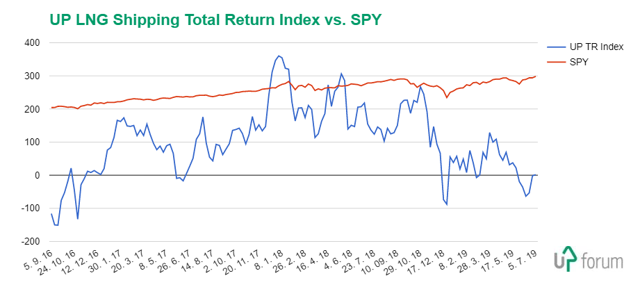 (source: author)
U.S. stocks represented by etf SPY rose too, what was the main reason for LNG stocks. The only trouble is low volume. That relativize all expectation.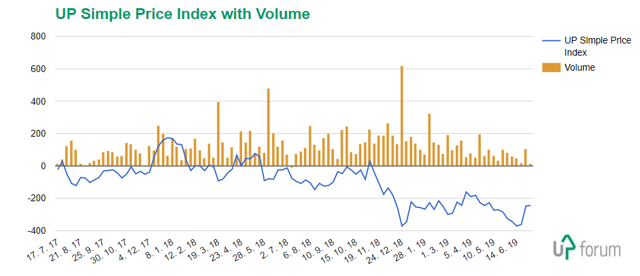 (source: author)
Dynagas LNG Partners (NYSE:DLNG) should inform about the distribution for Q2 in coming weeks. The best decision would be cutting the distribution and repaying the debt. That would allow the common stocks to grow a bit.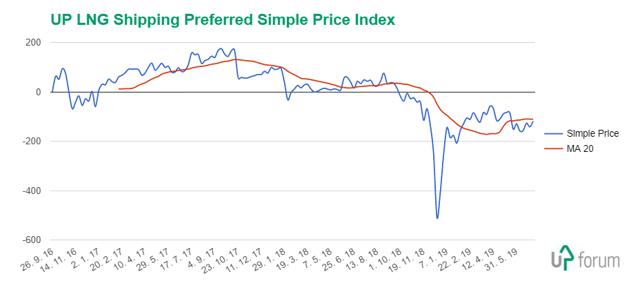 (source: author)
Preferred stocks rose too with both Dynagas.
LNG Highlights
Disclosure: I am/we are long DLNG, GMLP, GLOG.
Additional disclosure: I also have small positions for study purposes in each of seven stocks included in UP LNG Shipping indices.