Values of UP LNG Shipping Indices for 23rd August
| | | |
| --- | --- | --- |
| UP Total Return Index | -132.23 | |
| weekly change | +14.55 | |
| UP Simple Price Index | -393.85 | |
| weekly change | +14.55 | |
| UP Preferred Simple Price Index | -69.99 | |
| weekly change | +16.65 | |
| UP Volume Trend Index | 5109.61 | |
| weekly change | -1681.07 | |
(source: author)
Once again I will start this weekly report with long-term chart, because UP indices are still very low. Despite they gained 14.55 points last week, the situation is not very optimistic for bulls.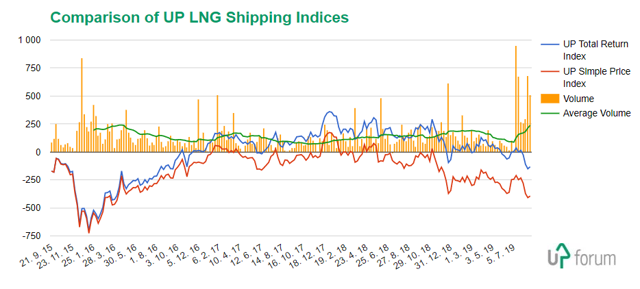 (source: author)
The main disappointment was Höegh LNG Partners (NYSE:HMLP), who lost over 10 % after announcement of EPS. It was $0.1 as the distribution payment is $0.44. 
The reduction in total revenues quarter-on-quarter to 33.7 million is mainly due to the off-hire of Höegh Gallant in the quarter, and the non-recurring revenue recognition of insurance proceeds in the second quarter last year.  Steffen Føreid, CEO, CFO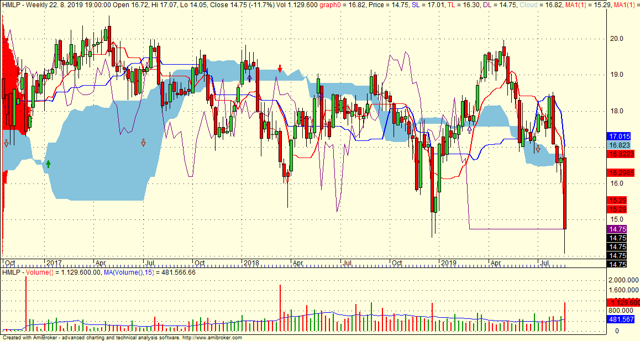 Höegh LNG Partners weekly chart (source: author via Amibroker software)
The result is, that after spring GLOP earning announcement by Morgan Stanley, we lost the last undeniable stock in LNG shipping sector. My broker is still increasing margin requirements for this stock, now it is 55 %, what is very high. To see all black, this partnership can follow Golar LNG (NASDAQ:GLNG) and go down and down.
But not everything is black and above scenario is possible, but not necessary. On chart above you can see how the price of HMLP went as low as the December 2018 lows and stopped. It will depend very much on this week sentiment - if the markets go up, many sellers might change their mind.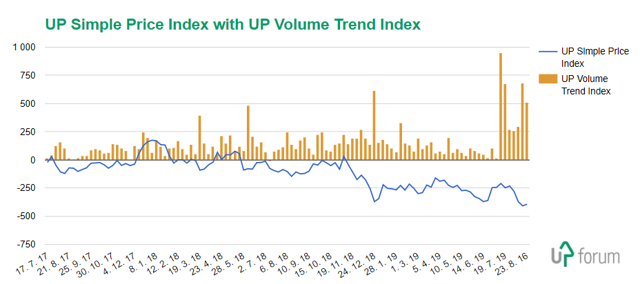 (source: author)
Volume was still very high, thanks to HMLP and TGP (Personal note: this stock might be ready for another up move via 1-2-3 method, but depend on whole market reaction. I do not take this trade).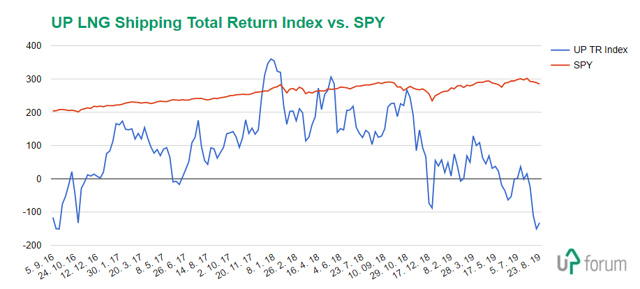 (source: author)
Last week whole market lost, so UP LNG Shipping Indices were contrary to it.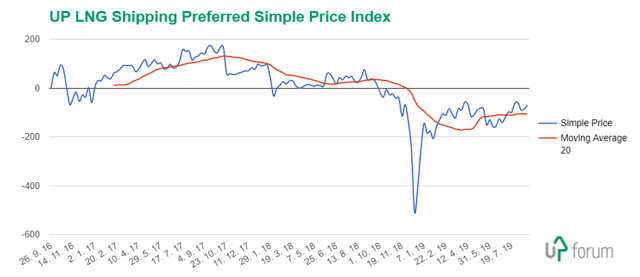 (source: author)
Preferred stock rose again even with HMLP. This stock is still above 26, so investors have no fear about earnings here. That is good.
To make long story short, there is no "100 % safe" stock in LNG shipping sector. That is liberating.
Disclosure: I am/we are long DLNG, GMLP, GLOG.
Additional disclosure: I also have small positions for study purposes in each of seven stocks included in UP LNG Shipping indices.