Values of UP LNG Shipping Indices for 6th September
| | | |
| --- | --- | --- |
| UP Total Return Index | -134.24 | |
| weekly change | +9.4 | |
| UP Simple Price Index | -395.86 | |
| weekly change | +9.4 | |
| UP Preferred Simple Price Index | -94.5 | |
| weekly change | -26.78 | |
| UP Volume Trend Index | 1051.73 | |
| weekly change | -1865.65 | |
UP LNG Shipping indices rose mildly with low volume.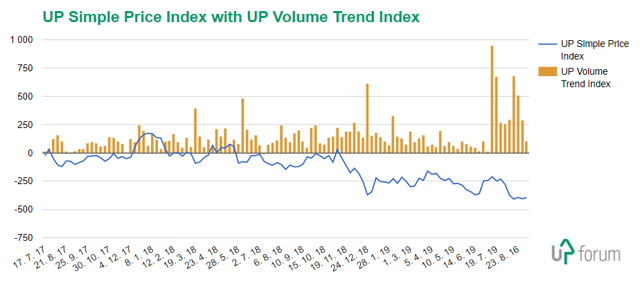 Main movers were Höegh LNG Partners (NYSE:HMLP) and Teekay LNG Partners (NYSE:TGP), but even their volume was under average. That is not very convincing.
Rest of the market move more, SPY is below it´s highs again.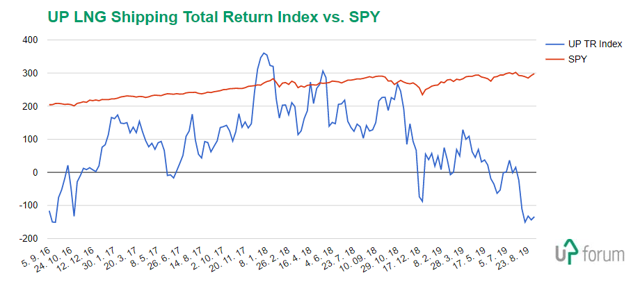 Preferred stocks lost 26 points thanks to both Dynagases and GasLogs. Höegh preferred is back to its highs.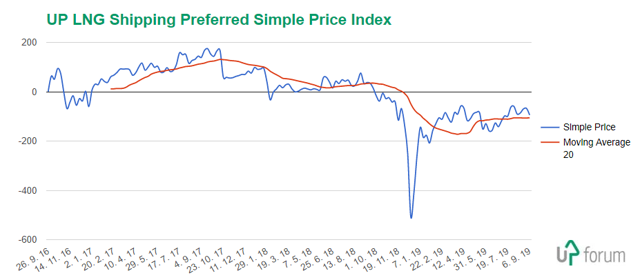 Disclosure: I am/we are long DLNG, GMLP, GLOG.
Additional disclosure: I also have small positions for study purposes in each of seven stocks included in UP LNG Shipping Indices.