Values of UP LNG Shipping Indices for 13th September
| | | |
| --- | --- | --- |
| UP Total Return Index | -80.54 | |
| weekly change | +53.69 | |
| UP Simple Price Index | -342.17 | |
| weekly change | +53.69 | |
| UP Preferred Simple Price Index | -115.72 | |
| weekly change | -21.22 | |
| UP Volume Trend Index | 1586.71 | |
| weekly change | +534.98 | |
(source: Author)
Last week main UP indices rose by 53 points. The gain is nicely visible at the chart with etf SPY.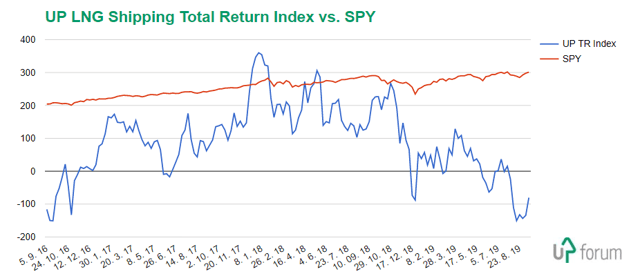 (source: Author)
Volume was higher a bit, but still low. Main price gainers were Golar LNG (GLNG), GasLog Ltd. (GLOG) and Teekay LNG Partners (TGP). All of them had higher than average volume.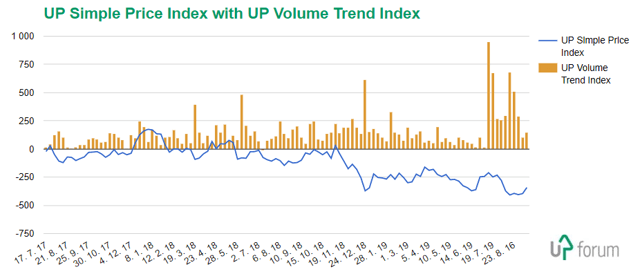 (source: Author)
As GLNG and GLOG only reduced their downtrend, TGP is technically starting an uptrend. We can await a correction this week (?) and then confirmation of the uptrend with new highs. I don´t know about any new news that could initiate this up move so I suppose that it is based on technical analysis/cumulative speculation.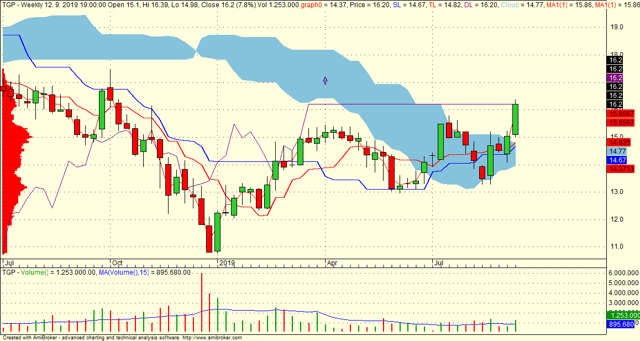 (source: Author via Amibroker platform)
Other stocks and units weren´t so successful. Golar LNG Partners (GMLP), Höegh LNG Partners (HMLP), GasLogs LNG Partners (GLOP) closed in green, but below their week highs. This indicates that sellers were stronger than buyers.
Dynagas LNG Partners (DLNG) announced release its financial results for Q2 to 26th September after market close. This is quite late and investors hope to hear good news about refinancing. This would smooth probable reduction of distribution to $0. Anyway the price can go below present support at $1.17. Present range is between $1.17 and $1.35.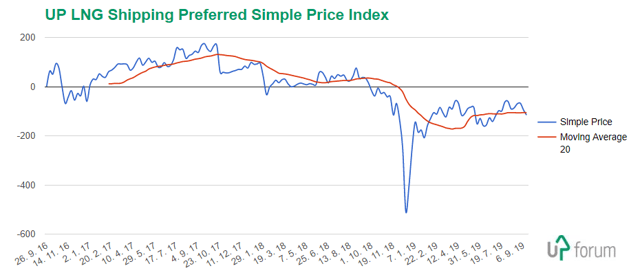 (source: Author)
Preferred stocks lost and UP index is below the MA20 (moving average of 20 weeks). Main losers were both Dynagases, all GasLogs LNG Partners and Höegh. Höegh went to support at $26 and this might be also technical/speculative sell.
Everybody is loking forrward for winter with higher spot rates and ton miles. As Commitment of Traders show, large speculators are short in stocks (S&P index). Third quarter was better for LNG shipping companies, but was marked with preparation for winter season - every possible drydock was done to have maximum of ships prepared for top season. Despite LNG shipping sector is health, it will be pushed by whole market. It will be easier because only TGP is technically in uptrend. But the value of shipping company is present in their stocks.