Values of UP LNG Shipping Indices for 4th October
| | | |
| --- | --- | --- |
| UP Total Return Index | -96.32 | |
| weekly change | +15 | |
| UP Simple Price Index | -357.94 | |
| weekly change | +15 | |
| UP Preferred Simple Price Index | -19.88 | |
| weekly change | -4.18 | |
| UP Volume Trend Index | 3490.91 | |
| weekly change | +2764.58 | |
(source: author)
Since 4th October there are updated weight of constituents of the UP LNG Shipping Indices. As are based on market weight, you can easily compare 3M performance of every stock or unit.
Weight of constituents since 4th October 2019
| | | |
| --- | --- | --- |
| Name | Index Weight | Previous Index Weight |
| DLNG | 0.96% | 0.72% |
| FLNG | 8.27% | 8.87% |
| GLOP | 15.87% | 13.69% |
| GLOG | 16.68% | 16.15% |
| GLNG | 21.63% | 26.03% |
| GMLP | 11.26% | 11.14% |
| HMLP | 8.48% | 7.99% |
| TGP | 16.84% | 15.41% |
(source: author)
We can also look how active were institutional traders. Data are from CNN website. Three tickers (FLNG, GLOP and HMLP) have no corporate action yet.
Dynagas LNG Partners:

(source: CNN)
GasLog Ltd.:

(source: CNN)
Golar LNG Ltd.: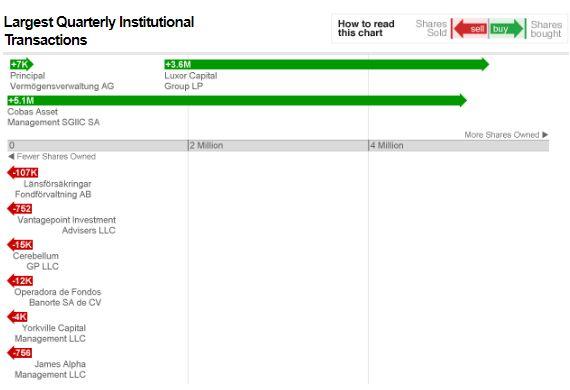 (source: CNN)
Golar LNG Partners:

(source: CNN)
Teekay LNG Partners:

(source: CNN)
Significant trades were at DLNG a GLNG.
Back to UP indices now. Both UP Total Return and UP Simple Price indices added 15 points on higher than average volume. Volume is much higher than the point rise was, so we can guess there were huge changes in positions.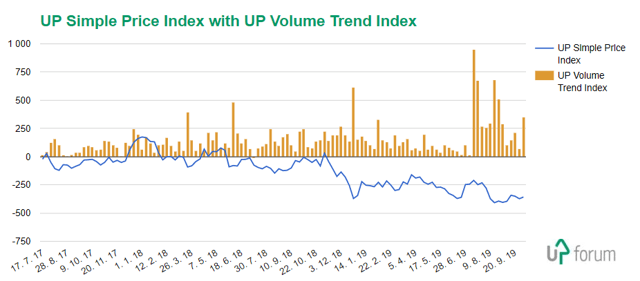 (source: author)
Market represented by etf SPY lost. I preferre technical analysis to fundamental, so I draw a trendline. I guess we will see a short up move and then the UP TR index would go down again. If the index breake the trendline, it will be strong signal of bull market. But now nearly all stocks and units are in downtrend, so continuing of decrease is more likely.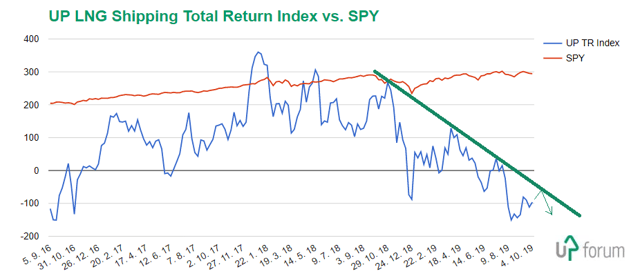 (source: author)
Preferred stocks lost also, as index bounced from 0. But there is more likely to rise above, as investors will prefere the safety preferred.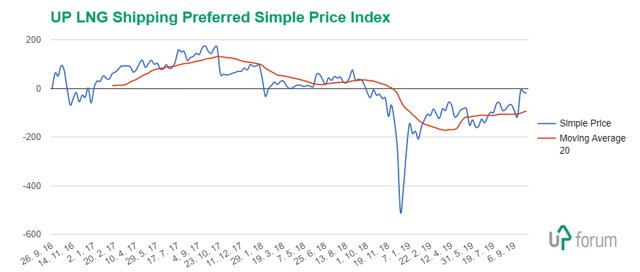 (source: author)
Disclosure: I am/we are long DLNG, GMLP, GLOG.
Additional disclosure: I also have small positions for study purposes in each of seven stocks included in UP LNG Shipping Indices.