TRXC has been on a strong upward move for over a year now from below $1. Over the last few months, as the price has hit new highs, there have always been healthy pullbacks as traders take profits and add to the supply of shares creating short-term downswings. However, buyers have proven to be in control as these dips are bought right away. 
In today's blog, we will identify the lower indicator setup and current areas we have on watch into the rest of the week. Buyers were definitely in control but profit takers took over quickly into the close as the whole market pulled back some. 
Current Chart Setup: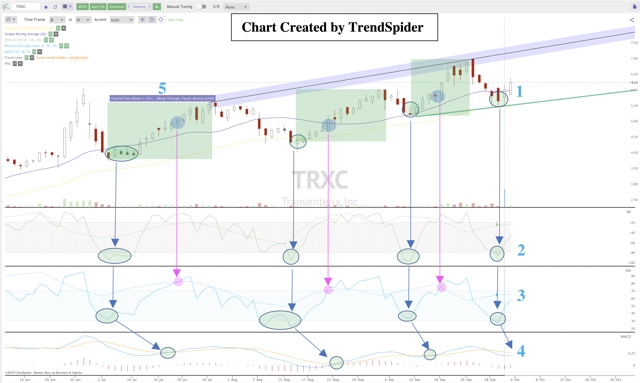 This chart was created by the TrendSpider platform
Chart Summary:
1. This number on the chart represents the daily candle breaking through and closing above the 20-day simple moving average. 
2. The Williams % Range was previously signaling oversold right when the price bottomed out on the 50-day exponential moving average (yellow line) creating the channel support that has now formed. 
3. This number on the chart represents the daily RSI bouncing out of oversold levels that coincided with the Williams % R. However, this number also shows the daily RSI getting close to breaking through the weekly RSI which has confirmed further upside in the past. This is shown by the pink arrows and circles on the chart. 
4. This number corresponds with the MACD curling which has generally been a lagging indicator in the past. Notice how the RSI and Williams % Range bottom out first and then the MACD confirms the move up. The MACD is currently setting up exactly how it has in the past.
5. An alert for a test of the channel resistance above is set with a cushion of 20 cents below the actual trendline in case the price doesn't touch the trendline exactly above. 
YouTube Video Link:
https://www.youtube.com/watch?v=PQA3k1vR1oo&ab_channel=TrendSpider
Conclusion:
Overall, the backtest here looking at a mix of the %R, RSI, MACD, and daily vs. weekly lower indicators shows this may have more room to move up to test the price channel resistance above in the $7-$7.20 range. However, there are always risks in the stock market and technical backtests can always fail to further materialize. As the week comes to an end, it will be important to see how the weekly candle closes to start the second week of October.