If you haven't felt like you were on a roller coast at more than one point over the last 6 months, you likely haven't been trading in the stock market. The recent price action across the board has bee nothing short of volatile and exciting to watch. Different variables, on both national and global fronts, have sent shockwaves throughout the financial markets across the globe. Click here to view the full written analysis of all three charts. 
SPY: Weekly Candle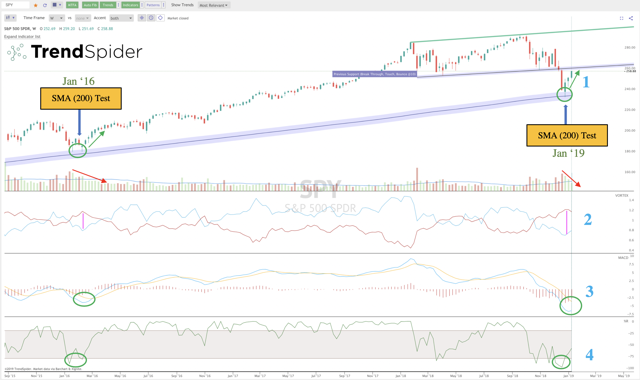 QQQ: Weekly Candle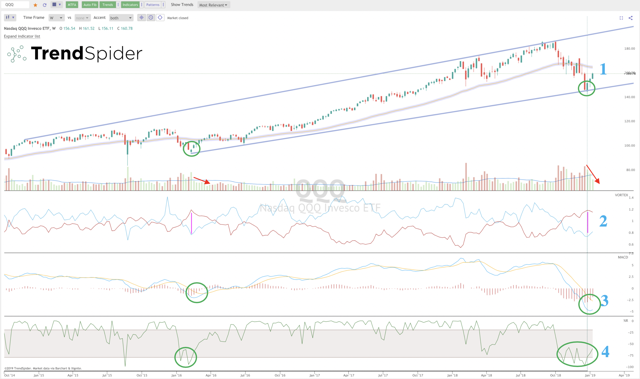 XBI: Weekly Candle
Overview of the SPY, QQQ, and XBI Charts into Monday
The weekly technical charts for SPY, QQQ, and XBI all show a large move since the beginning of 2019 on volume that has been decreasing. As the price increases, the volume can move down as the shares traded are at a higher price level. However, generally for a strong trend with momentum backing it, increasing volume with increasing price is what bulls want to see and vice versa for bearish participants in the market. 
All three charts are showing strong technical resistance levels being approached into next week with the channel support now acting as resistance for SPY and the 50-week EMA above for QQQ and SPY. As all three charts show, the momentum indicator, Williams % Range, has not been this oversold since the downturn in 2015 and into 2016 which is the first reason why this recent move looks so similar to Q1 of 2016. On top of that, the MACD is curling and could potentially cross to the upside which has not happened since the downturn started in October. Lastly, the Vortex Indicator seems to be in a prime spot for a bullish reversal which is almost identical to early 2016 as well.
As market uncertainty continues with the government shutdown and trade talks still moving slowly, one thing is for certain; next week is crucial as far as technical resistance levels are concerned. 
Will the market continue up or rollover after what seems to be a dead cat bounce? Leave your comment below!
NOTE TO READERS: All charts posted in this article are from the TrendSpider automated technical analysis platform and have been annotated outside of the platform. These are simply our views of the current technical landscape of the stock market and should not be taken as trading or investment advice. To read the details on each individual ticker into next week, check out our blog post here.