Summary
Church & Dwight (NYSE:CHD) - although a four star financially strong stock - is fundamentally in overbought territory for some time. However, the company is rewarding the market with a continued and substantial steady growth for which the market is prepared to pay a higher price.
In August 2015, see my previous instablog post, this stock had a PE of 29, and the market was prepared to pay for this stock at a similar price. With the continued growth of revenue and cash flow in 2016 the market have shown to be willing to pay our forecast of 2016 and 2017 at a higher PE than the normal historic PE. Our forecast last year was somewhere between USD 93 (2016E) and USD 101 (2017 E).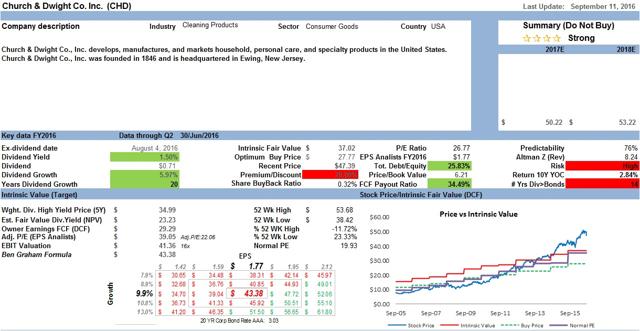 The stock has split 2-1 recently on September 2nd and trades now around USD 47.
With the current PE ration of nearly 27 and a historic PE of 20 this stock is still overbought from a historic PE perspective. From other perspectives, such as a Discounted cash flow or using Graham's Valuation method, or a 5 years Dividend High Yield weighted average we see a value of USD 29 - USD 43 also as more reasonable.
Given the analysts expectations of a continued growth for this stock what will then be a reasonable price to pay for this stock?
If the revenue and cash flow continues to grow, I expect the market is prepared to pay the current PE ratio of 26.77. With an expected growth in earnings of 1.77 (2016), and a 9.5% growth in Earnings per share, our forecast for a stock price in 2017 and 2018 will then be in the range of USD 50-USD 53. With the current price of USD 47 this is at the time of writing a 6% discount.
I will expect some further selling pressure into October-November 2016 due to the selling season and the recent split which could cause the PE to retrace back to it's historic mean of 20. If this happens this will be then an excellent buying opportunity. Buying at a discount will certainly lower my risk in this propsective investment.
I will put this stock on my watch list to buy if the stock price will reach between a reasonable discount of 15%-25% on our expected forecast which is anywhere between USD 37 - USD 43.
Disclosure: I/we have no positions in any stocks mentioned, and no plans to initiate any positions within the next 72 hours.
Additional disclosure: Disclaimer: Fiorente, its founder, website owner, and affiliates are not registered investment advisors or broker-dealers and do not purport to tell people, or suggest to people, what they should buy or sell for themselves, nor do we recommend any specific approach to investing in securities. All stock, futures and options trading involves risk. You must decide your own suitability to trade and manage risk. The opinions in this article are for informational and educational purposes only and should not be construed as a recommendation to buy or sell the stocks mentioned or to solicit transactions or clients. Past performance of the companies discussed may cease to continue and the companies may not achieve the earnings, profit or dividend growth as predicted. The information in this document is automatically generated from sources believed to be accurate and reliable, but we have not independently verified this. Under no circumstances should a person act upon the information contained within. We do not recommend that anyone act upon any investment information without first consulting an investment advisor as to the suitability of such investments for his specific situation.