The critics of the legalized cannabis industry are few and far between nowadays, especially with full legalization in effect in Canada and the United States likely to follow Canada's lead. Other nations like Italy, Mexico, and the Czech Republic are also relaxing their laws, making legalized marijuana a highly lucrative market to be involved in today.
The Global Cannabis Wealth research team has uncovered numerous big winners recently, and we're constantly being asked how we go about identifying the best marijuana penny stocks. Naturally, we don't expect you to be as obsessed with pot-stock data analysis as we are, but we're more than happy to give you a behind-the-scenes peek at how we handpick our marijuana-stock recommendations.
In our experience, the best marijuana penny stocks that have made the most money for us are the licensed producers and the companies that hold them as subsidiaries. And among the licensed growers of legal marijuana products, Global Cannabis Wealth wants to see cutting-edge, top-of-the-line technology in their cannabis-growing technology.
Courtesy of profitconfidential.com
Beyond having an advanced growing methodology, cannabis growers and exporters should be able to provide top-quality product without the use of harmful pesticides or herbicides. Our research has found that millennials are frequently the best supporters and consumers of legalized cannabis products, and they strongly prefer natural, organic products whenever possible.
A global outlook is also an essential criterion that we look for when evaluating the best marijuana penny stocks. Global Cannabis Wealth prefers to invest in a cannabis company that can export the legal product internationally, since the legalization movement is not limited to just one or two countries.
I already mentioned a number of countries that are easing their restrictions on cannabis sales and usage. Right now, Australia and Germany preparing to legalize the adult recreational use of cannabis; it's only a matter of time.
This wave of policy change is producing extraordinary opportunities for investors in the best penny marijuana stocks. In fact, by the year 2025, the legal cannabis market is expected to be worth $146.5 billion, and projections indicate that it will grow at a CAGR (compound annual growth rate) of 34.6%, which is unmatched by any other sector of the global economy.
Therefore, the ability to export to multiple countries around the world is a deciding factor in our search for the best marijuana penny stocks. It's an edge over the competition that makes investing and profiting much easier because you can rest assured that you're investing in a company with strong revenue streams from multiple global markets.
These are strict guidelines for choosing the best marijuana penny stocks, but we did find a company that exceeds all of our criteria: Pure Global Cannabis Inc.(TSX-V: PURE, OTC: PRCNF), a pharmaceutical-grade licensed cannabis producer dedicated to developing new and innovative brands and products for discerning consumers around the world.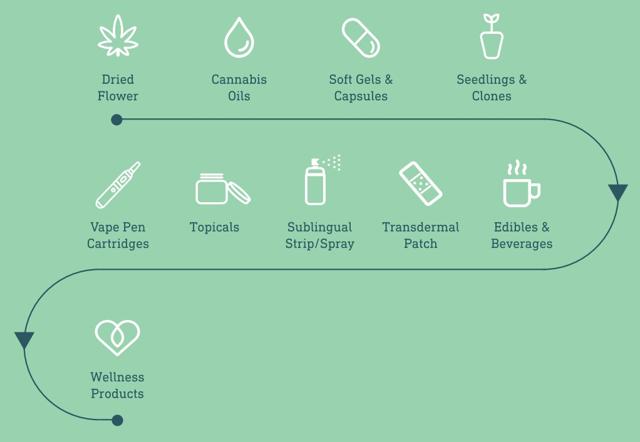 Courtesy of Pure Global Cannabis Investor Presentation
As we discussed earlier,Global Cannabis Wealth has experienced the greatest success with licensed producers and companies that hold them as subsidiaries. Pure Global Cannabis' holdings include leading companies in the cannabis-growing space, which are able to produce and distribute the product in multiple formats: topicals, edibles, oils, patches, dried flower, vape pen cartridges, and more.
A major advantage of Pure Global Cannabis is their highly advanced growing system, known as the multi-ponic grow method, which produces several-fold greater yields over traditional methods while reducing cost and eliminating pesticide and herbicide use. This provides not only more cannabis product, but also a higher-quality and more natural product that millennials and other demographics prefer.
What really puts Pure Global Cannabis above and beyond the others is their unique ability to export the 100% legal cannabis product internationally. Other companies that claim to do this are generally overpriced, expensive mega-cap companies; Global Cannabis Wealth would much rather invest in a low-priced marijuana with the potential for massive price appreciation.
Pure Global Cannabis is precisely the international exporter that investors in the best marijuana penny stocks are looking for right now. Global exporting abilities, top-notch growing methodologies, and a wide variety of product offerings and formats are just a few of the reasons to put PURE/PRCNF in your portfolio today.