Alerting readers to cannabis stocks that are trading at a deep discount is a real challenge nowadays, especially with well-known companies making headlines and announcing deals with the likes of Altria Group, Anheuser-Busch InBev, Constellation Brands, and Molson Coors. Still, we do manage to find hidden gems, and there are cannabis markets that haven't reached the saturation point.
One company with incredible potential right now is ICC International Cannabis Corp. (CSE: WRLD, OTC: WLDCF), which is international in scope. That's what sets this company apart from the others: ICC specializes in acquiring and operating top-tier international cannabis assets.
ICC targets world regions in multiple continents with huge untapped markets:

With licensing and cultivation facilities in place, International Cannabis Corp. gets first-mover status in these markets, paving the way for revenue streams that will continue for years. And perhaps their most promising market of all is the European continent, which is rife with possibilities: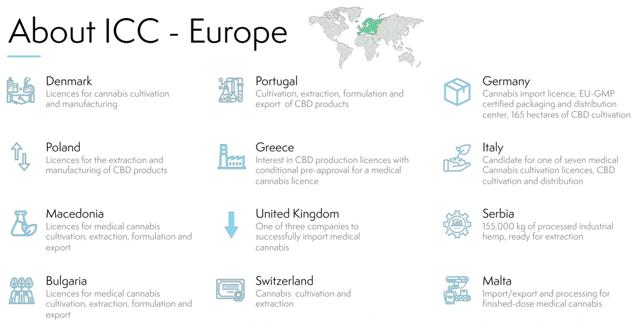 With an array of licenses and strategic partnerships, ICC's first revenue generators include Germany (cannabis import license, fully certified and compliant packaging and distribution center, massive CBD cultivation facility) and Switzerland (prime space for cannabis cultivation and extraction).
These joint ventures are the crux of International Cannabis Corp.'s business model, which seeks to profit from strategic partnerships with best-in-class global cannabis companies. With BBI and Haxxon AG, ICC is partnering with what is potentially the first commercial production THC license holder in Switzerland: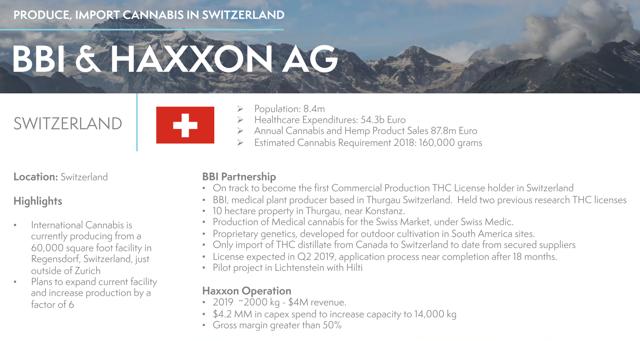 With Maricann GMBH, Mariplant GMBH, and Demecan AG, ICC is making inroads into the German market – Europe's number-one economy – with a medical cannabis import license and a three-year supply contract to import a full 35,000 kilograms of medical cannabis: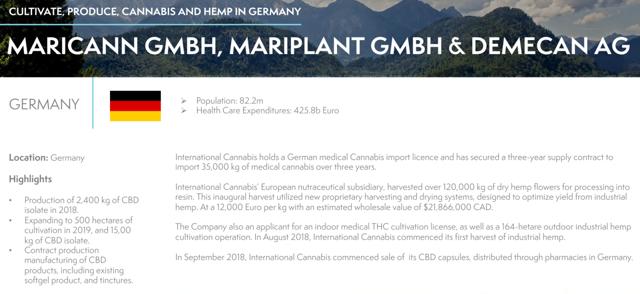 So basically, an investment in WRLD/WLDCF shares is a stake in the company that's destined to become the biggest international cannabis company on the planet. It's a one-of-a-kind opportunity, much like getting a second chance to invest in Canopy or Tilray when they were unknown and super cheap and Canada was still a relatively undeveloped market.
And this just came across my desk: it was just announced that ICC will be acquiring nearly half of Wayland Group's international assets, in which Wayland will supply ICC with 10,000 kilograms of E.U.-GMP certified product per year, for a total of 30,000 kilograms.
This is absolutely transformational, as it will provide International Cannabis Corp. with licenses spanning 12 countries and 4 continents; distribution and/or supply agreements with over 60,000 corporate and independent pharmacies; 50,000 kilograms of forecasted CBD isolate production in 2019; and unmatched exposure to operations in countries with a total population of just over 390 million people and access to international markets exceeding a billion people.
ICC is clearly operating on the frontiers of the global cannabis revolution and exploring areas where other companies won't dare to compete. You don't want to ignore this one – WRLD/WLDCF shares are easily your best exposure to the fast-growing international cannabis market.
Disclosure: I/we have no positions in any stocks mentioned, and no plans to initiate any positions within the next 72 hours.
Additional disclosure: This work is based on SEC filings, current events, interviews, corporate press releases and what we've learned as financial journalists. It may contain errors and you shouldn't make any investment decision based solely on what you read here. It's your money and your responsibility. Never base any decision off of our emails. Never base any decision off of our emails.Gold Standard Media, which is owned by the same individuals as globalcannabiswealth.com, has been compensated forty five thousand dollars, directly by the company, for a 30-day marketing campaign. This publication may provide the addresses or contain hyperlinks to websites; we disclaim any responsibility for the content of any such other websites. If personal advice is needed, the services of a qualified legal, investment or tax professional should be sought.

Please read our full disclaimer at GlobalCannabisWealth.com/disclaimer