Just wanted to take a quick look at some of the eurodollar charts.  We've been in a pretty strong uptrend over the past few months without time to really catch our breath.  Interestingly, it doesn't appear there are any resistance levels the eurodollar is in immediate danger from.  The closest level, the neckline of the 2008 double top around 1.53, still gives the pair some room to run.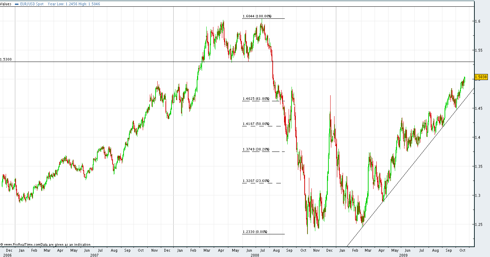 The most important question, as always, is how we can make money off this pair. Considering its continually hitting new highs and overbought territory, traders should be wary of a reversal which violates the trend line that has sustained this rally since March.  A serious violation of this trend line would absolutely indicate a turn in the equity and commodity markets, considering the dollar is basically driving all asset markets right now.  Here's a zoomed in version of this trend: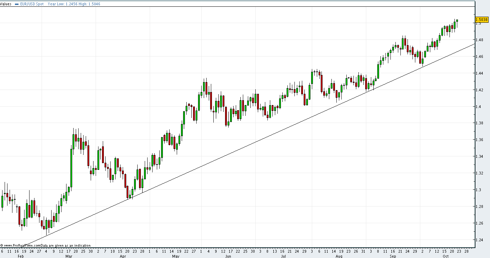 Finally, the best way to make money off this pair is probably to trade it on a shorter interval, with the recognition that an overbought spurt into the 1.53 level may be grounds for a short.  The chart of October's price action gives a solid channel set up: sell when it hits the top and buy when it nears the bottom with the understanding that a breakdown for consolidation is likely and can also be traded.