Almost Family is a company that, because of regulatory uncertainty surrounding government-funded healthcare, presents an attractive growth story at a compelling value. AFAM's move off of its multi-year support in the upper teens should signal to investors that the stock may be ready to run. A price performance comparison shows that AFAM tends to be the outperformer in both up and down markets amongst its peers in the home healthcare sector.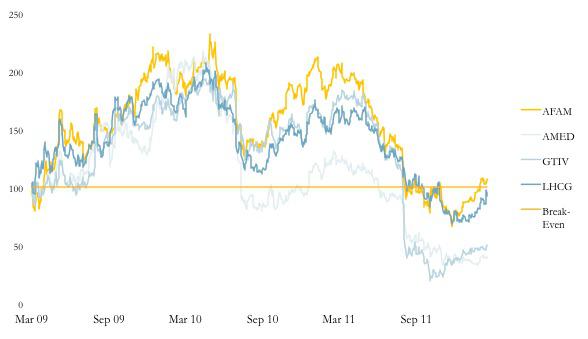 We've developed a model that accounts for the knowns and unknowns surrounding Medicare reimbursement schedules and we attempt to value AFAM in a manner similar to a utility stock with government determined fixed reimbursement rates.
Almost Family is the premiere player in the Home Health Care segment, directly providing services to sick and elderly individuals in their homes through their Visiting Nurse (VN) and Personal Care (PC) segments in regional clusters in the Southeast, Midwest, and Northeast. Our thesis on AFAM is the synthesis of a long-term trend (Baby Boomer aging), a best-in-breed operator, and a short-term catalyst in valuation compression. As Baby Boomers age and healthcare costs rise, the attractive of home healthcare will grow as the elderly prefer to age in their own homes and avoid costly hospital visits and nursing homes. Additionally, home healthcare presents a compelling value proposition, as its costs are significantly lower than the alternatives. The long-term solution to increasing healthcare costs will most certainly include home healthcare. [Source: Investor Presentation, pg 10]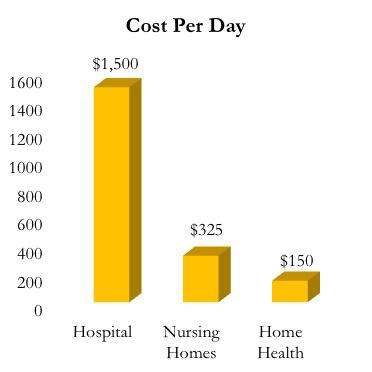 With AFAM, you can own the top public operator in the sector. In addition to organic growth of 58% over the previous 4 years, AFAM has acquired $156m in revenue over the same period [Source: Investor Presentation, page 7]. With an unused $125m on its revolver and an unlevered cap structure, the company is primed to continue its torrid pace in a very fragmented industry (the few other public competitors are only a few hundred million in MCAP) [From 10Q, Note 5]. Finally, the salience of regulatory concerns since the passage of Obamacare in 2010 have pushed down valuations in the entire industry. We believe the long-term opportunities from demographic trends and the fragmented industry outweigh the risks of reductions in Medicare reimbursements.
It's our opinion that AFAM operates an ethically stringent business in a sometimes shady sector. Management sees themselves as 'Senior Advocates' with the goal of allowing seniors to 'Age in Place' in their homes [from Investor Presentation, pg. 13]. The company hires staff from local markets and positions senior management close to the ground operations. After last year's negative Wall Street Journal report, the Senate Finance Committee launched an investigation into alleged pressure that some home healthcare companies were placing on physicians to approve therapy utilization. AFAM has been cleared of any wrongdoing and the company's management continues to have a stellar reputation amongst the analyst community. Piper Jaffray: "Management has been very straightforward with the investment community over the last several years…To the best of our recollection, AFAM was the first company to talk about rate pressure and margin deterioration, which they continue to talk about going forward…We were not surprised when the Senate Finance Committee's report did not indicate that AFAM pushed for greater therapy utilization to drive higher revenue." [Thomson One, subscription-only]
Recent stock performance has been impacted by the passage of the Patient Protection & Affordability Act and the Healthcare & Education Reconciliation Act of 2010, as well as the recent SNC investigation [10Q, pg 16]. New mandates requiring a face-to-face visit with a doctor prior to the provision of home healthcare services, as well as other documentation and justification requirements, have contributed to a short-term slowdown in admissions and treatment volumes.
In order to project AFAM's performance going forward, it's important to understand the business model. The Prospective Payment System is Medicare's way of reimbursing healthcare providers. The government decides on the various adjustment items to the previous years' prices, and enacts them in a way similar to a utility. Most years the government updates the reimbursement price basket for inflation, adjusts for wage differentials based on geography, and reduces rates based on expectations of efficiency improvements. In the medium-term, the government will seek to lower Medicare reimbursement for home healthcare. While it isn't precisely clear how Medicare's stated reimbursement adjustments affect the rates AFAM receives, we believe that our model is a decent representation in the face of uncertainty. Below is a breakdown of our projected changes in Medicare reimbursements 2012 to 2017, assuming that the statutory outlines of the Affordable Care Act are implemented to their full extent. [10K, bottom pg 9]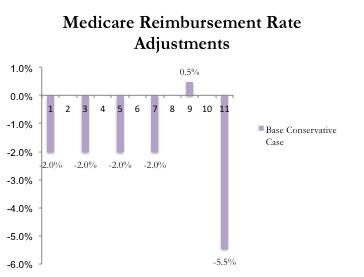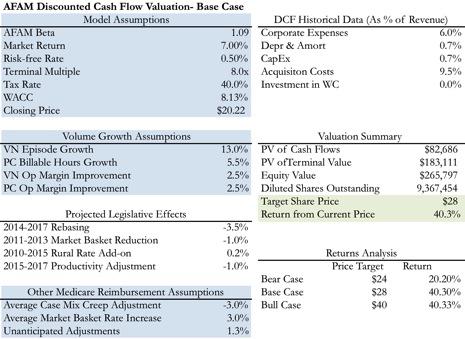 We used a 5-year DCF model to value the company's equity. AFAM's VN segment receives 90% of its revenues from Medicare, with the other 10% from insurance and private payers. Volume growth occurs as 'Episodes' increase. A standard episode is 60 days of treatment for a patient. Growth in AFAM's Medicare episodes has been about 38% per annum over the previous 3 years. The 'Revenue per Episode' metric reported in AFAM's SEC filings gives a proxy for price changes. The basic model for the VN segment takes our assumptions for changes in Medicare reimbursement, adjusts the Revenue per Episode input accordingly, and multiplies it by the Episode volume (computed using growth rate assumptions from historical performance). With an adjustment for the 10% of revenue not provided by Medicare, we get a topline Revenue number for the VN segment. A very similar model projects results for the PC segment, but uses Billable Hours as the volume measurement, and Revenue per Billable Hour as the proxy for price. Despite the fact that most reimbursement in the PC segment is provided by Medicaid (state-based equivalent to Medicare), we used the same reimbursement adjustments as those used for Medicare. We believe the pricing pressures affecting Medicare reimbursement will be mimicked in Medicaid over the next 5 years due to budgetary pressures facing states, and thus represent a decent proxy.



With some relatively conservative assumptions about growth and margin efficiency, our Base Case of 13% volume growth in the VN segment and 5.5% growth in the PC segment should generate a $28 price target we believe will be realized in the next 12 months as the regulatory negativity clears. Our Bear Case assumes 8% and 4% growth respectively, and our Bull Case assumes 15% and 7% growth with an extra 0.5% in margin improvement. Returns are displayed above. In all three cases, volume growth and price reductions cause margins to compress over time with a bottoming near 2015-2017. The key point to the AFAM thesis is that volume growth will overcompensate for margin compression and continue to drive profitability going forward. With AFAM reporting today, it should be interesting to note investors' reactions.
(Feel free to contact if interested in reviewing valuation model, the full DCF workout, or a more comprehensive presentation deck.)
Post-Note: We have discussed the prospects of an LBO of a company like AFAM with stable, fairly predictable cash flows, a cap structure begging to be levered, and a depressed valuation. We'd love to hear people's thoughts one way or the other in the comments section.
Disclosure: I have no positions in any stocks mentioned, and no plans to initiate any positions within the next 72 hours.