The Telegraph featured a piece this morning on eco-friendly homes. It did a great job of showing the effectiveness of eco-solutions in making homes comfortable and cost effective to homeowners. The article noted that some homeowners are able to reduce their utility bills by almost 50 percent by making a shift to green living.
However, while eco-friendly homes appear to be a good solution to meeting the energy demands of modern lifestyles and for reducing utility bills in the home; they are far from being a widespread solution. The fact is that there are no one-size-fits all solutions for energy demands in the home. While new homeowners may decide to opt for an eco-friendly home, it would take a huge paradigm shift for a sizable percentage of existing homeowners to go green.
On that note that I want to bring to your attention an emerging growth company that is poised to continue making a profit in the utility sector for as long as conventional power sources are the norm. Chesapeake Utilities Corporation (NYSE: CPK) is a diversified utility company engaged in energy (both regulated and unregulated) and other businesses. Chesapeake Utilities Corporation has a market cap of $460.44 million and I believe that the company has room for growth if current news surrounding the stock is an indication of things to come. The numbers paint a bright future of what investors can expect in the near future. The chart below shows the Income Statement Evolution for Chesapeake Utility Corporation.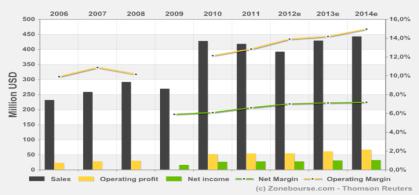 The buzz surrounding the company is promising for investors. Firstly, CPK has formed a synergy with Beazer Homes USA, Inc. (NYSE: BZH) through one of its subsidiaries, Sharp Energy. CPK will supply propane gas to Bishop's Landing. Beazer Homes, with a market cap of $417.13 million, designs, builds and sells single-family homes as well as multi-family homes. Beazer Homes is one of the top 10 builders of single-family homes in the United State and Bishop's Landing is a recent project of a 449 unit residential community that the company has constructed. Secondly, the company recently acquired Glades Gas Company through its subsidiary Florida Public Utilities. The acquisition allows FPU's Flo-Gas operation to expand its propane presence within Florida. The acquisition will see Chesapeake Utility expanding its customer base in Florida by servicing Glades' almost 3000 residential and commercial accounts in some five counties.