E-Cigarettes The Next To Be Regulated… But How?
Please Note: Blog posts are not selected, edited or screened by Seeking Alpha editors.
Long/Short Equity, Portfolio Strategy
Seeking Alpha Analyst Since 2012
Founded in 2003, StockPromoters.com has tracked hundreds of thousands of promotions by thousands of promoters and counting. Stock Promotion can be an effective and necessary tool if done correctly and responsibly, and it can be crippling to both the public company and the promoter if done recklessly. StockPromoters.com Tracks thousands of promoters. We display their compensation and we know if they are actually the ones behind that public company despite what they may or may not disclose to the public. We cut through the tape and get right to the heart of the matter. Q. What is the purpose of the promotion? Is it being done to increase shareholder and corporate value in order to better serve the public company? Or is it to create liquidity so insiders and "friendly" shareholders can unload their position? Q. Does the promoter have any "skin in the game"? Are they paid in Cash? Free Trading Stock? Restricted Stock? Will he be selling his stock, or holding it for the long term? Do they believe in the company they're promoting? Q. What can you expect form this promoter? Is this a "Pump and Dump", or is this a gradual marketing campaign to attract new shareholders? Do you want to know who the best promoters are and who you should be following? Do you want to know who the worst is and who you should avoid like the plague? All of this and more is answered by utilizing our proprietary stock promotion tracking system which is behind the StockPromoters.com website.
The U.S. Food and Drug Administration defines an e-cigarette as a battery-operated device that turns nicotine, flavorings, and other chemicals into a vapor that can be inhaled. Notice the absence of the termstobacco or smoke. Thus lies the controversy, as "vapers" (as electronic-cigarette users prefer to be called) are termed smokers and their devices are lumped in with tobacco products.
It's a well-known fact that cigarette smoking kills. About 440,000 American lives are lost each year among about 45 million addicts. E-cigarettes are touted by many as a safer alternative and a choice method to quit smoking. So why are cities and states around the country clamoring to include the gadgets into their already existing smoking bans? Do they have hard evidence supporting them, or are they simply discriminating against those who are addicted to or simply enjoy nicotine? Evidence supports the latter.
The Chicago City Council on January 15, became the newest in a slew of governments to ban the usage of e-cigarettes at most indoor places, including restaurants and bars, following on the heels of New York City and Los Angeles. Supporters of the ban felt it would dissuade people from picking up smoking in the first place. But what they may not realize is the flavors of e-cigarettes - criticized for potentially attracting children to the habit - actually help deter the use of traditional cigarettes, which often taste terrible to former smokers once they've become accustomed to the switch.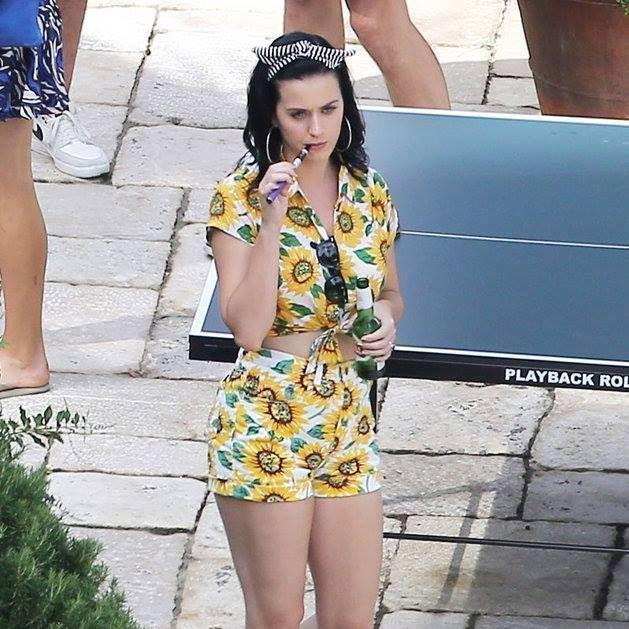 Katy Perry e cigarette Katy Perry e vaping
Millions of smokers have switched to "vaping" for a variety of reasons. Not only do the electronic devices allow them to wean off of
nicotine, but they involve no combustion of tobacco, which leads to the harshly criticized "second-hand" smoke, with its health hazards and horrific smell. But little is known about such hazards associated with e-cigarettes, and some studies even conclude the vapor is far safer to passersby than actual smoke.
The FDA has called for more research, but at least one study (from the Department of Health Behavior at the Roswell Park Cancer Institute in Buffalo, N.Y.) indicates that while those standing near someone using an e-cigarette will be exposed to small amounts of nicotine, they will not be exposed to other chemicals found in tobacco smoke.
"There is an ongoing public debate whether e-cigarettes should be allowed or prohibited in public spaces," study co-author Maciej Goniewicz told Reuters via email. "E-cigarettes contain variable amounts of nicotine and some traces of toxicants. But very little is known to what extent non-users can be exposed to nicotine and other chemicals in situations when they are present in the same room with users of e-cigarettes."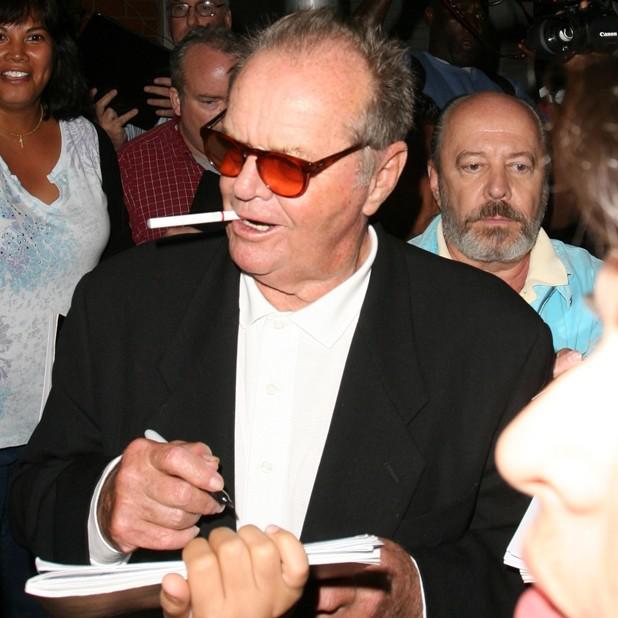 Jack NIcholson e cigarette Jack NIcholson vaping
Published in Nicotine and Tobacco Research, the study examines secondhand exposure to e-cigarette vapors in a laboratory setting. In one case, researchers used an electronic smoking machine to generate vapor in an enclosed space. Then they measured the amount of nicotine and carbon monoxide, as well as other harmful gases and particles, in the chamber. In a second instance, researchers examined the same chemicals after five men puffed on e-cigarettes for two five-minute intervals over an hour. Finally, the experiment was repeated with traditional tobacco cigarettes.
When the researchers measured the nicotine levels in each circumstance, they found just 2.5 micrograms per cubic meter of nicotine were emitted from the electronic smoking machine, while 3.3 micrograms per cubic meter resulted from the five subjects' use. Carbon-monoxide levels did not increase. Tobacco cigarettes, on the other hand, produced 10 times more nicotine, at 32 micrograms per cubic meter.
"The exposure to nicotine is lower when compared to exposure from tobacco smoke. And we also know that nicotine is relatively safer when compared to other dangerous toxicants in tobacco smoke," Goniewicz said. "What we found is that non-users of e-cigarettes might be exposed to nicotine but not to many toxicants when they are in close proximity to e-cigarette users."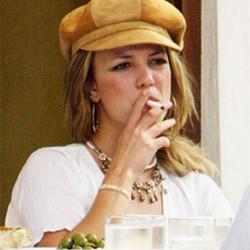 Britney Spears e cigarette Britney Spears vaping
Columbia University researcher Amy Fairchild agrees the study suggests e-cigarettes are far safer, although she admits more research is needed to be sure.
"In locales considering extending smoking bans to e-cigarettes, I think that these data weaken the case for more sweeping bans," Fairchild told Reuters. "And so this begins to answer the question about why e-cigarettes are considered better: they reduce risks to both the user and to the bystander when compared to tobacco cigarettes."
If little research exists, and that which has been done indicates e-cigarettes are a safer alternative, why are governments lumping them in with tobacco products, acts that will surely make switching more difficult for those already addicted to tobacco cigarettes? Many say they are afraid for America's youth.
Analysts projected that sales of electronic cigarettes in 2013 could be as much as $1.8 billion, and some fear those sales are being made to children and young adults. But many states already ban the sale of the device to minors. Still, two Congressmen actually felt the need to complain to NBC Universal after Julia Louis-Dreyfus was shown puffing on an e-cigarette during the recently-broadcast Golden Globes awards. Hosts Tina Fey and Amy Poehler joked that Louis-Dreyfus was acting "too cool" for her television roots.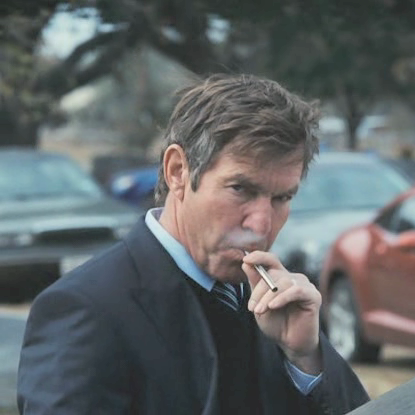 Dennis Quaid e cigarette Dennis Quaid vaping
In fact, vapor seems to be taking Hollywood by storm. Celebs such as Katy Perry, John Cusack, Sean Penn and Dennis Quaid have all been photographed puffing away on e-cigs. Leonardo DiCaprio, Britney Spears Spears and Jack Nicholson have also been caught "vaping" in public. Some celebrities are even investing in e-cigarettes. Charlie Sheen is involved in a partnership venture for an e-cig line called NicoSheen. The worry among detractors of e-cigarettes is what type of signal celebrity use is sending to minors.
"In the coming days and weeks, young people will be among the audience tuning in to the National Football League Divisional Championship games, Superbowl XLVIII, the 86th Academy Awards, and other high-profile broadcast events," wrote Reps. Frank Pallone (D-N.J.) and Henry Waxman (D-Calif.). "We write to call your attention to the public health concern of youth e-cigarette use and to urge your network to avoid sending the wrong message to kids about these products."
But once again, are such assertions made based on study and fact, or simply fear and ignorance of a relatively new product? The Centers for Disease Control and Prevention released a report in September that showed the percentage of middle and high-school students who have tried e-cigarettes more than doubled from 2011 to 2012. The lesser-publicized catch? Almost all students who admitted to trying e-cigarettes were already current or former smokers. Therefore, the study certainly doesn't prove the electronic devices are any sort of gateway to tobacco use.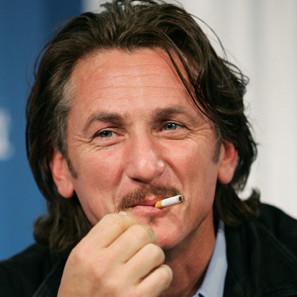 Sean Penn e cigarette
Still, CDC Director Tom Frieden is concerned that e-cigarettes and their various flavors will lead teens to "be condemned to struggling with lifelong addiction to nicotine and conventional cigarettes."
Many in the industry couldn't disagree more. Ted Sisco, owner of Ted's Vapor Hut in Bakersfield, Calif., told the Bakersfield Californian that the flavors are appealing in order to entice smokers away from tobacco. Another Bakersfield business owner, Mike Bond, felt likewise.
"Vodka comes in whipped cream and birthday cake flavors," he said. "Tell me a grown man who doesn't enjoy candy? I'm sorry that we share the same taste buds as children, but it tastes good."
Many have likely noticed an upsurge in television advertisements, featuring celebrities including Jenny McCarthy and Stephen Dorff, for e-cigarettes as of late. Although tobacco advertising has been banned from our screens since 1971, are e-cigarette ads any different? The FDA has already blocked manufacturers from making any sort of health claims, and may rule on further limits by the end of the month. There's no doubt the devices need regulation. But should they be lumped into the same category as tobacco products? After all, they are most definitely not a tobacco product, even if local governments can't seem to realize that fact.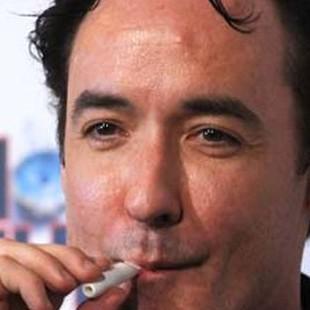 John Cusack e cigarette John Cusack vaping
"What we're advocating for is a separate framework for regulating this product," said Cynthia Cabrera, executive director of the Smoke-Free Alternatives Trade Association. "When the Family Smoking Prevention and Control Act was passed in 2009, there was no evidence that Congress intended to include e-cigarettes. Adding them to this [regulation under that law] is just not appropriate."
Regulation, after all, protects consumers. Without it, the FDA can do nothing about harmful additives being included in a product that is, after all, inhaled by consumers. If e-cigarettes are to be considered a healthier alternative to smoking, someone should make sure they actually are.
"The American Lung Association is very concerned about what's in e-cigarettes and what their impact to public health may be," said Erika Sward, assistant vice president for National Advocacy at the American Lung Association. "We don't know what's in them, we don't know what the harms of them may be, and that's why it's so important that FDA begins its oversight of these products."
But including e-cigarettes in the same category as tobacco products can only inhibit consumers from switching to a product that could benefit them in the long run.
"The FDA should reject the call by some to [both] stifle innovation and adopt a 'one-size-fits-all' approach to regulating tobacco products," said James Dillard, Altria senior vice president of regulatory affairs, in a letter from the maker of Marlboro to the FDA. "Such an approach does not reflect the harm-reduction potential of lower risk products and could have the real-world consequence of preventing new forms of tobacco products from playing an important role in harm reduction."
Seeking Alpha's Disclosure: Past performance is no guarantee of future results. No recommendation or advice is being given as to whether any investment is suitable for a particular investor. Any views or opinions expressed above may not reflect those of Seeking Alpha as a whole. Seeking Alpha is not a licensed securities dealer, broker or US investment adviser or investment bank. Our analysts are third party authors that include both professional investors and individual investors who may not be licensed or certified by any institute or regulatory body.