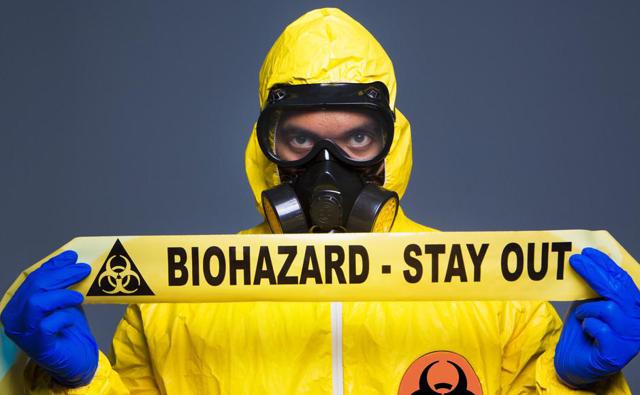 Out of all the horrible diseases on Earth today, Ebola has to be one of the absolute worst. According to the World Health Organization, symptoms include: "fever, intense weakness, muscle pain, headache and sore throat. This is followed by vomiting, diarrhea, rash, impaired kidney and liver function, and in some cases, both internal and external bleeding. Laboratory findings include low white blood cell and platelet counts and elevated liver enzymes." The fatality rate among outbreaks from past and present have shown the virus to kill 90 percent of those infected. As we witness the current outbreak, the worst in history, many officials are worried that the virus could eventually wash up on our shores due to plane travel by infected people. Two U.S. doctors who were in Africa aiding health workers during the initial outbreak have caught the virus and have been sent back to the U.S., where they are quarantined in a CDC-approved location for treatment.
Being that we are witnessing an Ebola outbreak unlike any seen before, is it time to ramp up research for a vaccine? NanoViricides Inc. (NYSE: NNVC) is an emerging company that focuses on developing vaccines for everything from an alternative form of flu vaccine, to Bird Flu, to HIV/AIDS and Marburg/Ebola. The company has several treatments in clinical testing right now and they look promising for herpes, influenza and Bird Flu.
Turning to the fundamentals, NanoViricides has a market cap of $226.89 million and is rated a "Buy" by analysts. The company is currently not profitable, but is forecast to reach profitability within next year, as seen with a forward price to earnings of 138.67. Price to book stands at 6.93 and price to cash is 6.81. Total debt to equity comes in at .12 and cash per share is .61, giving the company a monster current ratio of 28.8. It is important to note that all of the company's debts are long-term.
Earnings are expected to fall 26.7 percent this year, but rise 112.5 percent next year. Insiders own almost 5 percent of the stock, and institutions own almost 5 percent as well. Despite the future potential of the company, short sellers have taken positions, with a short float of 10.25 percent. Performance has been mixed: up 28 percent in the past year, but down 13.33 percent year-to-date.
Overall, we continue to face some nasty viruses and diseases out there that will not go away, but rather mutate and become even more deadly. The focus on treatment and vaccines will be key and certainly, I believe, this is not a problem that will ever go away. NanoViricides is still emerging and has some kinks to work out, but I think the long-term looks promising. I would recommend placing it on a watch list.
Be sure to do your own research.
Disclosure: The author has no positions in any stocks mentioned, and no plans to initiate any positions within the next 72 hours.