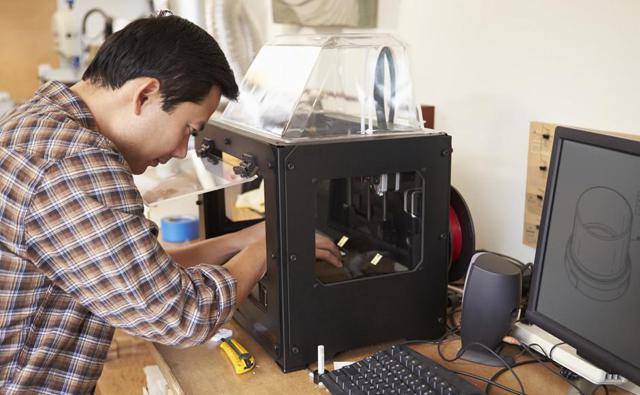 Despite all the calls for a 20 percent drop in the stock market, it appears the markets are rebounding after an unsettling 3 percent drop last week, the largest in over a year. It may appear that the recent drop was just a pullback, a breather of sorts, before returning to the uptrend. While this is not yet confirmed, the markets appear to be stabilizing so far this week, which is good news for the bulls.
Good, quality companies are still the go-to if you must buy stocks. One such stock that may be a solid consideration is Hurco Companies Inc. (NASDAQ: HURC). Hurco "designs, manufactures, and sells computerized machine tools for the companies in metal cutting industry" (finviz). However, the company just recently patented an adapter that, combined with its software, can turn CNC milling machines into 3D printers.
First, let's take a look at the fundamentals. Hurco has a market cap of $205.86 million and is currently rated a "Hold" by analysts. Price to earnings stands at 24 and forward price to earnings is a manageable 17. Price to sales is at 1.01, price to book is 1.31, price to cash is 4.41, and price to free cash flow stands at 26.73. Total debt to equity is a minimal .02 and cash per share is 7.18, giving the company a very solid current ratio of 3.40. E
Earnings are estimated to fall 48 percent this year, but rise 7 percent next year. Sales have risen 8.30 percent as of its last quarterly earnings release, while earnings per share has risen 12.50 percent during the same period. Insiders own a small 1 percent of the stock, while institutional investors back the stock with 75 percent ownership. Margins are ok: gross margin of 28.20 percent, operating margin of 6.8 percent, and profit margin of 4.30 percent. Management efficiency ratios could use some attention: return on assets of 4.10 percent, return on equity of 5.7 percent, and return on investment of 6 percent. Performance has been quite good, especially since the news of the new adapter broke: up 10.19 percent in past year and 27.29 percent year-to-date. The company also pays out an annual dividend yield of .88 percent.
If you take a look at the other more well-known 3D printing stocks, you will see that thevaluations are horrendously overvalued, making them risky. Hurco is a small-cap company that has quite good valuations that could make a huge splash in the 3D printing space. Earnings estimates currently do not reflect the new adapter and the potential it may have on earnings. This certainly makes a bullish case for the stock over the long haul, but it would be more intelligent to wait on preliminary numbers to see how Hurco's customers react to the new product. If sales are lower than expected, it will hurt the share price.
Be sure to do your own research before investing.
Disclosure: The author has no positions in any stocks mentioned, and no plans to initiate any positions within the next 72 hours.