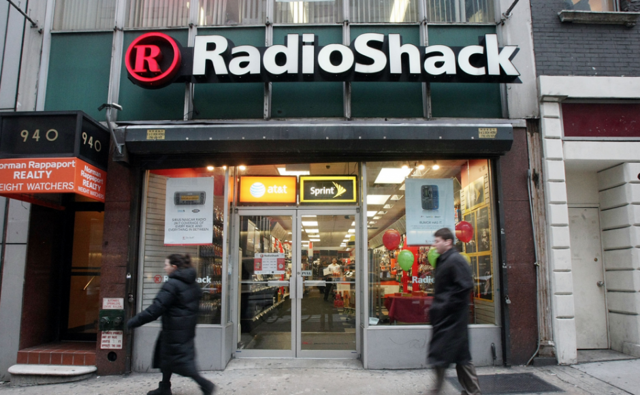 RadioShack Corporation (NYSE: RSH) is a Texas based retailer of innovative mobile technology products, personal technology products and home support equipment. It also provides technology services related to personal, home and power supply needs. The company operates through its own kiosks, numbering about 4000, in the U.S., Puerto Rico and the U.S. Virgin Islands.
RadioShack's business model has been criticized for being outdated in the present age of online retailers. The company's products (like digital cameras and GPS systems), the sales of which contribute the maximum share of revenue, are declining. In fact, revenue has declined from $4.4 billion in 2011 to $3.4 billion in 2013, while net profits have gone down from $67 million in 2011 to a loss of more than $390 million in 2013. Gross margins have also declined year-on-year from 40 percent to 36.5 percent.
The company has decided to shut down 1,100 stores in 2014 as it is running out of cash to maintain operations. In the recent Q1 2015 results for the period, ending May 2014 the cash balance of the company was only $62 million. Still, the company needs to borrow money or raise equity to sustain operations despite the massively reduced headcount and store count. RadioShack sustained a loss of close to $98 million during the recent quarter, which indicates that if that run-rate persists, the company could end up posting a loss of $400 million in FY15.
The sales from the company's mobility platform, which sells wireless devices and carrier plans, declined by 18 percent, while the sales in its retail division (which includes memory cards, chargers, voice over internet devices, networked toys and home network products) was also down by 9.5 percent.
The stock price has also followed a similar trend, with price declining from $6 in 2012 to 60 cents currently. The company is at risk of being delisted if it fails to trade above for $1 for at least thirty trading days in the next six months. The possibility of meeting this requirement appears to be a tall order as the company continues to struggle in operational efficiency and cost reductions.
Generally, a revamp of merchandise to uncommon products like 3D printers, satellite radio and Internet radio might prove necessary as compared to selling only smartphones, which have reached saturation. A blended retail and online presence is also necessary because many online retailers are offering similar products at lower prices, which are encroaching on RadioShack's market share thereby rendering its only brick-and-mortar retail almost obsolete.
The company made some moves in the right direction by selling new products like Beats headphones, flexible power strips, and wrap around extension cords. But it is yet to be seen if it is able to garner substantial sales competing with online retailers selling the same products. New brands adding value to consumers and sold specifically in RadioShack stores needs to be created.
The stock price's first target will be to cross $1 to avoid delisting. Though RadioShack has made a statement to its shareholders that it will avoid delisting, the ongoing downtrend for over six months and negative sentiment surrounding the company will make the price reversal difficult.
Any news of equity funding from a strategic investor, or availing of a new credit line could provide a source of optimism for investors who remain coy on exiting their positions.
Disclosure: The author has no positions in any stocks mentioned, and no plans to initiate any positions within the next 72 hours.