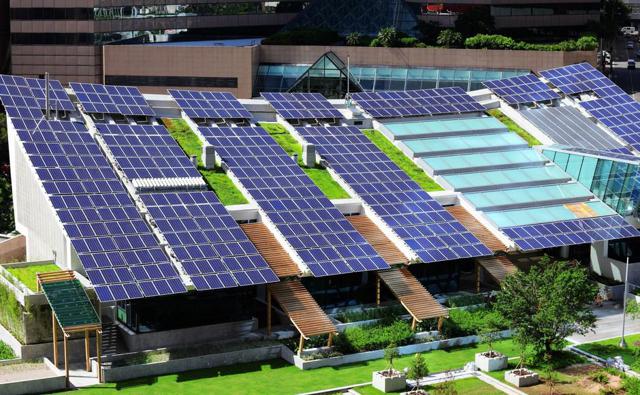 SolarCity (NASDAQ: SCTY) is arguably the most decorated stock on Wall Street. Besides its association with billionaire Elon Musk, the company has received inordinate media coverage because of its iconic rally on the stock market. Since going public in late 2012, its stock has risen more than 440 percent.
Interestingly, SolarCity has never posted a profit since going public. This has, however, not deterred growth investors, who have anchored their unabated furor on SolarCity's business model. Unlike its competitors, who require customers to make upfront cash payments, SolarCity willingly meets the upfront installation costs and then leases the solar system back to the customer. By adopting a leasing model and allowing customers to avert the hefty upfront costs, SolarCity has attracted a lot of bargain hunting customers and consequently cornered the market.
Data from GTM Research showed that SolarCity commanded a 26 percent market share as at April 2014, compared with the 8 percent that Vivent Solar, its closest competitor, had at the time. From this perspective, investors aren't wrong about the potential that SolarCity's model has to continue delivering growth. There is only one burning question: Where does SolarCity get the financing to sustain its model? In addition to being unprofitable, the annuities that SolarCity receives under its lease model cannot sufficiently cover the overall costs of fully financing solar system installation for its hundreds and thousands of customers.
Financial Innovation
Most casual observers mistakenly attribute SolarCity's explosive growth to Section 1603 of the American Recovery and Reinvestment Act of 2009. In order to lower installation costs and encourage solar uptake, this piece of legislation gives tax credits to owners of solar assets to the tune of 30 percent. There is only one problem; this legislation is entirely useless to SolarCity since it has no profits for the government to tax. Who then benefits from the tax credits? It is certainly not the hundreds of thousands of SolarCity's customers who lease the solar systems. By law, leaseholders merely assume possession and not title of goods.
Since I have satisfactorily established that it is not SolarCity or its customers who benefit from the government's tax credit, then the only possible beneficiary of this incentive are the third party financiers who provide off-balance sheet financing to SolarCity. Deep-pocketed off-balance sheet investors, including Google(NASDAQ: GOOG) and US Bancorp(NYSE: USB), have over the years been injecting capital into off-balance-sheet funds that they set up with SolarCity. Under these agreements, SolarCity taps into the funds and uses the financing to furnish the upfront solar installation costs for its customers. Once SolarCity has secured a lease agreement with a customer, the solar asset is transferred to the balance sheet of the said fund, which as earlier mentioned, is largely owned by third party financiers.
If the assets are transferred to the balance sheet of the fund, then it follows that they are owned by the majority owners of the funds. Furthermore, it holds that the tax credits accrue to these said owners. Through financial innovation, SolarCity and its third party financiers are able to come to a mutually beneficial agreement where SolarCity gets sales growth and its third party financiers get tax credit, plus a portion of the annuity payments that leaseholders make.
Euphemisms
When SolarCity's financing arrangements are viewed from a wider point of view, it becomes lucidly apparent that commentators are euphemizing unethical conduct as financial innovation. This is because there is a great incentive for these third party financiers to continue providing more funds to SolarCity. More financing translates to owning more solar assets, which results in more tax credits. As at 2013, the Treasury Department had doled out more than $18 billion in cash grants to renewable energydevelopers under Section 1603 of the American Recovery and Reinvestment Act of 2009; $4.3 billion of which went to solar projects. In plain English, the owners of these off-balance sheet funds had received at least $4.3 billion in tax credits by 2013. Moreover, there was still at least some $10 billion left in grants under the Act as at 2013. Is there anything stopping SolarCity's off-balance sheet investors from providing SolarCity with more funds in order to accrue more tax credits? Your guess is just as good as mine.
It could reach a point when these said third party financiers (who run separate businesses of their own) will accrue tax credits that sufficiently allow them to enjoy a negative tax rate for their overall businesses; meaning the government will be paying them taxes, as opposed to them paying taxes to the government. To put it in an even simpler for: Tax payers will pay for the existence of these corporations, or better yet, these corporations will take money from tax payers' pockets.
To add insult to injury, there are allegations that SolarCity has been inflating the value of its third party owned solar assets relative to customer owned systems in order to attract more tax credits for its third party investors. "My results suggest that SolarCity charges 28 percent more at the mean for a third-party system than it does for a customer-owned system of the same size using the same solar modules," said University of Colorado economics doctoral candidate, Molly Podolefsky, in an academic paperrelating to the issue. Podolefsky's concerned are shared by many other observers, including Barron's, which published an article in 2013 that revealed SolarCity's alleged mispricing in scouring detail. Although SolarCity has refuted the claims, the Treasury Department is still investigating the matter following a congressional inquiry by Republican Senator for Alabama, Jeff Sessions.
The fact that the American tax payer is partially footing the tax bill of some so called third-party financiers is bad enough. What's worse is the realistic possibility that these said tax bills have been usuriously inflated through dubious means. It is becoming progressively clearer that America, the land of the free, is systematically transforming into an oligarchy. Is the U.S. at the mercy of a government that facilitates the unconscionable greed of a few criminal corporations masquerading as entrepreneurs?
Disclosure: The author has no positions in any stocks mentioned, and no plans to initiate any positions within the next 72 hours.