Is Ford a Buy?
Price (14/10/18)- $8.64
Analysis's Price target-$7-$15
Overall consensus 1-5 (1 being a strong buy) - 3.25
Highest target price is $15, which is a 73.6% upside.
Average target price is $10.37, which is a 20% upside.
Lowest target price is $ 7, which is an 18.9% downside.
Current analysis consensus
5 institutes have given a Buy rating.
17 institutes have given a hold rating.
2 institutes have given a sell rating.
The latest report is from Adam Jones of Morgan Stanley who sees Ford motor going towards the $15 mark in 12 months time.
Ford's next announcement of their quarter 3 data will be on 24/10/18.
Current Market data
YTD price change -30.03%/ -3.709
Market capitalizations- 34,436.7M
Trailing 12M P/E- 6.34
Dividend- 6.94%
Estimated Forward 12M P/E 12/18- 6.63
Estimated EPS- 0.294
Price/Cash Flow 2.1
Current P/FCF 3.7
Cash Flow/Net income .4
Current Ratio 1.2
Quick Ratio 1.1
Debt/Assets 59.8%
ROA 2.7%
ROE 19.7%
Profit margin 5.4%
Beta ratio of 1.07
Estimated EPS is slightly disappointing at only 0.294. Current ratio is below my stock criteria, which is a current ratio of at least 2! Debt to assets is slightly concerning at 59.8%. Also Return on Assets being only 2.7% is extremely low, having said this nature of the industry means a lot of capital and assets are needed, the industry average is 5.6% ROA. An interesting point is ROE for Ford is 19.7%, however the industry average is 15.33% thus Ford is doing well in this area at least!
Year to date Ford shares are down 30%, which cannot be ignored. It's currently the 27th worst performing company in the S&P 500 index. A forward P/E of 6.63 shows that Ford is trading at a below average price as the average P/E ratio for the S&P is 22.59. Therefore, this could suggest Ford is under-valued and has deep value because of its attractive Price to Equity ratio. Having said this Ford may not be seen as deep value but more of a value trap because with the nature of automotive businesses being cyclical during a recession Ford is likely to drop within Stock price, revenue, income etc. because consumer confidence will fall and this will lead to a decline in Ford's sales thus their stock price. Furthermore with a Beta of 1.07 this shows Ford is slightly more than the average security. Also, psychologically I feel that when a market crash and/or recession occurs a lot of investors are going to dump this unloved stock as it's declining price and during a recession/crash will likely lose its attractive dividend of 6.94% thus leading to a big drop in price.
Current Holders
1. VANGUARD GROUP INC 7.23%
2. BLACKROCK 6.76%
3. NEWPORT TRUST CO 4.71%
4. STATE STREET CORP 4.02%
5. JPMORGAN CHASE & CO 1.66%
6. GEODE CAPITAL MANAGEMENT LLC 1.24%
7. BANK OF AMERICA CORPORATION 1.20%
Growth potential
Market capitalization 1Y Gr 9.9%
R&D To Sales 5.1%
Revenue - 1 Yr Gr 3.3%
Employment 1Y Gr 0.5%
Surprise earnings
Over the past 8 earning seasons Ford has beaten the following:
EPS- 5/6 beat
Revenue- 7/8 beat
Net income- 6/8 beat
Revenue growth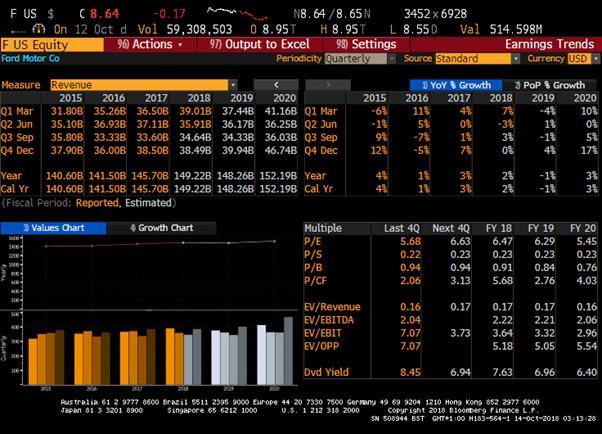 The revenue growth of Ford over the last few years has been poor/average with 4% in 2015, 1% in 2016, 3% in 2017, 2% in 2018, expected down 1% this year and next year up 3%. However, as we know from last week Ford's sales in China are down 43%, which inevitable will lead to the overall decline in revenue for Ford this quarter.
Ford's Debt
Total debt outstanding is $170,349 million with $119,274 million long-term debt and $50,884 million short-term debt. Ford's 12 month interest expenses are $12,759 million. Thus, Ford has a lot of debt to still repay. The overall 12 month expected net income for Ford is expected to be around $11,294 million, which may be a problem for Ford especially if they don't hit the expected numbers.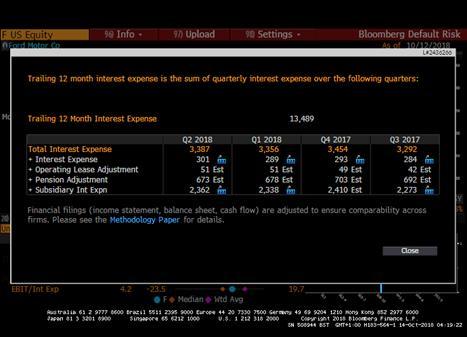 Ford's portfolio of revenue by location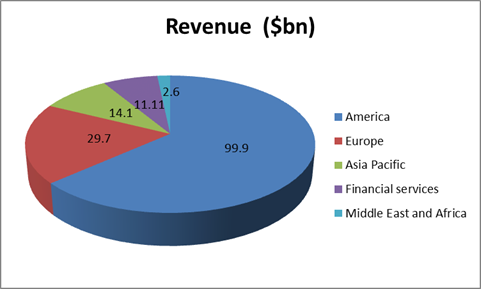 Ford very much relies upon America for just below 75% of their revenue, which is concerning from a diversifying perspective as if/when America turns into a downturn Ford have just below 75% revenue stream exposed in America. Thus I find this slightly concerning that such a high proportion is in America of Ford Motor sales.
Competitors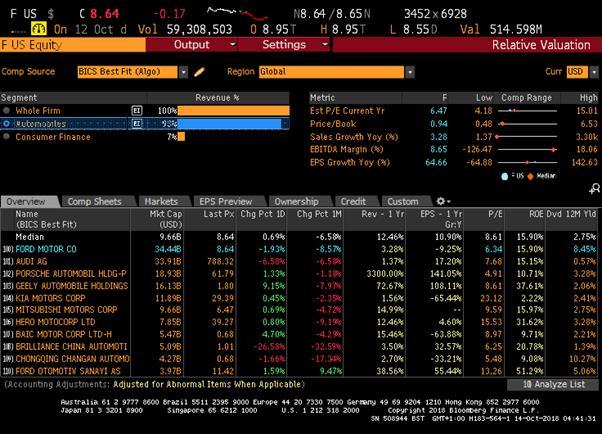 Above shows how Ford is lacking on the average benchmark in the Automobiles market for revenue and EPS, however is beating the average on dividend, which has questions whether or not this can be sustained. However, not on this list is Tesla, which in the future is likely to weigh stress on Ford. All Tesla would need to do is create a cheap Tesla model or Auto truck, which would possibly lead to a major decline in Ford.
Overall
On one hand Ford has fallen 30% this year in price. However, has Ford been left under-valued? Has the China trade war made the price exacerbate even lower? I think it has. Now Ford isn't going to be you're Apple or you're Tesla. I see it similar to a Coca Cola or a Kraft Heinz sort of company as it's a big brand with years of experience, history of dividends and likely to stay in the market for the very long-run. Having said this lower sales in China, a large proportion of revenue in America, questions on whether dividend is sustainable and competitors taking over the market is a big worry for Ford.
Having said this I rate Ford an Overweight as I feel it's undervalued. I believe the next few years will be a struggle; however Ford has enough cash to pay dividends and focus on a growth/ rejuvenation strategy for the brand. I'd like to see Ford going down Tesla's route with the electric cars, which would really aid Ford's growth. However, for now I'm giving Ford a one year price target of $10-$12. My three year price target is $14-$17.
I hope you enjoyed my article! Please comment below your thoughts on Ford!
Happy investing,
Jake Wilson.
Disclosure: I/we have no positions in any stocks mentioned, and no plans to initiate any positions within the next 72 hours.