The below is excerpted from our recent issue on Gold (February 2019)Investor interest in gold has dropped since the peak in 2011, when gold was around $1930/oz, along with the price. The low of that correction was around $1045. It was a brutal plunge with many gold mining stocks plummeting 70% to 90% during the plunge.
Bullish sentiment for gold and silver was at a multi-year low late last year. Very few people were interested. That's usually the time to take a fresh look, technical and fundamental, and if everything lines up, go against the bearish majority.
The chart below shows the exposure to gold of managed money in gold futures and options (green line). It shows that the allocation to gold was at its lowest point on this chart in October 2018, at least since 2006.
Also important is that in spite the extremely low interest in gold, the gold price (yellow line) in 2018 was higher than at the gold low in 2016. We call this a very important long-term, bullish divergence.
Looking even longer term, 20 years, the chart below shows the COT "commitment of traders." There are commercial traders and speculators (i.e. "non-commercial"). The "commercials" are usually correct at turns, whereas the "non-commercials," are usually wrong. The fact that speculators, i.e. non-commercials, had record short positions in 2018 confirms that a lot of short covering may occur, to be followed by actual buying. That suggests demand should increase.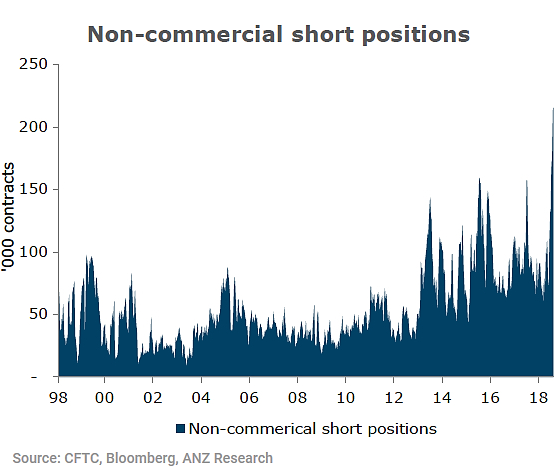 Long time subscribers will remember that in 1981 we predicted a 20 year bear market in gold in our Wellington Letter. That was greeted with universal disbelief as many analysts were forecasting a rise to $3000. As we now know, the bear market lasted until 2001, exactly 20 years, just as we had forecasted in 1981.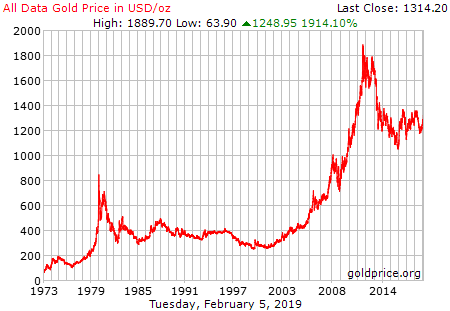 But the second part of our forecast in 1981 said that according to our very long term cycle study, that bear market would be followed by a 30 year rise in gold. We even said we had no idea what would cause it, but that it would happen.
More recently, Gold and silver have performed nicely over the past three months as the stock market plunged, acting as a good hedge. It is interesting to note that while the stock market did have a snap back rally since late December, the precious metals did not weaken (see chart below) as we would have expected.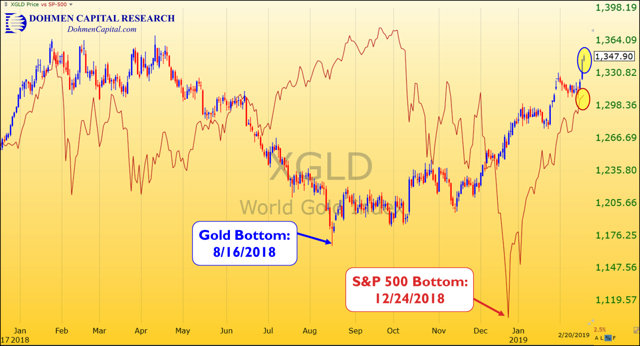 Now, savvy investors are asking, "is it still a good time to get into Gold and Gold stocks? Will another market correction be bullish or bearish for gold? And what has caused Gold to rise since mid-August 2018?"
We examine these vital questions in our recent Special Wellington Letter Issue, "The Case For Gold." It's an incredibly important topic right now, which is why we dedicated 18 pages to Gold, providing our latest analysis and research.
We explain how investors should use Gold in their portfolios, the factors and indicators impacting Gold's latest move, current investor sentiment, how currencies have affected Gold, and of course the Fed and their recent policies.
We not only offer our near-term and longer-term forecasts but also reveal the evidence, showing the key trends, technical signals, and clues on a number of charts.