Deutsche Lufthansa AG DLAKF and  Ryanair Holdings PLC (RYAAY)  are the two biggest airline shareholders in Europe.
European Airlines have been very sensitive to oil price lately. Depending on the oil price level airlines adjust the quantity of flights they offer, which in turn adjusts their exposure to oil risk. We can see that absolute price correlation increases as Oil price increase. With high oil prices, Airlines are forced to lower the amount quantities  and when the quantities are low, increases affect earnings per share significantly.  When Oil prices are lower, and Airlines are offering high quantities of flight, a slight a decrease in those quantities affects their revenues proportionally less.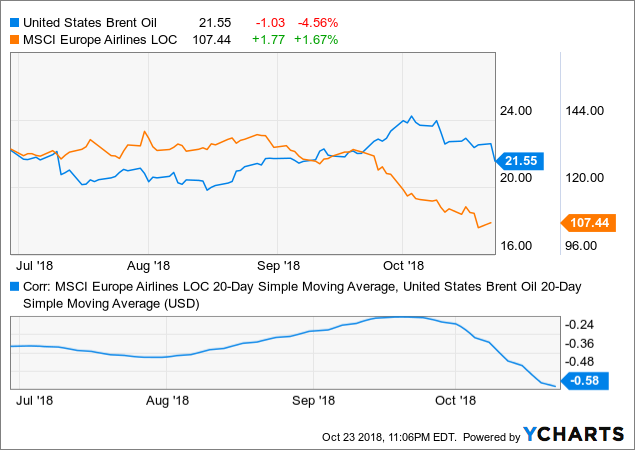 RYAAY has held consistent negative correlation to Brent price level. Moreover, trading volume is positively correlated with Oil in periods of which Oil is falling and negative in the opposite case. Increased investor interest has not resulted in a proportional increase yet. As the price increases in expectation of lower oil costs and more flights, the higher will be the impact of lower oil prices.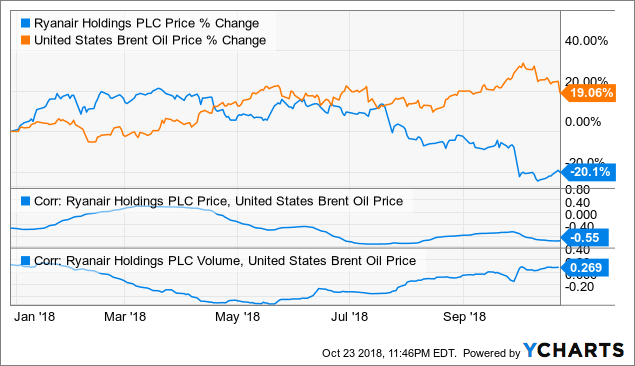 Therefore you should target mid September price levels RYAAY at 95$ and OTCQX:DLAKFm at 25$.
Disclosure: I/we have no positions in any stocks mentioned, and no plans to initiate any positions within the next 72 hours.
I wrote this article myself, and it expresses my own opinions. I am not receiving compensation for it (other than from Seeking Alpha). I have no business relationship with any company whose stock is mentioned in this article.