Each year the coffee market turns its focus to Brazil to get some direction on where prices are going next.  This year is no exception.  After sliding to under $1 a pound this September, coffee finally showed signs of life during it's typical seasonal rally in October.  The overall fundamentals for 2018/19 do not support a sustained rally, so this makes for a great opportunity to sell calls into 2019.
Why is coffee rallying now?
Brazil is the largest producer of coffee and in Brazil blooming season takes place during September through November. This typically brings in weather speculation buying.  We see this tendency in the following seasonal chart.  Once sufficient rain and chance of frost has passed, prices tend to fall as we approach December.                                                 5 year seasonal average 2013-2017  
A weakening Brazilian Real encourages producers to sell more product with intentions of converting USD back to their local currency.  A recent rally in the Real has helped push coffee higher as this incentive is being reduced.
Extreme shorts from hedge funds brought in short covering rallies.  Based on the 2018-10-23 COT report, funds are net short -38,341 contracts.  This is a quick turnaround from -106,651 contracts as of 2018-09-18.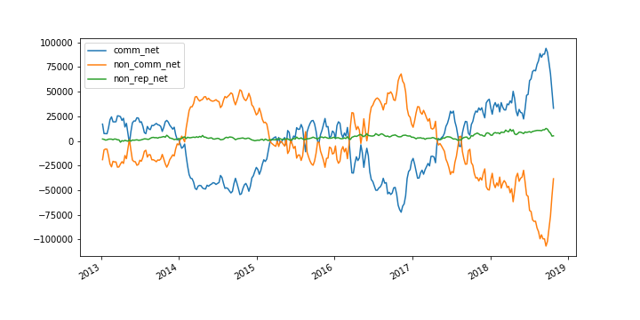 Looking ahead at the 2018/19 Forecast
The June USDA FAS coffee report predicts 2018/19 coffee production will be 171.2 million bags.  This is the highest on record. Consumption is also increasing to 163.2 million, but not enough to hinder ending stocks.  In fact, ending stocks will fly over the last two years at 32,812 million bags.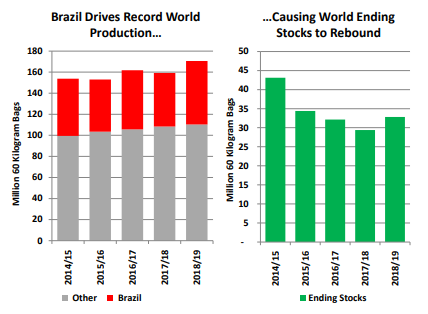 The two driving factors for the world record are massive crops from Brazil and Vietnam. Brazil will produce an estimated 60,200 million bags and Vietnam will step up to 29,900 million.
Let's take a closer look at Brazil
Coffee trees have an on-year/off-year biennial production cycle.  This is due to the long growing period of the fruit, the cherry.  While last year's harvest is being picked, next year's crop is starting to form buds.  This means a small crop from the previous year leaves more room on the branches to form extra buds to increase next years harvest  Also, less buds allow for more resources to go towards the new crop.  This is illustrated in the following chart by the oscillating pattern we see for bags per acre.  As you probably guessed, the majority of Brazil is in an on-year in 2018/19.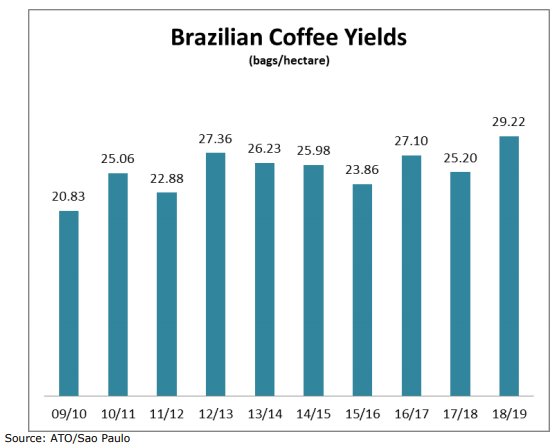 This can be offset by bad weather during blooming in September-November. Specifically, the weather in Minas Gerais and Espirito Santo.  These two regions combined contribute over 70% of all coffee produced in Brazil.  Thankfully, both are on track to have above average precipitation this year.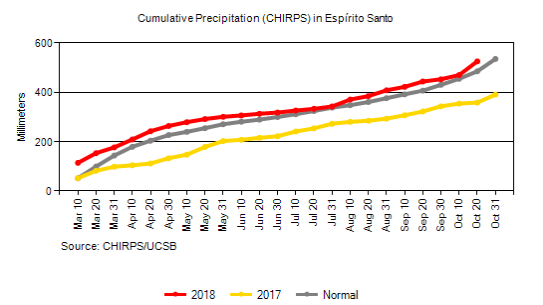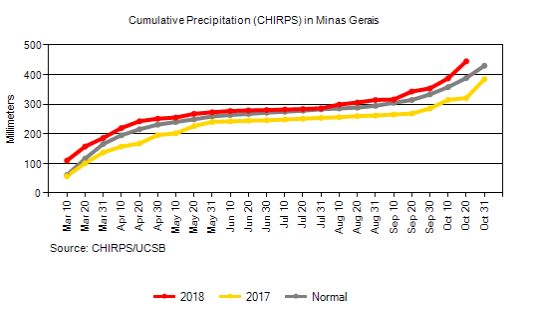 Trading Strategy
Bearish fundamentals going into 2019 along with the recent rally have setup opportunities to sell calls above the market.  I personally placed a bear call spread at 1.6/1.7.  I sold 1.6 call at .012 and bought cover at 1.7 for .007 for a net profit of .005.  In dollar terms, I netted $187 and posted $500 margin.  This will bring 37% return on investment.  
If the rally dies out, aggressive traders can sell the cover before it loses all of it's value. Another option is to sell naked at 1.8 on additional rallies.  I will keep an eye on this position going into 2019.  More opportunities are also available at later contract months, so this could be a good income play.
Charts and Resources
I used charts from the USDA Foreign Agricultural Service for production numbers and weather report.  I created the seasonal average and commitments of traders chart using python.  Specifically, I used Pandas to aggregated and plot the data.  The seasonal chart is comprised of the front contract rolling on expiration for 2013-2017.  I then took a monthly average of all 5 years and plotted the results.