Introduction
From what I've gathered since my first article Sears: A Vulture's-Eye View was published, there's a general misunderstanding or lack of knowledge about the mechanics of bankruptcy, so this series of articles attempts to rectify that. From scratch. They are not intended as an exhaustive treatment of the myriad issues bankruptcy presents; rather, as an inquiry into relevant Sears (OTCPK:SHLDQ) case facts and their pertinence to Chapter 11. For a seasoned viewpoint on bankruptcy, I recommend WYCO Researcher. If you're more interested in the financial particulars, try Elephant Analytics.
Quotes are heavily employed and are often condensed and/or paraphrased for brevity and clarity; thus, I've skipped interpretation where I felt meaning was conveyed clearly. Footnotes appear at the end of each section.
Little Dipper
The basic function of debtor-in-possession (or DIP) financing is to provide the debtors with the breathing room necessary to fund its operations while the Chapter 11 case is extant. If you recall Part 1 of this series on adequate protection, the Court may grant additional liens on previously unencumbered property or give equivalent relief to secured creditors in order to "make up" for the loss in value their encumbered collateral may experience during bankruptcy.
Notwithstanding the differences between prepetition and postpetition claims, the Court usually grants a "superpriority" status to DIP lenders because their loans are designed as temporary emergency relief in order to facilitate the case. To promote confidence that DIP lenders will likely recoup the outstanding loan balance, the Court concurrently grants them (drum roll, please) adequate protection.
Bearing that in mind, we can now "adequately" ask the question: who would want to lend Sears more money in bankruptcy? What follows is based on nothing other than the author's limited experience and a reasonable extrapolation of both the docket and recent headlines. It is not definitive.
Great American Capital Partners
In order to understand at least one reason why GACP might agree to extend financing on a Junior DIP basis, it's important to first know who they are: the sibling fund of a national liquidator.1 Full stop. That is correct. A liquidator.
Let's peer into GACP's administrative claims motion for a glimpse at their connection to the Jr. DIP financing, which ultimately went to Cyrus, shall we? See Docket 1102.  
Sears originally requested hefty financing; GACP, in turn, conducted lengthy due diligence and proposed a package: 
GA Capital submitted a $600 million term sheet that would 'obviate the need' for the ABL DIP Facility, as well as a separate2 term sheet for a Junior DIP Financing of $300 million."
The $600M portion was subsequently slashed:
At the Debtors' request, GA Capital shifted gears to focus exclusively on the $300 million structure."
And for GACP's hard work, Sears indicated interest in Cyrus's offer instead:
The Debtors advised GA Capital that the Cyrus offer was more attractive because it (ii) gave the lenders consultation rights, not consent rights, over the selection of a liquidator"3,4 
Cyrus Capital Partners
Cyrus, on the other hand, was initially a secondary consideration, according to the same docket, because "Cyrus [was] 'all over' the Debtor's capital structure." Sears may have been apprehensive about the scrutiny at first, but in the end it seems to be a simple matter of Cyrus's, ESL's, and Sears' desire to remain intimately intertwined. Doesn't it?
The Hallway
The rest, as they say, is history (Docket 1102):
On the day of the scheduled hearing to approve the GA Capital DIP, Lazard informed GA Capital that the Debtors were once again considering Cyrus as a potential junior DIP lender. Moreover, while ostensibly giving GA Capital the opportunity (in an informal, impromptu 'auction' conducted in the hallway of the courthouse for roughly 90 minutes) to match those economic terms on which Cyrus was purportedly more competitive, the Debtors ultimately opened the Junior DIP Hearing by advising the Court that they had selected Cyrus to provide junior DIP financing on the same terms negotiated by GA Capital."
Footnotes: Little Dipper
1You may not be aware of it, but you're familiar with Great American Group's handiwork (along with Hilco, Gordon Brothers, and Tiger Capital). Toys 'R' Us's liquidation is a recent example.
2"Separate" seems to mean "alternative," but I reserve the right to be wrong.
3I can't exactly say "consent rights" means "liquidator self-appointment," but I'd be thinking it. Maybe the juicy LIBOR +10% was attractive enough by itself (Docket 1102)
4GACP also holds a stake in the 1st-lien 2018 FILO. Classic.
The Final DIP Order and Intercreditor Agreement
When it comes to reviewing legal documents, one of the most difficult aspects is, well, understanding the legalese. Like the law itself, it's meta: it refers to itself in different areas, and those areas in turn refer to themselves in yet other areas. Motions, objections, orders, exhibits, etc., often run into the hundreds of pages in items, paragraphs, clauses and sub clauses, which can take multiple lawyers to craft. If you dig deep enough you'll even find clauses that dictate which language governs in the event of a conflict between two or more documents that affect the same subject. Even lawyers recognize they aren't perfect: the unedited excerpt directly below is from the Final DIP Order.
This Agreement is subject to the terms and provisions of the DIP Intercreditor Agreement and the Final Financing Order. In the event of a conflict between the terms hereof and the terms of the DIP Intercreditor Agreement or the Final Financing Order, the terms of the DIP Intercreditor Agreement or the Final Financing Order, as applicable, shall govern and control." (Docket 955, Exhibit A, pg. 158, Article IX, Section 9.21)5
As a trivial (and identifiably human) example of the momentary confusion words can sometimes wreak, this next quote is taken from Mr. Keller of Milbank, Tweed, Hadley, and McCloy on behalf of Cyrus, who resolved his question shortly thereafter with counsel. (Docket 1102, Exhibit C):
If you look at the setoff and recoupment provision, it has this introduction that I'm not quite sure what it's meant to do. I'm not sure what the 'notwithstanding' is aimed at, because when you look at 41(d), it basically just preserves the right to challenge, and then if there's no challenge, then it's an allowed claim. So, I'm not quite sure if there's anything else to that."
A Mistake in Need of Correction
In light of this, I must apologize to some Seeking Alpha members for explaining the Final DIP Order6 and DIP Intercreditor Agreement inaccurately. Although these documents provide handy charts illustrating how the lien priorities work, I'm a stickler for details: I prefer the black and white.
If you read Article 4 of the Intercreditor Agreement (Docket 892, pg. 29, "Application of Proceeds") and you follow the trail of definitions, it would appear on its face that the 2nd-lien Notes are included in the Senior DIP Obligations, ranking senior to the Jr. DIP Obligations under virtually all circumstances (notwithstanding the carve-outs).
How could I have assumed this? In the Intercreditor Agreement, "Senior DIP Obligations" are basically defined as obligations owed to the Senior DIP Secured Parties; the Senior DIP Secured Parties are then defined as the Senior Lender, its Affiliates, Agent, and each other "Credit Party" as defined in the Final DIP Order, of which the 2nd-lien Notes would technically be a "Credit Party" member (part of the inclusive "Prepetition Credit Parties").
Unfortunately, the Final DIP Order is much more specific on 2nd-lien priority:
For the avoidance of doubt, notwithstanding the Interim Order, the Prepetition Second Lien Adequate Protection Liens shall solely attach to property or other interests of the Prepetition Second Lien Loan Parties." See Docket 955, pg. 49, ¶ 17(d).7,8
Despite the preceding language9, it goes on to clarify and confirm, at least for the 2nd-lien Notes I verified, the basic priority structure given in the chart below. On a secured basis, except for the Prepetition ABL Collateral, its priority is dead last; otherwise, it's 2nd to dead last.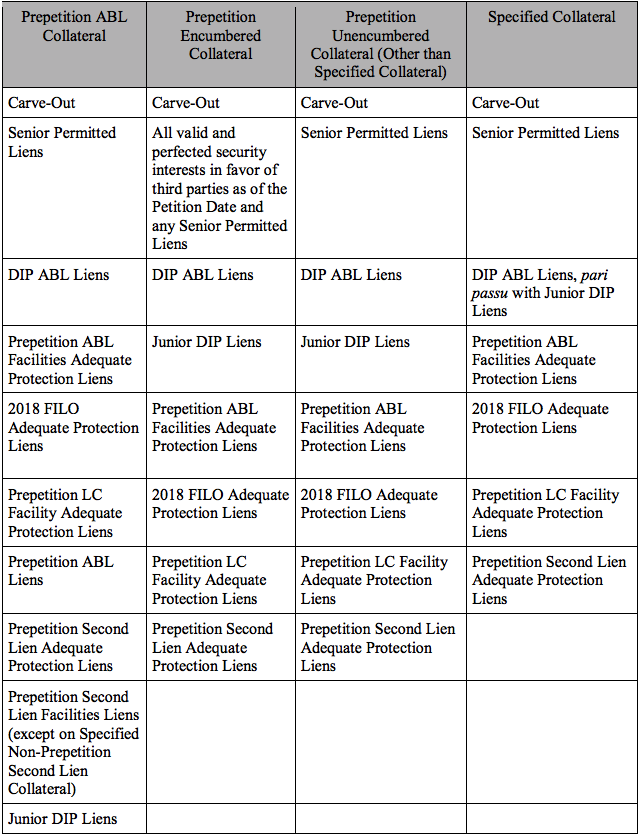 Source: Docket 892, pg. 20 (from the Intercreditor Agreement; the Final DIP Order's identical chart is divided between two pages).
Prepetition Unencumbered Collateral Defined10
Proceeds of any sale in SRAC Medium Term Notes Series B
All rights to assets of SHIP, Inc., and the proceeds from the sale of any assets related to the SHIP Business
All of the rights to assets of Sears PartsDirect and the proceeds not subject to liens as of the Petition Date (including liens on the Prepetition ABL Collateral)
Any and all estates or interests in real property (including any leases) identified as unencumbered in Exhibit 1 to this Schedule 3
All IP and proprietary rights not subject to a valid and perfected lien or security interest as of the Petition Date.
Any and all rent, income, revenues or proceeds from tenants or subtenants identified as unencumbered in Exhibit 1 to Schedule 3 
All other assets not constituting Prepetition ABL Collateral and not otherwise subject to liens as of the Petition Date."
What This Means for Retail 2nd-lien Noteholders
There's still not enough information in ESL's indicative bid to speculate with any genuine authority. If you'd like to review my first impression (which I believe still holds its relevance), read my first article Sears: A Vulture's-Eye View.
Footnotes: The Final DIP Order and Intercreditor Agreement
5See "circular definition." Plainly, it means "whichever document defines the subject more explicitly," "whichever document asserts unequivocal authority over the subject," or "to which document authority is expressly given over the subject." Also, the Final DIP Order is the Final Financing Order. The Articles were transferred verbatim from the Interim DIP Order.
6In hindsight, not to be confused with the Interim DIP Order, Docket 101, before Jr. DIP was involved.
7Cyrus (and ESL) allegedly had a bargaining chip GACP didn't have: they could agree (purportedly to appease the UCC) to restrict their 2L Note adequate protection liens. GACP doesn't hold 2L notes, so it couldn't make the concession. 
8This is Prepetition ABL Collateral; I haven't yet found clear definitions of the encumbered or specified collateral, although they may refer to the encumbered/specified collateral as set forth in the original security indentures.
9GACP also found this odd. The language limits 2L adequate protection to the Prepetition ABL Collateral but then gives it junior adequate protection on unencumbered collateral. Toss out your snorkels for SCUBA gear. Bankruptcy is weird down in the depths. See Docket 1102, pg. 12, ¶ 10 and footnote #10.
10Docket 892, Intercreditor Agreement, Schedule 3, pages 54–125
Cyrus, Omega, and SRAC Unsecured Notes
Color me naïve, but Cyrus's Jr. DIP loan extension appears less to be about the Medium Term Notes and more about boxing out GACP from throwing another grappling hook into Sears' capital structure. 
Parry, Strike, Free-for-all
Whilst simultaneously dispatching GACP, Cyrus was also focused on attacking the MTN auction. Since I'm not an expert on credit default swaps, however, you can get up to speed with Bloomberg's coverage here and here.
The layman's gist is that Cyrus was selling insurance on virtually un-collectable debt that needed to be collected in order to be paid out in the event of a Sears default. Clever girl. In fact, Cyrus originally objected to the sale out of concern that flooding the market with MTNs would "open a dangerous door to potential manipulation of claims pools." (Docket 722). 
Nonetheless, the sale proceeded and the light-footed Cyrus managed to "win" the auction anyway, but not without Omega claiming foul play (Docket 1077). 
Omega asks the Court to invalidate the sale to Cyrus of approximately $650 million in medium-term notes issued by SRAC not offered or noticed for sale to any other bidder and the clandestine agreement between the Debtors and Cyrus not to sell an additional $1.4 billion in MTNs held by non-Debtor affiliate Sears Reinsurance." (author's emphasis in bold)
Cyrus responded in kind (Docket 1199):
While replete with wholly unsubstantiated allegations, at bottom Omega's Motion is nothing more than a request for a "do-over" by a disappointed bidder that lost in a Court-approved Auction because it submitted a bid that the Debtors and the UCC jointly concluded was both insufficient in price and unacceptably conditional."
Sears also didn't waste any time responding (Docket 1196):
In any event, this Court does not have the jurisdiction to restrict or mandate the sale of non-debtor Sears Re's MTNs even if it wanted to."
When a Not-Sale Becomes a Sale
Sharper tongues than your author's have said "the pen is mightier than the sword." Pen, meet gavel.
Though Och-Ziff's reply in support of Omega's motion (Docket 1294) noted that the Court didn't have jurisdiction over a non-debtor foreign subsidiary or the MTNs it held per se, it basically argued that 1) the MTNs were under the control of the Debtor for the sale, 2) the withholding of additional MTNs was not authorized by the sale order, 3) the automatic stay lifted for SRAC to effectuate the sale was out of the ordinary course of business, and 4) all therefore needed Court approval, so the auction was under the Court's jurisdiction. (See Order Granting Motion Authorizing Debtors to Sell MTNs, Docket 826).
Remember, the Court's decision rested upon an auction, not Sears Re. Any intellectually dishonest conversation that continues to follow said ruling, i.e., "Sears Re still isn't under the Court's jurisdiction because it's a non-debtor foreign subsidiary," not only stubbornly and maliciously mischaracterizes the facts under consideration but should now be effectively Chapter 7'd with a wooden clack so thunderous you can hear it from New York to California. 
Sears Roebuck Acceptance Corp (SRAC) Retail Unsecured Notes
I don't assert any special knowledge regarding Sears' guarantor/non-guarantor structure, but the impact the Omega/Cyrus CDS kerfuffle had on the price of SRAC unsecured notes was a little arresting. As far as I'm aware, the bonds in and of themselves aren't worth anything, so what happened?
According to Och-Ziff (Docket 1294): 
As a reminder, similar unsecured bonds currently trade in the market in excess of 70 cents and, due to the large amount of CDS outstanding, an active (albeit temporary) buyer-base exists for these assets."
And according to Omega (Doc 1077):
Omega is a creditor of SRAC, having purchased $600,000 in notes issued by SRAC on November 21, 2018."
But the MTN auction happened on November 20th, the day before. So were the tradable SRAC notes deliverable into the CDS auction or did Omega just purchase some afterward to claim creditor status? Maybe a little of both. If you pull up the CDS Committee's Deliverable Obligations list for the auction, you'll see these SRAC CUSIPs sitting right at the top, all six of which are available for purchase by retail investors.

Source: Credit Derivatives Determinations Committee
To recap, the auction happened on November 20th; however, the otherwise worthless retail-tradable SRAC notes are/were redeemable at the CDS auction, and Omega purchased (at least) $600,000 of them on Nov. 21st. None of this may actually be related, but let's see if we notice any interesting price action around the auction date.11 In CDS Committee Order:
SRAC Unsecured Note, CUSIP 812404BE0.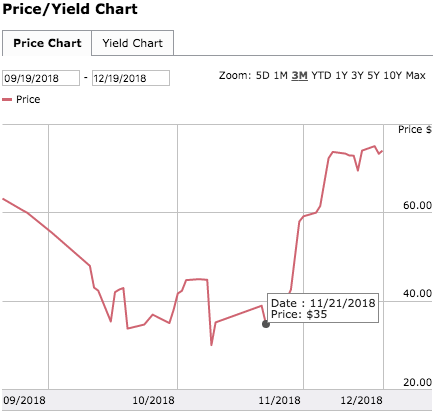 Source: FINRA
SRAC Unsecured Note, CUSIP 812404BK6.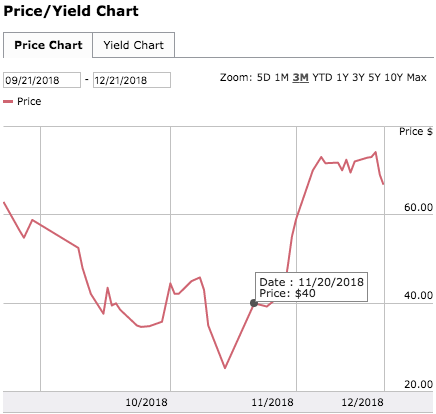 Source: FINRA
SRAC Unsecured Note, CUSIP 812404408.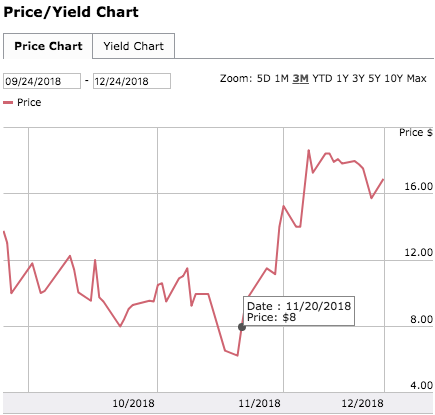 Source: FINRA
SRAC Unsecured Note, CUSIP 812404507.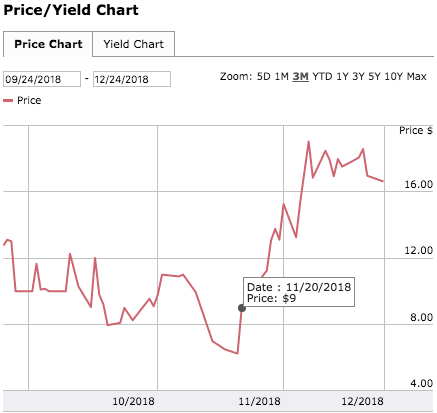 Source: FINRA
SRAC Unsecured Note, CUSIP 812404AX9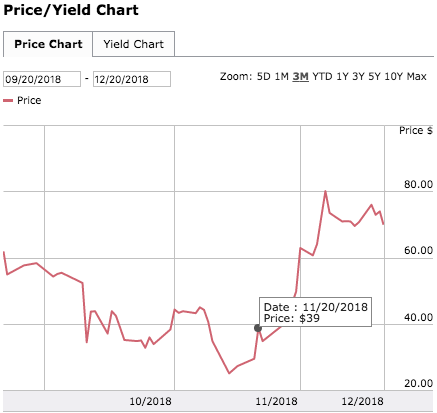 Source: FINRA
SRAC Unsecured Note, CUSIP 812404AZ4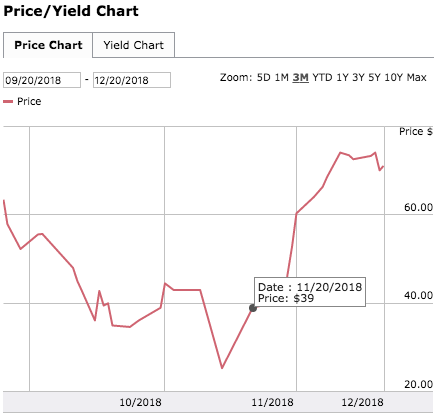 Source: FINRA
Now that the Court ruled it has jurisdiction, I wonder if and for how long these note prices will levitate after the MTN auction dust settles.
Footnotes: Cyrus, Omega, and SRAC Unsecured Notes
11This isn't conclusive evidence these bonds do or do not have any "value." Though I'm skeptical they're worth anything outside of all this financial chicanery, I'm simply pointing out the serendipitous timing of the climb in prices. 
Conclusion
Please remember the concepts, law, and procedures explored in this series cannot possibly be handled with anything resembling sufficiency but are merely intended as mini crash courses on core ideas and their applications to Sears' bankruptcy. For more robust treatments of bankruptcy subjects in general, see authors Peter Nesvold (accompanied by Jeffrey Anapolsky and Alexandra Lajoux) and Stephen Moyer.
Disclosure: I/we have no positions in any stocks mentioned, and no plans to initiate any positions within the next 72 hours.
Additional disclosure: I/we have no positions in any bonds mentioned, and no plans to initiate any positions within the next 72 hours. Additionally, I am not, nor have I ever been, a financial advisor, nor a financial analyst, nor a lawyer; this is not, nor should be construed, nor relied upon, as legal and/or financial advice. Legitimacy, veracity, accuracy, relevance, timeliness, and anything else representing trustworthiness, implicit and/or explicit, of sourced material, duplications thereof, and/or analysis is not guaranteed. Nothing contained herein constitutes an offer, solicitation, inducement, and/or recommendation to buy, hold, sell and/or otherwise transact with any derivatives and/or securities. This is for informational purposes only. Investing involves risk, including but not limited to complete loss of principal. Consult a financial advisor or lawyer before making any investment decision.