You have to hand it to the short sellers. Ever since May 17, 1792, when the Buttonwood Agreement was signed by 24 stockbrokers on Wall Street, New York under a buttonwood tree, not one short seller, outside of litigation, has ever been forced to make a filing regarding their short positions. We think the shorts in our two popular long positions, BlackBerry (NASDAQ:BBRY) and NII Holdings (NASDAQ:NIHD), may be staying anonymous for good reason: they are wrong!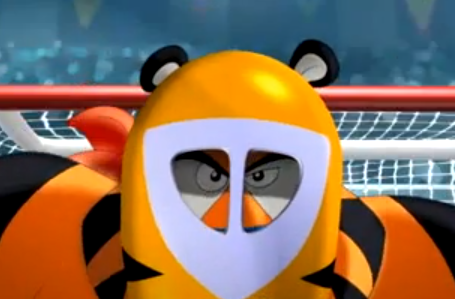 This, in fact, is just the point Carl Icahn made in his famous CNBC interview regarding David Ackman and Herbalife (NYSE:HLF): short sellers normally do not publicize their trades because they are not required to do so by SEC regulations. On the other hand, long positions are thoroughly disclosed by investors and investment managers under numerous requirements of the SEC including but not limited to Regulation 13D&G and 13F. There are some famous short sellers who do publicize their short positions like Jim Chanos often does. Here is a quote from an ironic article that highlights the first time Jim had to file a 13F for long positions in 2011: "For the first time Chanos' Kynikos Associates LP filed a 13F form that showed several long positions in common stocks...".
In fact, as the article above explains, sometimes short sellers make good long investors as they know what to look for in the winners and losers. We recently asked a dedicated short seller, who asked to remain anonymous, about his criteria when looking for a good short sale candidate or avoiding one that on the surface may appear to be. His first response was, "Never short a shark!" We asked for an example, he gave us three: Larry Ellison of Oracle (NYSE:ORCL), Bill Gates of Microsoft (NASDAQ:MSFT) and Jeff Bezos of Amazon (NASDAQ:AMZN). He explained that all three would cut off their right hand to make a sale. We asked him his thoughts on HLF. His response was clear and concise, "Herbalife is not a short!" He said he focused his shorts on frauds and HLF did not fall into that category. He also explained that he had studied HLF long ago and concluded it was a sales machine, which we tied back to his "shark" comment.
Outside of Ackman's HLF trade and the names Chanos wishes to mention in his media interviews, many highly shorted stocks according to Nasdaq reports do not have a visible short seller in sight. Here is the top 13 in terms of the sheer number of shares short from the WSJ list on April 24th: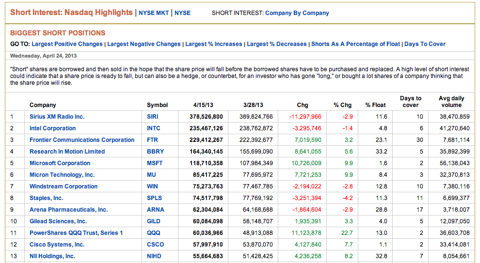 Two of our long time favorite longs are here on the list:#4. and #13 . The list goes to the top fifty names and has some other high fliers such as Green Mountain coffee Roasters (NASDAQ:GMCR), Tesla (NASDAQ:TSLA) and lululemon (NASDAQ:LULU) numbers 27, 31 and 40 respectively. Our check with a prime broker to see what the negative rebates (cost to borrow shares to sell short) on BBRY,NIHD,GMCR,TSLA and LULU revealed an annual rate of 8%, 2.5%, 2%, 40% and 1.25%. The standout here is TSLA which rookie SA contributor Sal Demir wrote a thorough article on TSLA and we highly recommend reading. From our check, TSLA is hard to borrow and getting harder as short sellers scramble to find new shares as existing borrows get recalled.
We have been trying to find the largest shorts in BBRY and NIHD and can't. We have a very difficult time in understanding the basis in the short position rationale with these two names in particular. The anonymity in the identity of the shorts is what Carl Icahn referred to in his interview as the beauty of being short. In our opinion, there is no beauty in being short NIHD, BBRY or HLF for that matter. We are long these names for different reasons. BBRY and NIHD have very large short position as a percentage of their float: 33.2% and 32.8%, respectively and #20 and #24 on the same WSJ list tagged above. They are both turnaround stories and both have room to move on the upside as their comeback continue to build steam. Fellow SA contributor Michael Collins reported on Friday of the sellout of the new BBRY Q10 at Selfridges in London. We think that speaks volumes as to what will occur with the Q10 globally. NIHD is also making great strides in its progress by announcing its sale of Nextel Peru for $400 million and with recent news of better subscriber counts as reported by Wells Fargo's Jennifer M. Fritzsche, Senior Analyst:
"Continued Turn Around In Mexico & Brazil; - NIHD should see improving fundamentals in Mexico and Brazil throughout '13 fueled by its expansion of its 3G services. We expect to hear this very much messaged on NIHD's Q1 call later this week. In terms of Brazil, the Anatel numbers have given us a good reason to believe that, optically, NIHD's Q1 trends in Brazil will show dramatic improvement on a sequential basis and show +45K net adds (3G and iDEN) in this important market. We are raising our '13 sub outlook for Brazil. ....We are raising our valuation range to $13 - $15 from $5.00 -

$5.50."
In conclusion, we think being short in this market with all the stimulus from "bearhunter" Ben Bernanke' Federal Reserve takes a lot of hard digging into the numbers to make sure the short prospect is going out of business. For if they survive, the shorts could suffer severely and forever remain anonymous. We have a $20.82 target price on BBRY and a $12.11 on NIHD.
Disclosure: I am long NIHD, BBRY, HLF. I wrote this article myself, and it expresses my own opinions. I am not receiving compensation for it. I have no business relationship with any company whose stock is mentioned in this article.
Additional disclosure: And may be long Tesla before this article gets published.