The recent activity in the wireless mobile computing industry can be compared to the days of the California "Gold Rush". After easily mined "surface" sites were secured by the early gold pioneers, companies providing the "picks and shovels" for the more challenging sites for miners made handsome returns. We think today represents the same opportunity for investors in wireless considering all the recent action amongst the wireless players. We recommend buying the undervalued international wireless operators and the undervalued makers of the "picks and shovels" hardware and software.
On Monday, Dish Network (NASDAQ:DISH) announced a bid for Sprint (NYSE:S). It seems a bit ironic, the news came the very same day that gold made a historic drop. Why? Softbank's CEO and founder, Masayoshi Son can be considered a "forty-niner", a term coined in the days of the "Gold Rush". He was not first but he was early. Here is an excerpt from an article about how the name was derived:
" Gold was first found in Northern California in January 1848, and it took about a year for the news to travel and inspire thousands of fortune seekers to head west. The miners who arrived in 1849 encountered ... fortunate coincidences. They were relatively early compared to the competition ... they could put a pan in the river and pull out gold. ...the gold was free. ... were no taxes or land rights' arguments. ... early gold miners were quickly dubbed the "forty-niners."
Like the early "forty-niners" who secured and traded lucrative rights to stake mining claims, Softbank can extract a $600 million termination fee plus up to $75 million in fee reimbursement should the merger not happen as announced in October 2012. Softbank holds a $3.1 billion convertible bond that yields 1% and can convert into 590 million shares of the New Sprint if and when the Softbank Sprint"merger" is completed. Softbank has an opportunity for a six month 20% return by calling their convertible bond and receiving the $600 million termination fee.
The quest for mobile spectrum and faster broadband networks such as LTE 4G is in full force. Many companies are rushing to develop mobile strategies. Charlie Ergen, DISH's controlling shareholder, has been aggregating radio frequency spectrum over the last 25 years. He knows that video program delivery practices are changing minute by minute and threaten traditional cable, satellite and broadcasting standard operating procedures. Investors and companies are still digesting the implications of the court ruling in favor of Aero, a disruptive startup backed by Barry Diller. Charlie wants to get mobile in a very big way and fast. He was interviewed on AllthingsD in February 2013, and if you haven't seen it and are interested on his vision of where things are going, we recommend you watch it here.
Mobile is the focus of many companies we have written about in the past including Facebook (NASDAQ:FB), BlackBerry (BBRY), NII Holdings (NASDAQ:NIHD) and most recently Single Touch (NASDAQ:SITO). Sprint, DISH and NIHD are the pure plays in wireless in terms of what they own and operate. To date, DISH owns and operates a Fixed Satellite Service ("FSS"). From DISH's most recent 10K, its clear he is itching to go mobile:
Wireless Spectrum. In 2008, we paid $712 million to acquire certain 700 MHz wireless spectrum licenses, which were granted to us by the FCC in February 2009 subject to certain build-out requirements. On March 9, 2012, we completed the acquisitions of 100% of the equity of reorganized DBSD North America, Inc. ("DBSD North America") and substantially all of the assets of TerreStar Networks, Inc. ("TerreStar"), pursuant to which we acquired, among other things, 40 MHz of 2 GHz wireless spectrum licenses held by DBSD North America and TerreStar. The financial results of DBSD North America and TerreStar are included in our financial results beginning March 9, 2012. The total consideration to acquire these assets was approximately $2.860 billion. This amount includes $1.364 billion for DBSD North America (the "DBSD Transaction"), $1.382 billion for TerreStar (the "TerreStar Transaction"), and the net payment of $114 million to Sprint Nextel Corporation ("Sprint") pursuant to a settlement agreement. We are evaluating our options to commercialize these assets.
The mobile wireless spectrum DISH holds is substantial. However, owning wireless spectrum is only the first part of monetizing it. As Charlie knows, its very expensive to build out a national wireless network and simultaneously develop cash flow to service substantial debt which is customarily used for building wireless infrastructure. We have seen numerous examples of financial pain by companies who have attempted to build these networks. This brings us to Clearwire (CLWR). CLWR has a storied past starting with spectrum purchased from Wireless Cable operators known as MMDS in the 2.5Ghz frequency. Cell phone pioneer Craig McCaw aggregated this spectrum originally called WiMAX over the years with funding from Intel (NASDAQ:INTC) and other large investors. CLWR filed their S-1 in 2006 and went public in March 2007 with their shares priced at $25. After the initial euphoria taking shares to just over $30, the stock has languished ever since. See Chart: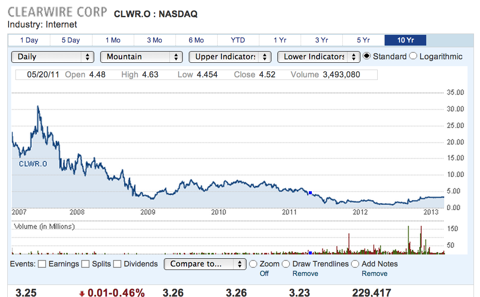 We think the DISH proposal to buy Sprint is a move by Charlie to decouple CLWR from Sprint. DISH made a proposal to buy CLWR shortly after Softbank made a bid to buy Sprint and fellow SA contributor Trefis on April 2 summarized where everything related to Sprint, CLWR and DISH stood at that time. As evidenced by the chart above, CLWR shareholders have paid the price of a long and hard infrastructure build-out. Charlie Ergen shrewdly is not embarking on making the same mistake made by CLWR in attempting a ground-up wireless build-out. He wants to take what CLWR has painstakingly built and add his spectrum to it for future expansion for broadband services. The CLWR ownership structure is very complex, but Sprint does have control. Here is a chart from its last 10K filed for 2011: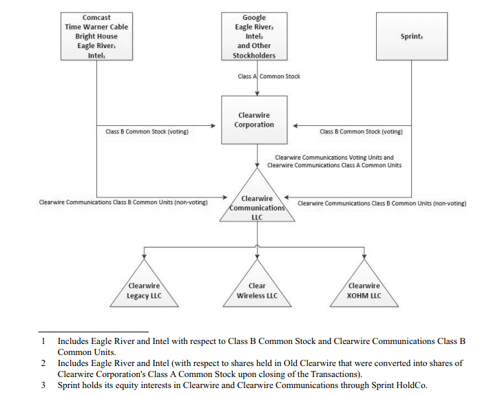 The ownership structure is dominated by a who's who of the media and technology industries. Since this filing Google has exited it shares by selling them into the open market in late 2012. In addition to this complex ownership structure, CLWR has a tremendous amount of structured debt. DISH purportedly owns a majority of this debt, so DISH would have a say in CLWR's future if CLWR went into bankruptcy.
We believe the purchase of Sprint would be a good deal for DISH at the $25.5 billion price level. S has infrastructure, spectrum and 14 million customers. DISH can economically operate the company and save enormous operating overhead costs that would not be needed as a merged company. Paulson & Co's, Sprints fourth largest shareholder said, "Dish is offering more value to Sprint shareholders and also is contributing valuable spectrum, 14 million subscribers, cost synergies and revenue synergies," and we think Paulson is right. As we write this article, Verizon (NYSE:VZ) has offered to lease parts of the CLWR wireless network for $1.5 billion. Things seem to be getting hotter in the wireless broadband mobile computing space and we suggest investors participate opportunistically.
Buy Under-loved Carriers And "Picks and Shovel" Makers
We think Sprint, DISH and CLWR are close to fully valued and do not represent significant upside from their current share prices in the current mobile computing "Gold Rush". We believe the under-loved wireless NEXTEL Latin America carrier NII Holdings (NIHD) holds valuable licensed spectrum in growth markets and therefore has tremendous upside potential. The 1849 "Gold Rush" brought fortunes to companies selling the "picks and shovels". We see upside in shares of the names that will participate regardless of who wins the most customers. Our latest pick, which we wrote about last week, is Single Touch. They have a compelling mobile advertising business and are expanding their reach through AT&T (NYSE:T) as its conduit to deliver sponsored SMS text messages. In addition, they have a very powerful patent portfolio which is of significant strategic value to anyone in the mobile advertising and video streaming space, including DISH and any of the well healed CLWR shareholders, present, past or future. And of course our comeback story favorite is BlackBerry, which makes quality mobile computing smartphones and has developed the BB10 Operating System which will take advantage of the new broadband wireless networks now being built and operated.