During the holiday weekend, we took a trip to Costco which revealed an interesting twist for BlackBerry (BBRY): Verizon Wireless (NYSE:VZ) really seems to be focused on helping BBRY sell phones. A picture tells a thousand words, please take a look: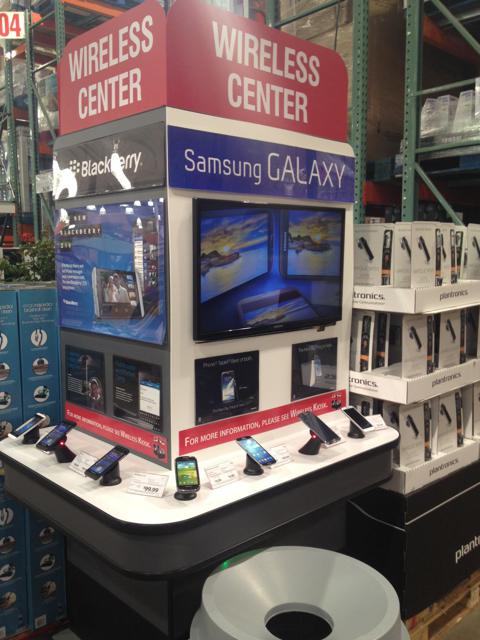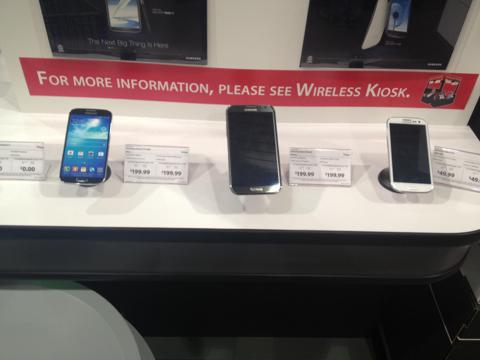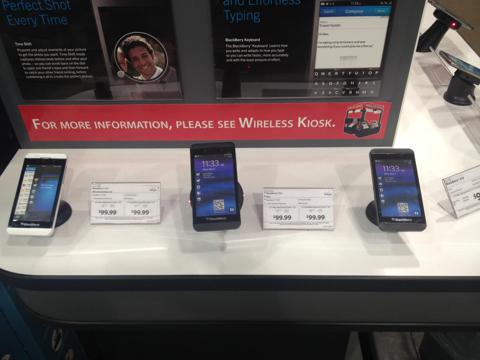 We need to fill in some blanks to make these really explain the story. First, the display is newly installed in a New Jersey Costco within past 2 months. Next, the top picture features BBRY in position A-which stands for aisle, where all the foot traffic is and Samsung (OTC:SSNLF) is in position B-as in bad because its tucked away and not in the mainstream (anecdotal humorous note:see where the trash bin is?). The following two pictures show that Costco and or Verizon are making a concerted effort to help BBRY gain market share with aggressive pricing, $100 below Samsung's S4. When we spoke to the manager about the Z10, he explained sales were tapering off after the Samsung S4 was released, but the new lower pricing and display was helping BBRY this week. He also volunteered that the Z10 navigated internet surfing faster and smoother than the S4, and it was really a "great, great phone with a great camera" and thinks the interest in the Qwerty Q10 version will make it a new best seller for the many customers who have been anxiously asking for it and patiently waiting for its arrival.
Our perspective is that Verizon seems to be making good on its promise Verizon Wireless CEO Dan Mead made as we reported in our last SA article about BBRY:
"We think that there is an important place for BlackBerry," Mead told attendees of the Jefferies 2013 Global Technology, Media and Telecom Conference this week."
Why is this important? Because it is a completely different view than the picture fellow SA contributor Money Investor paints in his recent article. BBRY doesn't need a huge market share increase to remain profitable. In fact, recent moves by BBRY such as opening up the BBM actually makes new revenue streams from its existing 70+ million subscriber base a near term catalyst. Here is one example that I have posed to a wireless marketing company: can you put an advert in a message from a BBRY BBM message when it goes to an Android phone, answer: YES! Actually, this is only the tip of the iceberg. We know that BBRY management is responsive to new, fresh ideas about new services as explained in this SA article about the Monitise service. We also know from the CEO on down, they listen. We have first hand experience of this, and this is in sharp contrast to any other company in the device space that we have approached over the years. This is not the same arrogant management of yesteryear. The advantage that BBRY brings to the game is summed up in a simple phrase: "Openly Receptive". Isn't that what you want from a comeback story.
The hard to borrow -HTB- factor is certainly in play in BBRY shares. Our check this morning shows severe scarcity in available shares for loans out to short sellers. This also has resulted in a much wider range in the negative rebate cost to borrow from 9-10%, a 25% increase from last week, with limited availability. We have heard that some foreign institutions are charging over 30%, but have been unable to confirm this as of yet. Important note here is 30% was the cost to borrow for Tesla (NASDAQ:TSLA) just before its recent meteoric rise. The people who are really making money here are those who are lending out their shares at these high rebate rates.
BlackBerry will report their quarterly results ending June 1st, 2013 on June 28th at 8 AM EST. We think any short-seller who hasn't been bought in on this name should probably take this opportunity to avoid having a Tesla-like squeeze happen here at BlackBerry.
Disclosure: I am long BBRY. I wrote this article myself, and it expresses my own opinions. I am not receiving compensation for it. I have no business relationship with any company whose stock is mentioned in this article.