The shorts just keep piling up their bet against NII Holdings (NASDAQ:NIHD) as Nadaq reported their latest short interest numbers last night: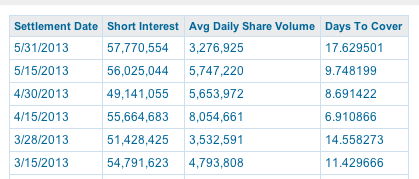 With no other news to report at this time, we are confidant that the tower deal is progressing nicely and should represent a significant amount of additional cash on NIHD's balance sheet which will strengthen their continued resurgence. Moreover, we think that the loser of the DISH (NASDAQ:DISH) vs Softfbank battle over Sprint Nextel (NYSE:S) may take a look at buying NIHD as a key strategic operating entity.
Disclosure: I am long NIHD.