It seems ironic to us that the key basics of wireless technology were at least partially and perhaps solely invented in the 1800s by a man named Nikola Tesla and that a company named Tesla Motors (NASDAQ:TSLA) is the poster child for the tech stock bull market currently in 'full steam ahead' mode. After the market close on Friday, Leap Wireless International (LEAP) shares 'leaped' 116% in after-hours trading on the announcement of a buyout by AT&T (NYSE:T) for $15 a share. SA sent out a Market Currents update:
Here is what happened to LEAP:(click to enlarge)

Here is what happened to NIHD and Dish: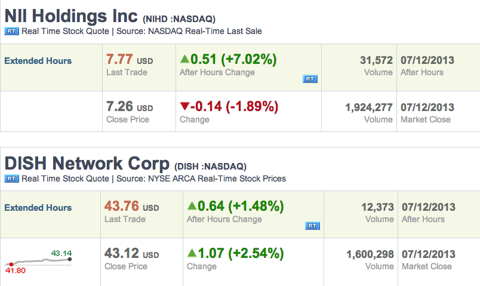 What stands out in LEAP after hours trading is the market is already expecting a higher bid for LEAP as the price after hours moved $2.31 above the proposed buyout price. We have examined the spectrum holdings and have not backed out the Chicago spectrum property as there a few details on that part of the T/LEAP transaction. To compensate for this lack of information, we have used the total debt on the balance sheet as a placeholder in calculating a Mhz Pop valuation for the transaction which results in a whopping $2.21 per Mhz Pop for LEAP shareholders. It is important to see who the insiders are in LEAP as they may move their winnings into the next tier of acquisition targets from this expanding wave of consolidation in wireless players. From LEAP's recent SEC proxy filing:

We have been writing about NII Holdings which is a NASDAQ traded U.S. based company with headquartered in Reston, VA as a spectrum rich wireless play which looks to be undervalued in the shadows of Friday's LEAP buyout proposal by T. As a comparison, NIHD at Friday's closing price equates to $.2138 per Mhz Pop for their 22.31 billion Mhz Pops in Lat Am licensed territories excluding Nextel Peru which is currently pending sale. Yes, the territories are vastly different in terms of demographics, but not an order of magnitude different especially when you take into consideration the higher growth potential in the emerging markets. We think a 70% discount is conservative, making NIHD a potential triple from Friday's close. In fact, Stifel has a $23 target price on NIHD, perhaps low Mhz Pop metric is the driver behind their aggressive price target. As an aside, here is a link to a letter filed at the FCC regarding Mhz Pop valuations related to the Clearwire Sprint transaction which is now old news.
Here is a look at NIHD's insider roster from their latest SEC proxy filing:

Here is the interesting point regarding these insider rosters: there is absolutely no overlap. The seasoned investors such as Capital Research, Paulson Partners, MHR-Rachesky- and Wellington don't show up in NIHD.... yet.
The story at DISH is not as cut and dried as Blackrock does appear as a major holder in DISH. Of course, it is clear from the SEC proxy filing that Charlie Ergen rules DISH with an iron fist:

Meanwhile, this week is important in the battle between Ergen's DISH and Phil Falcone's LightSquared over control for the bankrupt LightSquared 'not yet operating' wireless operator. From Friday's NYPost:
A Manhattan federal bankruptcy judge will hold a hearing on Wednesday tied to Falcone's arguments that he should get more time to come up with a restructuring plan for LightSquared. His lawyers have argued that Ergen - a competitor - has been secretly buying up LightSquared's debt as part of a ploy to scuttle the reorganization and buy LightSquared's assets on the cheap.
We draw many conclusions from all these news events. First, wireless consolidation is in here and can't be ignored. Maybe, most important is the news that:
"the latest quarterly report from RKG, smartphones and tablets combined accounted for 26% of organic search traffic in Q2, up from 15% a year earlier. Most of that traffic (18%) came from iOS devices, fairly evenly split between the iPad and iPhone, as Android devices contributed another 7% of traffic."
We advise investors to take a position in a carrier they feel is undervalued like we do about NIHD and wait for the consolidation to strike. We like DISH as well but want to monitor what happens this week in court with LightSquared. Next, we think that ripple effects will surface in the wireless device arena as well. We are of the belief it will soon hit the battered but financially solid BlackBerry (BBRY) as well, especially if LEAP's Chairman and Carl Icahn's protégé Doctor Mark Rachesky is looking for a new patient.
Disclosure: I am long NIHD. I wrote this article myself, and it expresses my own opinions. I am not receiving compensation for it. I have no business relationship with any company whose stock is mentioned in this article.
Additional disclosure: We may be long DISH before this publication.