With Bearhunter Ben's testimony creating a buying frenzy for investors looking for yield outside of the bond market, several stocks became beneficiaries of the Fed Chairman's kind words such as Banco Santander (NYSE:SAN).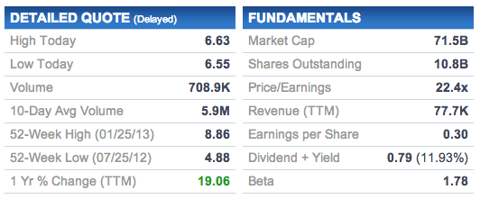 With a whopping 11% plus dividend yield and a possible bump in it's portfolio from the drop in yields, SAN looks at the moment to be a buy until it breaks $7. Moreover, the bank also made historic progress with the investment community by eliminating the hangover in its stock caused by legal troubles of its former CEO Saenz who resigned in late April of this year.
Disclosure: I have no positions in any stocks mentioned, but may initiate a long position in SAN over the next 72 hours.