As expressed before as ripe for Google (NASDAQ:GOOG), NII Holdings (NASDAQ:NIHD) has a large portfolio of tower assets which it has announced it is desirous of selling to a larger operator of tower assets. As an alternative, we think it may be wise to investigate whether it can use one of its subsidiaries as a vehicle to transfer these tower assets to and then spin off on a tax free basis to its shareholders. This may double its current share value as these assets are recognized in NIHD's current share price. These assets may be of strategic value to prospective shareholders of NIHD who do not want to be in the regulated business of wireless telecom, i.e. American Tower (NYSE:AMT), but are interested in wireless and broadband communication infrastructure. The towers represent a growing business opportunity in its own right, especially in the emerging Lat Am NIHD territories.
Here is a snapshot of the 3.5 million increase in outstanding short position in NIHD as reported on July 24th: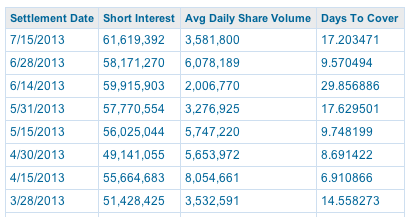 Disclosure: I am long NIHD.