We have written extensively on NII Holdings (NIHD) and how it is undervalued. We still think that is firmly the case, especially as the company has delivered on its promises of selling off non-core assets and raising a significant amount of cash to fund capex upgrades and a turnaround in subscriber growth.
However, the last two deal announcements have fallen on deaf ears as far as the street is concerned. Here is a chart of the stock since the American Tower (AMT) tower sale deal was announced on August 9th and the completion of the sale of Nextel Peru on August 19th: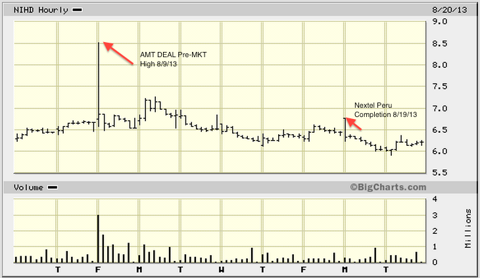 It looks like the short term rises are corresponding with heavy selling. This could be a combination of shorts increasing their negative bets and funds liquidating their holdings. Whalewisdom shows several large funds such as Renaissance and T.Rowe Price liquidating their positions and several large funds initiating positions such as Black Rock and Tiger Cub Coatue Management.
Our take is that the shorts are in control of this stock and it will become the next battleground stock between shorts and longs. Brazil's economic headwinds are surely factoring into the competitive telecom sector as evidenced by the S&P downgrades of Brazilian operator Oi (OIBR).
We also think the public relations gods have not been good to NIHD. The timing of the August 9th release in conflict and confusion with AMT's release was awful. Moreover, the August 19th release after the market close on Monday did not do the deal justice. Together, these transactions bring in more than $1.2 billion in cash to the balance sheet and the stock has been negatively affected. Our advice is to keep your powder dry as the shorts pile in and wait for the next deal the company is working on, as it will most probably reveal the true value we have placed on the company above $13 per share.