Given today's Morgan Stanley downgrade of NII Holdings (NIHD) seems to be a very good description of the bear's case for the company. Here are some excerpts:
Why Underweight?

• The deployment of 3G networks continues to pose challenges.
• Sprint'siDENnetworkshutdowninthe US is having a greater than expected impact on demand for NII services.
• Equity value is being crowded out by the growing debt burden.
• NII has not yet demonstrated that it can successfully differentiate itself in an increasingly data-centric mobile market. • Although the company may continue to divest assets, we believe the company is unlikely to generate as much interest as it did for its Peruvian assets. • Although NII owns spectrum and towers that may have strategic value for competitors, we note that the balance sheets of the region's mobile operators do not currently give them much flexibility to pursue an M&A agenda.

Potential Catalysts

• Negative: A severe devaluation of Latam currencies could pressure the balance sheet and have a negative translation effect on earnings.

• Negative: Any further delays to 3G network rollouts in Mexico or Brazil
• Positive: Strategic value, although there is little clarity on potential activity. • Positive: Possible asset monetization involving either towers or an entire country operation.

• Positive: In our bull case we value the spectrum and towers at up to $9/share net of YE2013 debt, which helps provide a floor for valuation.

• Positive: New regulation in Mexico aimed at curbing the power of the market leader could enhance NIHD's profitability and/or competitiveness.
• Positive: Possible launch of software to enable any 3G device to work on NIHD's network.
Our take on the situation is MS is trying to bail out some hedge funds that are short this name and maybe they are really worried about NIHD not turning around. Our question however is why hasn't the stock fallen anymore than it did this morning. The answer maybe coming at the close today. BTW, if someone is really short NIHD, they are looking at a zero and not a $2 drop form the current level. Why write a research report for a $2 drop? Anyway, we see the shorts fixated on breaking the near term low on the stock price outlined in this chart: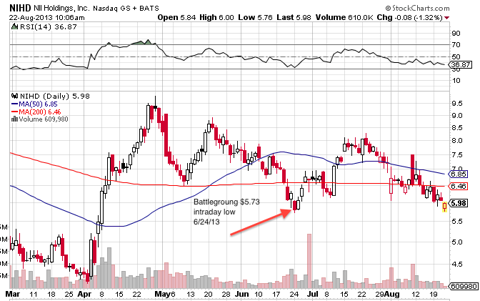 We think that a large player who wants exposure to Lat Am and the real-time knowledge that comes with operating a wireless computing network like a Google (GOOG) will buy a large stake in this company just for the real time feedback, in the meantime, put on your seat-belts and trade the name.