Bill Gates is a true innovator of our time. He is the founder of Microsoft (NASDAQ:MSFT) and led the company as CEO for many years. He currently holds ~591 million shares or 6.2% and is chairman of the board. Clearly, he is a true insider, both from an ownership position and in terms of governance and direction for MSFT. A recent article titled "Bill Gates admits early mobile strategy was 'mistake' and hedges on Ballmer" describes Gates as admitting to missing the leadership position in 'cell phones' and the migration to mobile computing. Embedded in the article is a video clip of a Charlie Rose interview which we recommend watching. It shows his quest for innovation continues. Clearly, he doesn't want to give up the hope of becoming the leader in mobile. We think a couple of acquisitions or strategic investments can help him achieve that goal.
Yesterday's news reported here at SA gave us this new leapfrogging thought. Microsoft is gaining steam with its WP smartphone in Latin America aka 'Lat Am'. Here is an excerpt from an MSFT press release yesterday:
"Windows Phone, Latin America's second most widely used mobile platform Aug. 21, 2013 In one year, the operating system went from fourth to second place with good growth figures, especially in Argentina, Brazil, Chile, Colombia, Mexico and Peru."
This development actually can be extremely important to two companies in particular that we have written about in the past. They can help catapult MSFT to achieve the ambitions of MSFT's founder and computing visionary.
This new MSFT WP milestone in Lat Am is significant for both our 'comeback' company subjects.
NII Holdings (NASDAQ:NIHD)
NIHD, aka Nextel Lat Am is making good on its promises of selling non-core assets and operations and raising cash. Its core markets of Mexico, Brazil, Argentina and Chile have significant spectrum holdings which will support smartphone computing for years to come. Despite this, NIHD has recently been under selling pressure. We think the stock has tremendous value, most recently proclaiming a target $13.50 a share here on SA. With all the news of sales now behind us, the short sellers are now in command of the stock and are depressing the price under the heavy pressure of emerging market weakness. We think a key level to watch in the very near term is $5.73 as we outline here in this graph: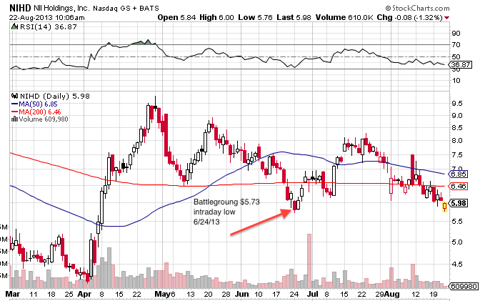 As you can see above, NIHD has traded all over the place over the last 6 months. It has a changing shareholder base as some old time holders like T. Rowe Price and Renaissance have exited the name and 'tiger cub' Coatue Management, and various Blackstone entities started building significant positions as reported by Whalewisdom's NIHD holder's SEC filings.
We have also stated that a strategic acquisition or investment by a mobile platform player such as Google (NASDAQ:GOOG) may make a lot of sense in this name. We now can see MSFT becoming a real possibility as a alternative to GOOG for this opportunity given their comeuppance in Lat Am with WP.
BlackBerry (BBRY)
Another report from IDC released earlier this month actually points to a possible second course of action for MSFT to overcome their early mobile 'mistakes'. Here are some key excerpts (underline added for emphasis):
Windows Phone posted the largest year-over-year increase among the top five smartphone platforms, and in the process reinforced its position as the number 3 smartphone operating system. Driving this result was Nokia, which released two new smartphones and grew its presence at multiple mobile operators. But beyond Nokia, Windows Phone remained a secondary option for other vendors, many of which have concentrated on Android. By comparison, Nokia accounted for 81.6% of all Windows Phone smartphone shipments during 2Q13.

BlackBerry saw its market share decline during the quarter, reaching levels not seen in the history of IDC's Mobile Phone Tracker. However, BlackBerry has shown steady progress since the launch of its BB 10 platform, which has grown to three models, additional mobile operators, and a greater presence within its total volumes. It is still early days for the platform, however, and BlackBerry will need time and resources to evangelize more end users.

Top Smartphone Operating Systems, Shipments, and Market Share, Q2 2013 (Units in Millions)

| | | | | | |
| --- | --- | --- | --- | --- | --- |
| Operating System | 2Q13 Unit Shipments | 2Q13 Market Share | 2Q12 Unit Shipments | 2Q12 Market Share | Year-over-Year Change |
| Android | 187.4 | 79.3% | 108 | 69.1% | 73.5% |
| iOS | 31.2 | 13.2% | 26 | 16.6% | 20.0% |
| Windows Phone | 8.7 | 3.7% | 4.9 | 3.1% | 77.6% |
| BlackBerry OS | 6.8 | 2.9% | 7.7 | 4.9% | -11.7% |
| Linux | 1.8 | 0.8% | 2.8 | 1.8% | -35.7% |
| Symbian | 0.5 | 0.2% | 6.5 | 4.2% | -92.3% |
| Others | N/A | 0.0% | 0.3 | 0.2% | -100.0% |
| Total | 236.4 | 100.0% | 156.2 | 100.0% | 51.3% |

Source: IDC Worldwide Mobile Phone Tracker, August 7, 2013
Here is what we see as a real possibility shaping up for MSFT as they already have Nokia (NYSE:NOK) wrapped up with their exclusive license for WP OS with no need to use precious capital on NOK any further. NOK is doing a good job on the smartphone hardware side of the business from which they are struggling to make money. MSFT can easily buy BBRY, build on both of their loyal enterprise installed bases and simultaneously jump to nearly 7% market share in the lucrative and important US market .
Conclusion
Microsoft's leading insider is Bill Gates. It's his vision that made the company and it's his vision to be a leader in mobile. As MSFT is gaining traction in its quest to be a player in mobile computing in Lat Am and the US as evidenced in the above referenced reports, it can leapfrog ahead in these two key territories with acquisitions and/or strategic investments with NIHD and BBRY as they both seem very receptive to these alternatives in their present market-share positions. And Bill Gates, who still has nearly 521 million shares if MSFT can quickly fix his admitted mistake. Can Gates, the ultimate insider, ambition for mobile leadership steer the company in this aggressive direction? We will see.
Disclosure: I am long BBRY. I wrote this article myself, and it expresses my own opinions. I am not receiving compensation for it. I have no business relationship with any company whose stock is mentioned in this article.
Additional disclosure: We have activley been trading NIHD with a long bias to capture its tremendous volatility.