A CNBC description of "Microsoft's $7.2 billion deal to buy Nokia's mobile phone business may be as much about hardware as it is about one man-Stephen Elop-and whether he's being groomed to take over the top job at the Redmond, Wash.-based software giant being vacated by the retiring Steve Ballmer." actually gives another perspective on the strategy behind MSFT's move today. MSFT is using its cash war chest to cherrypick strategic mobile assets. Clearly, BlackBerry (BBRY) has few of key underutilized assets their own of interest to MSFT and Elop, starting with its rock solid enterprise BES10 server product and the BBM messaging system which is already under consideration for spin-off. Another possible purchaser for BBRY who has not really surfaced in any media articles is Yahoo (YHOO), as its balance sheet is rock solid. YHOO has never had any talk of a device and services ambition, but BBRY may be a great candidate for a deal on the consumer side of its business, leaving the enterprise products inside of BBRY. Lets take a look at YHOO's balance sheet: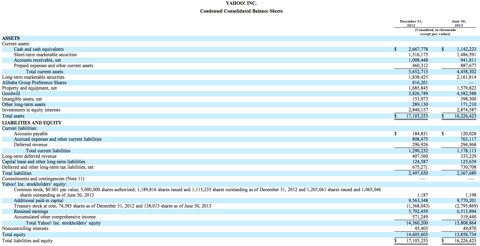 As you can see, there is plenty of strength here that is untapped and certainly could support an or partial stock deal for BBRY's consumer device assets. It's a idea that may make sense. Marissa should be taking a look, before MSFT's native Canadian Elop takes a holiday trip back to his hometown to shop for some key missing assets for his vision at Microsoft.
Disclosure: I am long BBRY.