Apple AAPL is anticipated to release Q3 earnings on July 21st. Theaverage estimate is for earnings of $1.78/share on revenue of $48.92B. This ranges from a low EPS estimate of $1.65/ share on revenue of $46.9B to a high of $2.05/ share on revenue of $52.64.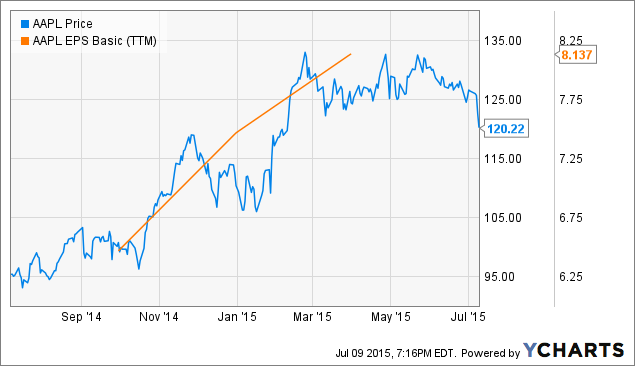 How China is affecting the share price
The company's share price has been on the retreat ever since hitting a high of $132.5 on May 22nd. This has been in part due to the panic from investors in the Chinese markets. The Shanghai Composite Index has been in freefall since the start of June. The Index had been skyrocketing, however, this was at the expense of building up gigantic amounts of margin debt. As of June the country's margin debt stood at a staggering $358B. This eventually resulted in the bubble bursting with the Index falling over 34% last month, and over half of the listed companies being halted on the exchange. The state has been intervening, however, with little avail.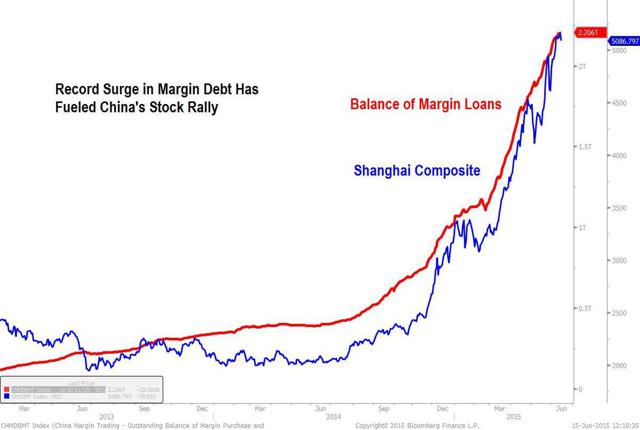 This has lead to increasingly attractive value and entry point to build a position in the company. The company currently stands with a P/E of 14.9 and a forward P/E of 12.3 with a dividend yield of 1.73%. This stands at a large discount to the P/E ratio of the S&P500, at 20.
I am sceptical over the effect the situation in China will have over the present earnings numbers. Although in the Q2'15 Greater China accounted for 29% of the revenue, the growth YoY was a staggering 71%. This was the highest increase by region; however, all operating segments apart from Japan had large revenue increases YoY with the Americas, Apple's largest market, reporting a 19% increase. These increases in sales from non-China segments should dramatically offset any fall in sales from China.
Apple's Capital Return Program
On April 27th, Apple announced that it would be increasing its Capital Return Program to $200B. Within this program, the company intends to repurchase shares worth $140B. This was an increase from the previously announced $90B. This indicates that Apple directors strongly believe that the share price is heavily undervalued.
Obviously, we cannot tell before it is announced how many shares have been repurchased at over the current quarter by Apple through the repurchase scheme. However if we look at the previous quarter, Apple managed to achieve 40% EPS growth from 27% revenue growth under the old repurchase scheme. If we assume Apple achieves the same increases this quarter under the previous capital return program, it would be reasonable to assume they would achieve similar EPS gains over this quarter YoY.
As the EPS consensus for this quarter is $1.78, this represents a 39% EPS increase YoY. This is lower than the 40% achieved in the last quarter under the old repurchase program. Now that Apple has increased the buy-back by 66%, this should provide further EPS increases. I believe that this will help offset any drop in earnings in China.
Apple Watch
There are worries over slowing sales of the newly released Apple Watch after a report by 'Slice Intelligence' was released showing that sales of the watch were only 20,000 a day in the US. This contrasts with the week of the launch where sales were averaging 200,000 a day.
There are many flaws to this piece of research:
Slice only gathers information from 'email receipts'. This means all purchases made without an email receipt are not accounted for.
This is only data recorded in the US, does not show any insight into non-US sales.
The data is received from a panel of 2.5 million online shoppers. This means that purchases made in-store are not accounted for.
These points really limit the credibility of the report. However, what I believe limits the credibility of the statistics is the fact that the Apple watch is a completely new product category. This means that those looking to buy are more likely to actually go to the Apple store to test the product before purchasing, unlike with the Iphones andIpads where the differences between models have been very minor such as just a change in size.
With that all said, before the watch was released, estimates for sales of the watch were very conservative. Most investors had the idea that it would not become a product category the size of the Ipad or even the Mac. Even if there is only a small number of watches sold, I don't think investors were expecting much anyway.
Earnings History
Over the past four quarters, Apple has managed to beat expectations in its earnings results. Over this period, this works out at an average beat by 9.5%. These figures show that analysts have been consistently very conservative over Apple's earnings estimates. If the analysts follow suit from their previous estimates, this should provide a margin of safety for beating the numbers.
Iphone Orders up
According to a report by the Wall Street Journal, Apple is asking its suppliers to produce up to 90m Iphone 6S's by year end. This time last year Apple initially asked for 70-80m Iphone 6 Units. This shows that Apple is expecting record demand from it's Iphone segment and can only be inferred from current sales. This is definitely a good sign.
A recap
There has been a huge amount of negative sentiment around Apple and the market as a whole. This varies from the Chinese Composite Index falling over 34% in the last month alone to reports of weak Iwatch sales.
However, Apple has increased its share repurchase scheme by 66% and has reportedly asked for record numbers of the next Iphone model to be built. In addition, Apple has beaten the earnings estimates from the previous four quarters by an average of 9.5%.
I believe that Apple at $120 presents a great buying opportunity for the long term investor.
Disclaimer: The opinions of the author are not recommendations to either buy or sell any security. Please do your own research prior to making any investment decision.
Disclosure: I am/we are long AAPL.