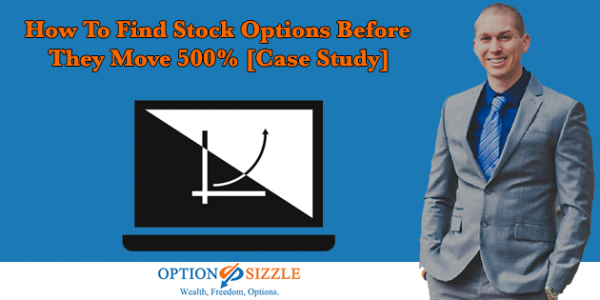 There's no secret, investors start to gravitate towards options, because of the opportunity to generate fast money. They might be struggling with their stock returns, and maybe heard a story about how someone they knew… bought call option contracts in Apple for $1.00 and then sold it at $10.00.
That investor starts daydreaming about how their family's future is going to be…as they stare in front of their computer. It leads them to place their first options trade and……. BAMM!
They're down, large and faster than any stock trade they've done before. The hole just gets a lot bigger…they then start to realize that there's a lot more to options than what they originally thought.
They start to watch every webinar and YouTube video under the sun. In addition, they read about options, from nearly every person, who has a different opinion on how to successfully trade them. Of course, this just causes more confusion and information overload.
Truth be told, I understand the feeling and I've been there before.
I'm not sure if you found yourself asking the following question, but I sure did when I first started on the floor of the Chicago Mercantile Exchange, the question being, "I wonder if there are any hidden tells the stock market provides-allowing me find opportunities before the big move actually occurs?"
I'll be the first to tell you, that there's no secret strategy or loop hole that will create you success. Just like any business that has ever created success, it takes time, focus and applying the right techniques.
One of the great things about options is that it can provide transparency- something that stocks don't provide us. Especially, If you know what to look for, and how to find these hidden gems, they can be very rewarding.
I created a 30 page report that teaches you my process and what software I use, its called The SIZZLE Method Report.
I've found that some of the best opportunities, are one's that develop over time, usually from institutions putting on massive option trades, aiming to make big profits.
They are not interested in just "flipping" them in a couple hours… because it takes a lot more work for them to get in and out of a trade.
In many cases, they have a longer term perspective, on where they believe a stock is headed. That also means that a position can be built over a number of days to weeks.
In this free training video, we look at an example in which we saw an accumulation of call options in Family Dollar Stores (NYSE:FDO) over a period of days…just shortly after the stock price had a huge spike.
Now, we never know what the institution is thinking, whether they are hedging or speculating, but I teach you, my best ways on to filter out the guess work… and find the strongest opportunities, in The SIZZLE Method Report.
As mentioned earlier, options offer greater transparency than stocks. What I mean by that, is we can easily decipher new activity by comparing the option volume and open interest (which is discussed in the video).
By examining how a position is being built…we can become more aware of any "tells" that are given to us…like the one we saw in FDO. Using The SIZZLE Method, we can generate investment ideas. It's kind of like boxing…a sweet science. However, when mastered, you'll be able to put yourself in position to make some serious money.
After watching this training, you will learn:
How to walk through and find these type opportunities.
How to sift through an options chain for clues, examine the bid/ask spread to see if it's a worthwhile trading opportunity.
Identify aggressive orders, and why changes in option volatility play a role in the process.
After you watch this training, I want to know if you would have been able to take advantage of this situation- if you saw something similar in the future?
Also, if you haven't, make sure you purchase your copy of The SIZZLE Method Report for $10.
In addition, you'll receive a 30 day free trial of the same real-time option scanning software that helped me find this opportunity, in FDO and others.