The 2 major items that has plagued BlackBerry (BBRY) so far this year have already been corrected. The old king is gone and the new king has assembled his team. The inventory write-off is over. Logic follows that BBRY will now return to a share price in the upper teens for a 100% plus gain in the next 2 years. There is nothing in their way now save fierce competition from the likes of Apple, Samsung and gang. But that is nothing new. Smart phones only have about 30% product penetration in the world. The industry has room to grow as a whole and phone security (BBRY's specialty) is becoming more and more valuable. To quote the new CEO, John Chen: "I know we have enough ingredients to build a long-term sustainable business. I have done this before and seen the same movie before. BlackBerry is an iconic brand with enormous potential - but it's going to take time, discipline and tough decisions to reclaim our success." BlackBerry does not need to destroy the competition. They only need to return to profitability and modestly grow their piece of the pie.
Chen previously served as CEO of Sybase. According to his Reuter's biography, Chen "transformed [Sybase] from a mature technology company into a high-growth enterprise data management, data warehousing, mobility management and analytics innovator that was acquired by SAP AG in 2010." Chen is obviously an innovator. He knows the mobile enterprise business inside and out and introduced the concept of extending enterprise data management and data warehousing to mobile users at Sybase. Chen is currently a director at Wells Fargo (NYSE:WFC) and Disney (NYSE:DIS). This tells us that he is well connected. He has recently hired James Mackey and Mark Wilson to lead in strategic planning and marketing. Wilson worked with Chen at Sybase where he oversaw branding, advertising, lead generation, and sales. Now that a seasoned team is assembled, Blackberry has the right pieces in place to achieve profitability.
In a letter to BlackBerry employees, Chen states that returning to profitability is the goal. He acknowledges the challenges that lay ahead of them. He also lays out his plan for BBRY. The first step has already been taken: a five year deal with the largest manufacturer of electronic products and components, Foxconn, to manage their hardware supply. This deal will help ensure BBRY will have no more billions in inventory write-offs. According to Chen, the deal will also allow BBRY to "focus its resources to serve customers who value advanced security. In other words, we will continue to focus on what we do best - iconic design, world-class security, software development and enterprise mobility management." To read the whole letter, go to http://crackberry.com/blackberry-ceo-john-chens-letter-employees. The letter instills confidence in the new leadership to make BBRY a player in a still-growing market.
Global smart phone product penetration is only around 30% (www.statista.com/statistics/218532/globa.../). There is room to grow. This market has been growing around 5% every year and we can expect the same in the next several years. In the product life cycle, smart phones have entered the growth phase. Despite what we experience in the United States, smart phones are not in the mature part of the product life cycle globally. Blackberry has the resources to gain market share in a growing market. The BlackBerry phone is an attractive solution for governments and government agencies looking for secure messaging. And that will be Chen's focus. Approaching governments for business like Indonesia (as mentioned in his letter to employees) and global companies like Coca-Cola will be the focus of BBRY going forward.
If one were to forget BBRY's story for 2013 and take a snapshot look at the company now, he/she would find a great deal. These are the metrics that are most attractive:
1. Trading below 200 day moving average and just broke through 50 day moving average: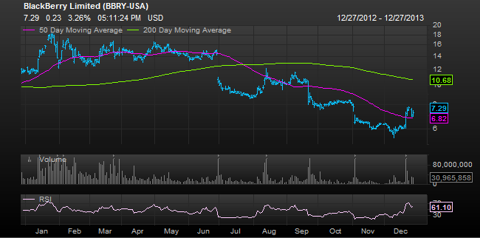 2. Price to Book = .81 (5yr average is 2.87)
3. Market Cap = $4B, Current Assets = $5.8B
4. Current Ratio (Current Assets/Current Liabilities) = 1.75
5. LT Debt/Total Assets = 11.84%
6. Rebound of RSI to 61 from low 20s in November
BlackBerry's 5 year average net margin is 10.25%. If CEO Chen's cost cutting measures combine with growing sales to get close to the 5yr net margin, BBRY will start seeing net incomes around $1 billion. BlackBerry had a net income of $3.4B in FY 2011. If BBRY attains an annual NI of $1B, at the current share price of $7.30, BBRY would be trading at 4 times earnings. Assuming that the market gives BBRY a price/earnings ratio of 10x once BBRY gets in the black, the stock price will be over double what it is now.
Ultimately, this stock is a 100% plus upside recovery story. The fundamentals are facts and give BBRY room for recovery. The worst case is already priced in. Speculation lies in whether or not Chen can return the company to profitability. He has the right tools. With BBRY's cash, leadership and an iconic brand, BlackBerry stock is well positioned to recover to forward annual net income of $1B by 2016. A patient investor will have to ride out the ups and downs along the way.
Disclosure: I am long BBRY. I wrote this article myself, and it expresses my own opinions. I am not receiving compensation for it (other than from Seeking Alpha). I have no business relationship with any company whose stock is mentioned in this article.