The Coca Cola Company's products and service to society
Coca Cola ("KO" or the "Company") makes clean hydration readily available for consumers around the world, far more conveniently and at a lower cost than most consumers can acquire for themselves.  It has a massive and widely diversified presence around the world: it accounts for about 3.3% of all fluids consumers by every human being on our planet and  is available in well over 200 countries — more countries than there are members in the United Nations. The Company's sales are quite evenly spread out across its 4 reporting regions (viz, North America, Latin America, EMEA, and Asia Pacific)—by providing investors exposure to an extraordinarily broad basket of global economies and currencies, the Company provides investors with an effective hedge against global economic and currency fluctuations.
The Company's products have, through decades of creative advertising, become synonymous with safety, quality, happiness, and community, and become a "necessary and affordable luxury". Why else would anyone readily pay $1 or more for 12-16 ounces of Coca Cola or other branded beverages without thinking twice when they can get perfectly good drinking water out of a tap for practically nothing?
Industry economics and competitive structure
KO has a highly leverageable, asset-light model—as the "franchiser", it owns and provides to its "franchisees" (i.e., bottlers) the intellectual property (i.e., brands), which is theoretically infinitely scaleable, and the formulation and syrups, which constitute a very small part of the finished product. As such, the incremental profit on each additional serving sold should be very high.
KO's bottlers, most of which are generally independent entities, own, invest in and operate the hardware, e.g., the machinery, bottles, trucks, vending machines, etc. They benefit from the dominance of KO's brand, customer loyalty as well as its large and growing end-customer base, which give the bottlers huge economies of scale in production and trucking route density.
The number of competing beverage suppliers is exceedingly large—KO competes against large global manufacturers such as Pepsi, Snapple-Doctor Pepper, as well as smaller niche brands, regional manufacturers, tea, coffee, beer, and the list goes on and on. However, none of these competitors have the same mindshare, scale, point of sale presence (restaurant menus, grocer shelves, vending machines, street vendors carts, mom & pop stores, etc) and high truck delivery route density. The distribution is protected—it is virtually impossible for beverage delivery to be disrupted and replaced by pipelines or "wireless" technology.
KO's well-developed combination of consumer mindshare, intangible assets and distribution is exceedingly difficult to replicate, which prompted Warren Buffett to say, "if you gave me $100 billion and said take away the soft drink leadership of Coca-Cola in the world, I'd give it back to you and say it can't be done."
(To complete the picture of substitutes, KO also "competes" against the water fountain, kitchen/bathroom faucet, local well—all which are essentially free but none offer the same cleanliness, consistency, convenience, quality, image or convey the same "happiness" as KO's bottled beverages)
The 3 demand growth drivers of the global non-alcoholic beverage market
Three macro trends drive demand for clean, conveniently accessible beverages, which will drive the growth of the global non-alcoholic beverage market, as measured by the number of servings, for years to come:
(1) Global population growth: The beverage market is massive—every one of the 7+ billion human beings on this planet needs at least eight 8oz servings of clean water daily or will perish. As such, KO's potential market will continue to expand with the continued growth of the global population. (Line 3 in table 1 below)
(2) Rise in global affluence: KO's products are affordable to consumers in all but the least developed economies in the world, so as economies around the world develop and grow, the consumer base expands. KO products currently account for 13.3% of daily fluid consumption in North America and 15.5% in South America. In comparison, it only accounts for 3.6% and 1.5% of daily fluid consumption in EMEA and Asia respectively (table 1, line 8).
My observation is that consumption in a country is driven by, but not overly dependent on per capita GDP. In 2012 (see table 2–the latest year data is available from the Company), four of the top 10 countries by per capita consumption of KO's products had annual per capita GDP near or just below the world average per capita GDP of $11,500 (only one of them—Bolivia's—was substantially lower). According to 2018 KO's annual report, Mexico, the country with the largest per capita consumption of KO products, has an annual per capita GDP of $9,700 but a per capita consumption of 728 servings per annum (i.e., about 2 servings per day)—this is almost twice that of the United States, which has a per capita annual GDP of $56,000 but a per capita consumption of "only" 400 servings per annum.
There is plenty of room for increased consumption in larger economies—the per capita consumption of KO's products in Asia-Pacific (1.5 cases per capita) and Africa (not broken out from EMEA, but only South Africa and Nigeria show meaningful per capita consumption) are far below that of the more economically developed regions (16.2 cases per capita). As the under-developed economies of Asia and Africa continue to develop and grow, per capita consumption of the Company's products will inevitably rise in tandem.
(3) Increased per capita consumption: KO's products account for 3.3% of all fluids consumed by every human on our planet (table 1, line 8), out of which Coca Cola trademarked products account for 44% or 1.4%. One less known characteristic of Coca Cola which Warren Buffett—one of its largest shareholders—pointed out at a Berkshire Hathaway annual meeting a few years ago is that studies have shown that Coca Cola has no "taste memory", i.e., consumers do not get satiated with Coca Cola easily compared other beverages (like coffee or orange juice). In other words, there is still much room to boost per capita daily consumption around the world. Given the Company's scale and efficiency, it is well-positioned to continue increasing market share over time.
        Table 1: The global non-alcoholic market and KO's share

      Source: Coca Cola annual reports, World Bank data
        Table 2: per capita consumption of top 10 countries

Two key metrics indicate KO's loss of momentum from 2013-2018. However, shareholder value creation continues to come from more cases sold per share
The 2 important metrics I follow closely are:
(1) Growth in cases sold: a key indicator of the health of KO's market and its market share (Table 3, column 1, bottom half):
KO growth in cases sold should exceed the growth rate of the world's population. Otherwise, it would be losing market share.
KO's cases sold metric performed strongly coming out of the Great Recession, with growth from 2009-13 in the 3.5-5% range. However, cases sold sputtered starting in 2013, and growth in cases sold has been below 2% in 5 of the last 6 years, suggesting that the Company has barely maintained its share of the global beverage market or kept up with the world's population growth, partly because of the implementation of soda taxes in its large markets (like Mexico) and some cities in the US. To make things worse, cases sold only grew by 0.3% in 2016, turned negative (to -0.3%) in 2017 for the first time in many years before recovering to 1.4% in 2018.
While this situation is not great, there is, fortunately, no indication that KO's company-owned core brands are declining. It appears that the cases sold from 2009-13 may have been inflated by the growth in brands that are not owned by but licensed to the Company and the bottlers controlled by KO—which are most likely lower margin than brands owned by KO because of royalties paid to others. The subtle but telling evidence can be found in the operations review section in the 10Ks filed with the SEC (page 53) in 2010 and earlier, which stated that:
"Also included in unit case volume are certain products licensed to, or distributed by, our Company, and brands owned by Coca-Cola system bottlers for which our Company provides marketing support and from the sale of which we derive economic benefit. Such products licensed to, or distributed by, our Company and brands owned by Coca-Cola system bottlers account for a minimal portion of our total unit case volume."
Beginning in 2011, the following sentence was removed from the 10Ks, indicating that licensed brands were growing faster than Company-owned brands, and were no longer a "minimal portion" of total unit case volume.
"Such products licensed to, or distributed by, our Company and brands owned by Coca-Cola system bottlers account for a minimal portion of our total unit case volume."
As KO sold down control or divested its bottlers, the Company was required to deconsolidate these licensed brands from KO's cases sold. For example, in KO's 10K filed in 2014 (page 43):
"In January 2013, the Company sold a majority interest in our previously consolidated bottling operations in the Philippines ("Philippine bottling operations"), and in July 2013 the Company deconsolidated our bottling operations in Brazil ("Brazilian bottling operations") as a result of their combination with an independent bottling partner. Accordingly, the impact to net operating revenues related to these acquisitions and dispositions was included as a structural change in our analysis of changes to net operating revenues. Refer to the heading "Net Operating Revenues" below."
In addition, this number was negatively impacted by the termination of some brands that were licensed from Nestle and others, e.g., in the 2014 10K (page 43):
"In January 2012, the Company announced that BPW, our joint venture with Nestlé in the ready-to-drink tea category, refocused its geographic scope primarily on Europe and Canada. The joint venture was phased out in all other territories by the end of 2012, and the Company's agreement to distribute products in the United States under a sublicense from a subsidiary of Nestlé terminated at the end of 2012."
        Table 3: Cases sold and % change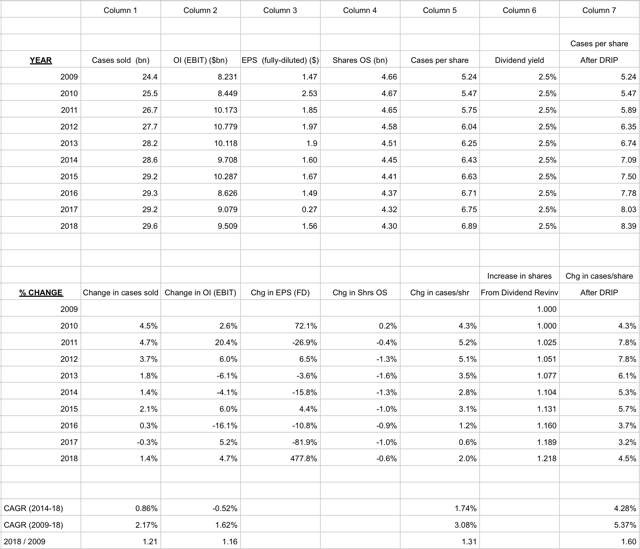 (2) Growth in the number of cases each share in the company owns: (Table 3, column 7, bottom half). This metric is impacted not only by the number of cases sold but also by the operational efficiency as well as the capital allocation decisions of the company, which determine (A) the share buybacks and thus the number of shares outstanding (column 4), as well as (B) the dividend paid, which in my case (no pun intended), are used to purchase additional shares through a dividend reinvestment plan (DRIP).
As a result of the Company's share buybacks and my decision to participate in the DRIP, for the period 2009-18, the compounded annualized growth rate ("CAGR") of cases sold for each share I own has been significantly higher (5.37% p.a.) than the CAGR of the cases sold by the company (2.17% p.a.) (see columns 1, 5 and 7 in table 3, and table 4)
        Table 4: Compounded Annual Growth Rate of Cases Sold
  CAGR

(2009-18)

Cases sold

2.17%

Cases sold per fully diluted share (i.e. after share buyback)

3.08%

Cases sold for my ownership stake in KO

(i.e., after buybacks and dividend re-investment)

5.37%
[A third metric I find worth watching (but less reliable as it is influenced by GAAP, or generally accepted accounting principles) is the growth rate of operating income (table 3, column 2, top table). This metric measures the Company's operating leverage (i.e., pricing power and operational efficiency), which I would like to see growth in excess of the number of cases sold. Unfortunately, this has not been the case (table 3, column 2, bottom table), although I acknowledge that this number can be influenced by the Company's changing percentage ownership in bottlers—which GAAP dictate whether a bottler's revenues and earnings need to be consolidated, shifted into the "equity income" line or booked as dividends in the income statement]
Valuation
The free cash flow yield of the Company (cash flow from operations less capital expenditures ($7.3b - $1.3b = ~$6b), divided by the market cap ($230b) ) is about 4.4%. Of this 4.4%, the Company pays out dividends (2.9%), bought back stock (offset by stock issued for acquisitions and employee options) (-0.6% p.a., as measured by the change in shares outstanding), both of which directly or indirectly go back into the pockets of shareholders in the form of cash and/or a larger stake in the Company. Over the last several years, management has retained ~0.9% of the free cash flow yield each year to grow the Company.
The compounded annual growth rate in cases sold over the last 5 and 11 years has been 0.86% and 2.17% respectively, but the CAGR of cases sold attributable to shareholders who have held the stock over the same 5 and 11 years have been 4.28% and 5.37% respectively, after factoring net share buybacks and re-invested dividends. This indicates that the return on investment (as measured by the CAGR in cases for each share purchased in 2009) on free cash flow retained (0.9%) has been a solid 6x (5.37% divided by the 0.9% of free cash flow it has retained). Too bad the Company isn't generating similar returns on larger amounts of retained free cash flow.
To understand the risk-adjusted return on KO stock, I compare its cash flow profile to the risk-free rate of US Treasuries:
(A) US Treasuries currently yield between 1.4-2% annually, depending on the tenure of the bond; apart from exposure to foreign exchange rate fluctuations against overseas currencies, they are considered risk free;
(B) KO stock currently yields 4.4% annually. While KO's cash flows are not guaranteed, unlike the US Government's power to tax its citizens, I would view KO's revenues as akin to a "tax" on the hydration needs and beverage consumption of 3.3% of every living person on planet earth.
I would postulate that KO's cash flows are less exposed to currency fluctuations because if the US dollar depreciates against overseas currencies, KO's overseas income (which constitutes ~80% of its operating income) will increase in value and boost KO's total consolidated free cash flow in US dollar terms. Conversely, if the US dollar appreciates against overseas currencies, the free cash flow earned may decline in US dollar terms, but those US dollars will have more buying power globally.
As noted above, the cash flow generated by the Company has boosted the number of cases sold that each shareholder "owns" by 5.37% p.a. from 2009-18. When management gets the operational efficiency right, the strong operating leverage inherent in KO's business model should again drive the growth rate of operating income growth at a significantly faster rate than the number of cases sold, lifting the rate of growth of the number of cases that each shareholder "owns" higher.
A comparatively stable free cash flow yield of 4.4% and growth of 4% -5.5% in "owner" cases sold, compared to the 1.4-2% yields from US Treasury, while not compelling, is reasonable and worth the wait until management succeeds in getting operating leverage to kick in again.
Biggest risks
The movement against sugared soda: in recent years, that has been a heightened awareness and movement against excessive sugar consumption due to the health risks posed (e.g., diabetes). This has caused Mexico and some cities in the US to move towards imposing taxes on soda, which have negatively impacted KO's sales. In response, KO has been pushing beverages with reduced sugar, sugar substitutes (e.g., Coke Zero) or are sugar-free (e.g., SmartWater). While not perfect, it appeases the health authorities and watchdogs, and protects the health of its consumers.

Law of large numbers: The Coca Cola system currently already provides fluid consumption to 3.3% of the world's population, so each additional case sold has less of an impact on the overall growth rate of the Company. Furthermore, Coke trademarked products constitute over 40% of KO's cases sold or 1.3% of the total fluid consumption in the world. However, I believe that there is still plenty of growth potential due to global population growth, increasing affluence around the world and opportunities to boost penetration into existing markets.

Interest rate hikes: If US interest rates were to rise, US Treasuries and KO stock (and many other high-quality stocks) will decline in value as its free cash flow yield, which is generally priced at a spread over treasury rates, rises. However, unlike the value of a US Treasury bond, the value of KO stock should still increase over time as KO continues to grow its number of cases sold.
Summary
Given global consumers' strong brand mindshare of KO's products, the Company's wide distribution, scalable model and massive scale, KO is well-positioned to grow sales by capitalizing on the growing global population, rising affluence and increasing penetration in its markets. While valuation is not compelling, it is reasonable and investors are paid decently to wait until management succeeds in getting operating leverage that is inherent in KO's business model, to kick in and supercharge earnings again.