Better than expected 2nd quarter 2019 earnings send shares up
IBM's second-quarter results announced on Thursday, July 17, 2019 sent its shares up sharply, from $143 before the announcement to $150, up almost 5% two days later.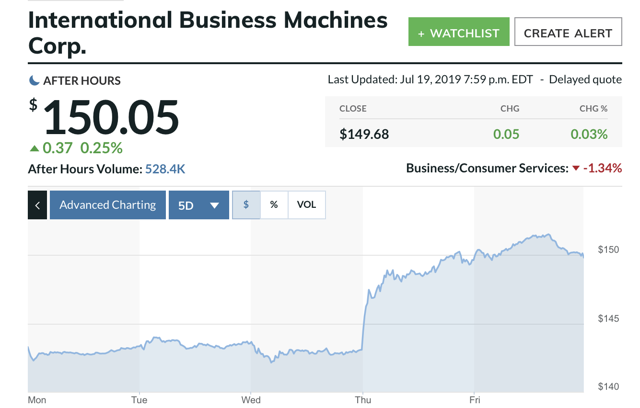 (Source: MarketWatch)
In the earnings release, IBM cited the following "highlights":
• Revenue growth in Cloud & Cognitive Software, and Global Business Services segments
-- Cloud & Cognitive Software up 3.2 percent (up 5.4 percent adjusting for currency)
-- Global Business Services up 0.5 percent (up 3.4 percent adjusting for currency)
• Cloud revenue of $19.5 billion over the last 12 months, up 5 percent (up 8 percent adjusting for currency)
• Gross profit margin up 100 basis points; largest year-to-year expansion in more than 5 years
Further down in the release was the fact that revenues from its infrastructure and cloud services division actually declined, both in actual and constant currency basis:
• Global Technology Services (includes infrastructure and cloud services and technology support services) -- revenues of $6.8 billion, down 6.7 percent (down 3.5 percent adjusting for currency). Gross profit margin increased 120 basis points.
The reality is that IBM is getting left behind in the vitally important area of cognitive, cloud and infrastructure services
While it is heartening that the company's Cloud and Cognitive Computing Software division has grown 3.2% (5.4% constant currency), it is not comforting when one considers the fact that:
Over the last 2 years, IBM's long term cognitive computing and cloud/infrastructure services top line has barely grown (in blue: -1.5% in 2017, 0.7% in 2018). Operating Income and margins have also been similarly static (in green), which is disappointing as one would have expected some operating leverage to offset R&D costs.
Even though growth in Cloud/Cognitive and GTS have ticked up in Q2 2019 (up 3.2%/5.4% constant currency and up 0.5%/3.4% constant currency respectively, in orange in the table above), it is still lags far behind its main competitors' growth rates:
IBM's share is small compared to the top 4 cloud players:
IBM's valuation is low but is it a good value? And will Red Hat be the growth driver that IBM badly needs?
Valuation:
My preferred valuation measure is free cash flow yield ("FCFy") to equity holders, which is equal to (cash flow from operations less capital expenditures) / market capitalization. IBM's free cash flow yield is about 9% ($11.8b free cash flow / $132b market cap), compared to Amazon's ~2% and MSFT's 3.7%.
While Amazon and Microsoft's FCFy are far lower than IBM's, the free cash flow of these 2 businesses have been growing quickly. Conversely, the FCFy of IBM, even after adjustments for share buybacks, have been largely flat over the last 4 years.
Software revenues like IBM's are tremendously sticky and can persist for years. Like a trusted but aging servant who has not acquired many new skills, software providers can continue to get paid as long as the switching cost is high compared to the benefits of switching. However, it is only a matter of time before a more highly skilled, efficient and innovative new servant disrupts and displaces the bulk of the aging servant's role.
Will Red Hat deliver the growth that IBM badly needs?
After what I consider to be a "miss" with Watson and a "too early to tell" in blockchain—an area where IBM faces intense competition from far more aggressive and entrepreneurial competitors, IBM closed on it acquisition of Red Hat, which it labels as a "game changer".
According to IBM's press release announcing the transaction:
The acquisition of Red Hat reinforces IBM's high-value model. It will accelerate IBM's revenue growth, gross margin and free cash flow within 12 months of closing. It also will support a solid and growing dividend.
In the slide deck accompanying the announcement, IBM noted that Red Hat will accelerate its overall revenue growth by +200bp,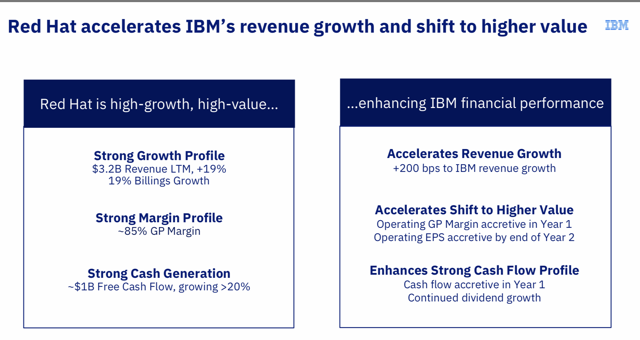 Even if we assume Red Hat's entire $3.2 billion in revenues contribute towards the $56.5 billion in revenues of IBM's cognitive, cloud and infrastructure segments (which I highly doubt is the case) and we factor in a generous amount of cross-selling synergies, the acquisition still does not drives IBM's cognitive, cloud and infrastructure segment growth anywhere close to the growth rate of its competitors'.
In summary:
IBM has missed just many of the major commercial innovations over the last decades (mobile, social media, home assistant, among others). While the company has led R&D in Deep Blue, Watson, quantum computing and other ground breaking areas, none of these has resulted in meaningful commercial applications or revenues to date.  IBM is doing interesting work on blockchain applications, but it remains to be seen if this effort will succeed against far more entrepreneurial and aggressive competitors, or whether move the cognitive/cloud needle for IBM.
Unfortunately, even the Red Hat acquisition does not appear to be the near to intermediate term growth driver that IBM badly needs.
Disclosure: I am/we are long IBM, AMZN.