ETF MJ
How can a USA ETF be a tool for trending buying and selling cannabis stocks in Canada? Here is the latest chart to date of MJ.

One first has to consider that this ETF holds all of the main cannabis corps as holdings. A simple search of the current fund holdings indicates as such.
Comparisons of Charts

Look at the above chart for Namaste tech (OTC:OTCQB:NXTTF). The blue line is the ETF NYSE:MJ. The peaks and indicate and in some cases prelude to buying and selling of the ticker. This is important to recognize selling or buying performance in regards to the sector as a whole. In this case we can see some strong over performance compared to the ETF.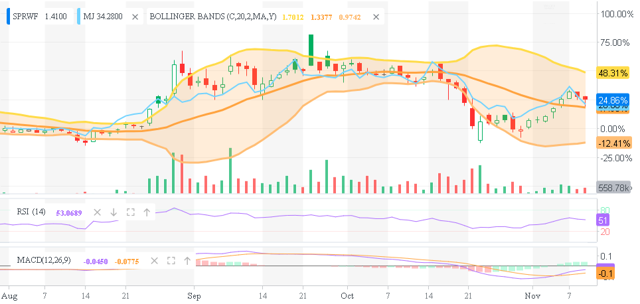 Look at the next chart for with Supreme Cannabis (OTC:OTCQX:SPRWF), along with the ETF as well in blue. You again can see a clear correlation between the 2 equities. Note the Peaks and valleys and how they trend above/below the blue line (NYSE:MJ). This indicates over or nonperformance in regards to sector trends. 
Of course we can do a very popular stock.. (TSX:OTC:ACB) 

Notice the very similar pattern and in this case, you can see sector performance quite clearly.
But... Why OTC:NXTTF?
Look at the stock performance between September and October.. A clear winner with the 3 stocks indicated here. At a technical view only with no fundamentals in play ( READ this if you like a small sample of why i think its a monster in hiding), indicates a very strong market desire to break out as some may say similar to Amazon.
Furthermore..and Conclusion.
It is always wise to take in consideration of the current SP, but more important then that is to ask why did the price drop? From a comparison of 2 stocks in which i have no position in, you can see a clear sector trend, confirmed by the sector indicator, ETF MJ. It is in my opinion and observation that recent SP drop for Namaste Technologies has nothing whatsoever to do with what the corp is doing or has not been doing. In fact the market buying from a few months ago indicates to me as an investor that this has the ability to make some large strides!
Disclosure: I am/we are long NXTTF.
Additional disclosure: I am seeking no compensation for this. This information is based on my own observations and opinions.