Dear followers and readers,
Amarin (AMRN) reported resoundingly positive REDUCE-IT study results last week. The stock delivered an excellent gain since the results were reported and produced a 500%+ gain for our subscribers, as of this writing. Amarin was a 4% position in our model portfolio (average purchase price $2.95) before results are published and is the largest position now as I kept most of the shares in the portfolio. 
Below, I share the analysis I provided to our subscribers and the reasons I was bullish on Amarin before REDUCE-IT results were published. I remain bullish and have revised my valuation after the REDUCE-IT results due to the greater than expected magnitude of response to $20 per share at the low end of the valuation range and $35 at the high end of the range (with room for upward revisions).
I am also using the opportunity to invite you to give the Growth Stock Forum a try with a 2-week free trial. https://seekingalpha.com/author/oneil-trader/research
Publication time: Jun. 26, 2018 9:00 AM ET
We are now roughly three months (or less) removed from the most important event for Amarin in more than a few years. The REDUCE-IT study commenced in 2011 and the company should report top-line results before the end of Q3 2018. And while this would typically be considered a binary event for the stock, where investors may expect to have big gains or big losses, I think the failure of this study is priced in at this point (valuation-wise), but I would certainly expect the stock to decline if the study fails, at which point the stock is likely to be undervalued. In this article, I share some views about the reasons I think the study will succeed and why (most) other EPA-based drugs have failed to show a beneficial effect. I like the risk/reward heading into this study and intend to add to my position this week.
A look at why other EPA-based therapies have failed to demonstrate a benefit
Amarin has spent a lot of time and effort to show the beneficial effect triglyceride lowering has (or should have) in patients with above-average and very high triglycerides (TG or TGs going forward for convenience). There are extensive genetic, epidemiological and clinical data that suggest elevated TG levels are associated with increased cardiovascular risk. However, in this section of the article, I will go over the TG-lowering studies that failed and the reasons why they failed. The reasons these studies failed make me more bullish on the outcome of the REDUCE-IT studies.
If anyone has done any research into the benefits of Omega-3 and specifically EPA on cardiovascular outcomes, they would be very disappointed and would have assumed Amarin's REDUCE-IT will fail too. All but one prior TG-lowering therapies (that I know of) have failed to demonstrate a benefit. Look no further than the meta-analysis JAMA published in January 2018:
The meta-analysis included 10 trials involving 77,917 participants and demonstrated that supplementation with omega-3 fatty acids for a mean of 4.4 years had no significant association with reductions in fatal or nonfatal coronary heart disease or any major vascular events.
Two open-label trials demonstrated an effect. One trial in Italy demonstrated a 10% reduced risk of major CV events compared to untreated control. However, I would exclude this Italian study since it was conducted prior to widespread adoption of statins. The other was the JELIS trial in Japan where a 19% risk reduction was achieved. None of the other trials reported any significant benefit.
The graph below shows a slight trend in the direction of the treatment arms in this meta-analysis but the benefit seems negligible and is not statistically significant.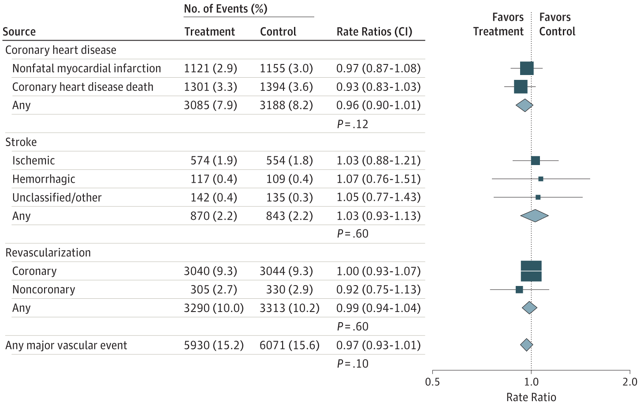 Source: JAMA
But if you dig only a little bit deeper into the analysis, you can see the major caveat in all but one of these trials (emphasis added):
Combinations of polyunsaturated fatty acid ethyl esters of EPA and DHA were used in all but 1 trial, which tested daily dose of 1800 mg EPA alone. The daily doses of EPA varied from 226 to 1800 mg/day, and DHA varied from 0 to 1700 mg/day. The mean duration of treatment in individual trials varied from 1.0 year to 6.2 years (weighted mean, 4.4 years).
So, the highest EPA dose used in any of the trials was 1,800 mg/day, and I think it's no coincidence that this study (the Japanese study JELIS) succeeded. The other thing I emphasized is the DHA levels in these trials, which varied from 0 to 1,700 mg/day. Again, by no coincidence, there was zero DHA in the JELIS study. DHA raises bad cholesterol and has high potential to nullify all the positive effects of TG lowering from these products, including dietary supplements and the main omega-3 competitor to Amarin's Vascepa – generic Lovaza. Lovaza only contains 47% of EPA and it also contains 37% DHA. Vascepa tablets contain almost 100% EPA.
Additionally, it's worth noting that most of these studies included low-risk patient populations where Amarin claims much longer follow-up is needed to see a potential benefit.
Amarin's management noted on the Q1 2018 earnings call that two outcomes studies will report results this year, and probably before REDUCE-IT. They warned and fully expect both studies to fail (emphasis added):
There are results of coming from two outcome studies both of which study one gram per day Lovaza. I'm referring to the vital and sense [ph] studies. These studies are evaluating outcome effects of one gram per day Lovaza or generic Lovaza plus either Vitamin D or placebo respectively on cancer and cardiovascular disease and primary prevention patient populations. It is most likely that these studies will not succeed because they're using Omega-3 mixture rather than pure EPA because the dose levels that they're using are relatively low and because the patient populations they're studying are relatively low risk. We appreciate that these studies are being conducted. If they do not achieve their endpoints such failure will help solidify multiple prior conclusions that low doses of Omega-3 mixtures don't work effectively to lower cardiovascular disease risk and further distance the clinical effects of high dose, pure EPA Vascepa from low dose Omega-3 mixtures. If the study succeed while we believe this will be somewhat of a surprise, it could lead us to believe that the impact of Vascepa and reduces maybe even more pronounced than we currently anticipate. In either scenario, we look forward to the results.
Amarin's share price may trend down after the results of one or both of these other studies are reported as investors may think they represent negative read-through for Vascepa. Based on what management said and based on what I've learned to date, I would agree that these studies are likely to fail because of the (very) low dose of EPA used, the presence of solid amounts of DHA and the relatively low-risk patient population.
First interim conclusion:
Based on the current knowledge, there was no reason for these prior studies to succeed as EPA exposure was too low or far too low in 9 of 10 of these studies.
DHA increases bad cholesterol, which is likely eliminating most of the benefit derived from TG lowering in most of these studies.
One of the studies that were successful had sufficient EPA exposure and had zero DHA, which is encouraging for Vascepa.
Most of the studies included the primary risk population, not the high-risk population and longer follow up is likely required to see a benefit in these patients (along with the above-mentioned issues and drawbacks for the therapies used in 9 of these trials). Amarin is enrolling high-risk patients in REDUCE-IT.
I don't think any of these studies make REDUCE-IT less likely or unlikely to succeed.
Why REDUCE-IT should succeed
We've seen the significant limitations of previous attempts to show a positive CV benefit in outcomes studies and that there is unlikely to be any negative read-through for REDUCE-IT. I will now discuss the reasons why I think REDUCE-IT will succeed.
1. Epidemiological data suggests elevated TGs correlate with elevated CV risk. In individuals in the general population with nonfasting TGs of 580 mg/dL, the risks are 5.1x higher for myocardial infarction, 3x for ischemic heart disease, 3.2x for ischemic stroke and 2.2x for all-cause mortality, compared to individuals with TG levels of 70 mg/dL. (Source: Circulation Research).
2. Genetic data suggest TG/TG-rich lipoproteins are in the causal pathway of cardiovascular disease. From the same publication listed in reason number one (emphasis added):
Genetic studies using the Mendelian randomization design, an approach that minimizes problems with confounding and revers causation, now demonstrate that triglyceride-rich lipoproteins are causally associated with ASCVD and all-cause mortality. Finally, genetic evidence also demonstrates that high concentrations of triglyceride-rich lipoproteins are causally associated with low-grade inflammation… Taken together, new insights now strongly suggest that elevated triglyceride rich lipoproteins represent causal risk factors for low-grade inflammation, ASCVD, and all-cause mortality.
The following points list all the benefits Vascepa potentially provides, but it's important to point out here that Vascepa also lowered inflammation in both phase 3 trials.
3. Clinical data suggest that TG levels correlate with reduced cardiovascular risk and that reducing TGs in certain subgroups reduces cardiovascular risk (emphasis added):
- Lower TG levels correlated with lower CHD risk when LDL-C (bad cholesterol) is well controlled – PROVE-IT trial (Lipitor/Pravachol) showed that in patients well-controlled for LDL where patients with TGs below 200 mg/dL were associated with 40% lower risk of recurrent CHD events versus patients with TG levels above 200mg/dL.
- A subset of patients in (failed) outcomes studies evaluating TG-lowering therapies showed benefit in subset populations with baseline elevated TGs. ACCORD trial (fenofibrate): a subgroup with TGs below 204 mg/dL and HDL-C above 34 mg/dL had a MACE relative risk reduction of 31%. AIM-HIGH trial (Niacin ER): a subgroup of patients with TG levels below 200 mg/dL and HDL-C above 32 mg/day showed a MACE relative risk reduction of 36%.
Granted, all these results are from subgroups, but indicative of the potential beneficial effects of lower TG levels.
4. Vascepa has benefits beyond TG lowering. Mechanistic effects of EPA have shown broad favorable effects on atherosclerotic processes including endothelial function, oxidative stress, foam cell formation, inflammation/cytokines, plaque formation/progression, platelet aggregation, thrombus formation and plaque rupture. In both phase 3 trials, Vascepa demonstrated statistically significant reductions in inflammatory and atherogenic biomarkers. The results specifically look much better in the higher risk patient population in the MARINE trial.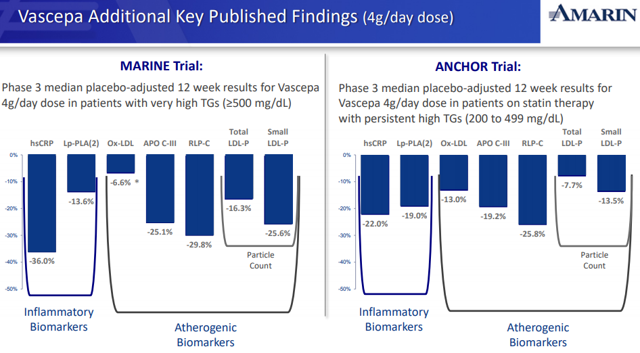 Source: Amarin presentation
There is supportive evidence in other trials that reductions in inflammation and plaque formation lead to better outcomes:
CANTOS study established inflammation as an independent marker of CV risk – canakinumab showed a statistically significant 15% relative risk reduction of MACE.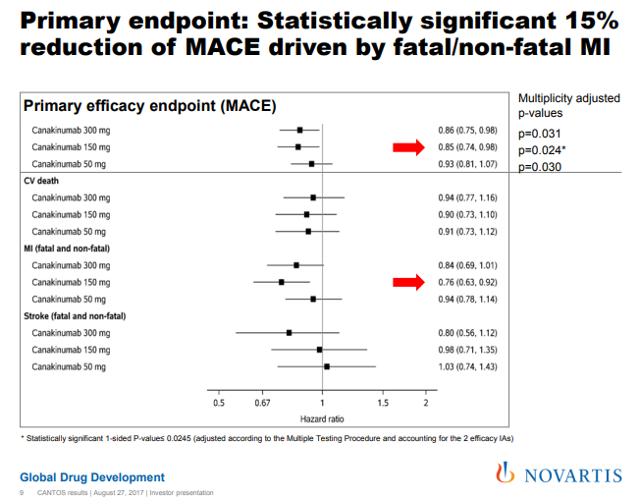 Source: Novartis
CHERRY study showed that EPA added to high-dose statin doubled incidence of plaque regression versus high-dose statin therapy alone.
5. JELIS study, the only study with Vascepa-like concentration was successful. This is the study most often mentioned by Amarin. The study showed that Epadel (pure concentration EPA product) showed a 19% CV risk reduction in the studied population. An incredible 53% risk reduction was observed in patients with high TG levels.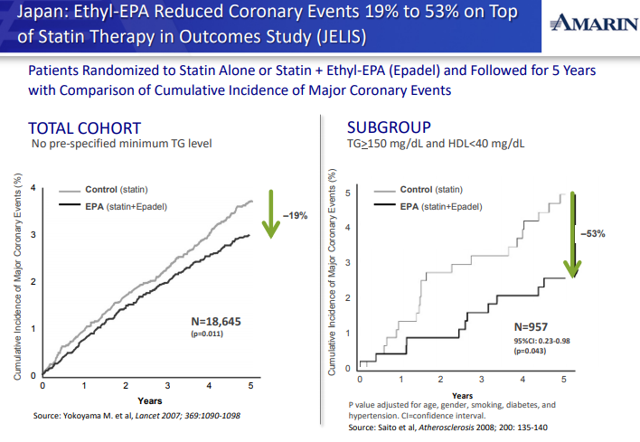 Source: Amarin presentation
The dose used in this study was 1.8 g/day while the dose used in REDUCE-IT is 4 mg/day. However, Amarin observed that the EPA exposure in JELIS patients and in studies conducted by Amarin and Vascepa was similar. This was explained by the JELIS study being conducted only in Japan, and we know that the Japanese have a high-fish diet and thus naturally higher blood EPA levels.
And while this is the most similar study conducted to date and while I believe it does have positive read-through for REDUCE-IT, I would not expect the relative risk reduction to be anywhere near 53% observed in the JELIS high-TG subgroup because:
The patient population was exclusively Japanese and the majority of participants were women.
Patients had much higher LDL-C levels at baseline, limiting its generalizability to the intended targeted population.
Low-dose statin was used in the study. It is possible that the relative risk reduction would be lower in the EPA arm had the patients been optimally treated with statins.
JELIS was an open-label trial which could influence patient and physician behavior and reporting of symptoms and decisions regarding hospitalization, and referral of events for adjudication. Amarin notes in its annual report that this may be particularly relevant since hospitalization for unstable angina was a primary contributor of the overall positive results, and is considered a softer endpoint than fatal CV events.
Additional conclusions from Amarin's 10-K about the JELIS trial: "JELIS was not designed to evaluate primary and secondary prevention populations. It is possible that the putative cardioprotective effects of EPA observed in JELIS are due not to a single mode of action, such as triglyceride lowering, but rather to multiple mechanisms working together, such as purported beneficial effects on multiple atherosclerosis processes, including endothelial function, oxidative stress, foam cell formation, inflammation/cytokines, plaque formation/progression, platelet aggregation, thrombus formation, and plaque rupture." However, I would take this as more of a positive than negative, since Vascepa is clearly not all about TG lowering, but about all the above-mentioned processes that are considered as beneficial.
Overall, I think that JELIS study results have a positive read-through for REDUCE-IT with the above-mentioned caveats in mind.
6. Vascepa has a placebo-like safety profile. This is also very important. In clinical trials, Vascepa was shown to have a safety profile very similar to placebo. The only adverse event occurring in more than 2% of patients in clinical trials and showing more events than placebo was arthralgia (muscle pain), occurring in 2.3% of Vascepa-treated patients compared to 1% of placebo patients. I mention this because REDUCE-IT trial will compare Vascepa to placebo which means there could be a potential negative effect of Vascepa on patients compared to placebo. Based on Vascepa's overall efficacy/safety profile, that's highly unlikely to happen. I firmly believe that even if REDUCE-IT fails, that there will be a trend in Vascepa's favor, regardless of how small a trend is observed. That statement is based on the observed efficacy benefits in clinical trials (lowering of TGs, inflammation and atherogenic biomarkers compared to placebo) and Vascepa's placebo-like safety profile. This in itself is the most important risk for the REDUCE-IT trial as far as I'm concerned – the observed benefit may not be high enough for the study to reach statistical significance.
Second interim conclusion:
There is an abundance of evidence (epidemiological, genetic, clinical) supporting the thesis that TG lowering leads to better CV outcomes.
Vascepa has shown beneficial effects beyond TG lowering, mainly reduction in inflammation and atherogenic biomarkers, which strengthen the thesis for a potential positive outcome of the REDUCE-IT trial.
JELIS study, with some caveats, has positive read-through for REDUCE-IT.
Vascepa has a placebo-like safety profile and should produce no negative effects.
With all of this in mind along with the thoughts from the first interim conclusion, I believe REDUCE-IT has a relatively high chance to succeed.
In my mind, the only reason REDUCE-IT could fail is that the benefit observed is not enough for Vascepa to reach statistical significance.
What REDUCE-IT success means for Amarin
The goal of the REDUCE-IT trial is to show a statistically significant relative risk reduction of CV events in Vascepa arm compared to the placebo arm. The trial is 90% powered to detect a 15% relative risk reduction, but the statistical power can change based on the actual number of events in the trial. In addition to the primary endpoint, there are more than 30 pre-specified secondary and tertiary endpoints. Amarin expects to report top-line results before the end of Q3 2018.
I believe that a 15% relative risk reduction is more than sufficient for Vascepa to become a multi-billion dollar product. This is what physicians want – an outcomes study that supports a real clinical benefit instead of a simple biomarker benefit such as TG lowering. Anything above 15% reduction makes the bullish case much stronger.
I also believe that Vascepa has a bright future regardless of the study hitting the primary endpoint – I believe the drug will show a benefit with the only question being whether the benefit is sufficient to show statistical significance over placebo. Even a 7-8% relative risk reduction could be enough for solid commercial success, and I am sure we will see statistically significant beneficial effects in more than a few secondary and tertiary endpoints even if Vascepa fails on the primary endpoint. The question then is how successful will Amarin be in pushing Vascepa sales in this situation. I think not nearly as successful if REDUCE-IT is a clear success, but successful enough to ensure continued prescription and sales growth in the following years.
In my initiation article, I outlined valuation scenarios for Amarin after REDUCE-IT trial results. I will mention here that Vascepa showing a negative trend on the primary endpoint translates to a disaster and that downside would be quite significant in that case, but that scenario is highly unlikely as even low-EPA products and supplements and those containing DHA (which raises bad cholesterol) have not shown a clear and significant negative effect compared to placebo (that I know of).
With that in mind, my conservative case is that REDUCE-IT fails, but shows favorable trends on both the primary and secondary endpoints. I would expect Vascepa sales to grow at a steady rate and reach at least $350 million in 2020. My price target in this scenario was $5 back in late 2016, was adjusted for passage of time to $5.7 recently and is now $6.1, with the upward adjustment also being based on passage of time (there were some downward adjustments based on increased share count as well).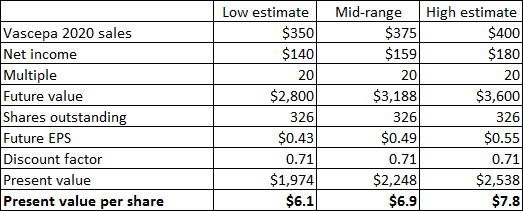 Source: author's estimates
Assuming the REDUCE-IT trial is successful, I would expect Vascepa to generate at least $1 billion and up to $1.5 billion in net sales in 2022, which translates into a price target of $13 at the low end of the valuation range and up to $28 per share based on the high end of the valuation range.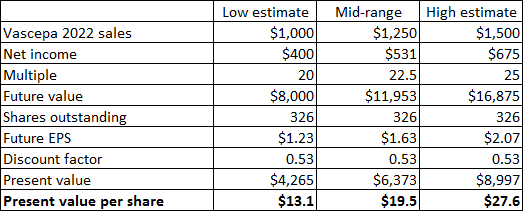 Source: author's estimates
I would note here that, although the high end of the valuation range appears very high at $28 per share (more than an 800% gain from current levels, I think Vascepa's peak sales potential could be significantly higher if REDUCE-IT trial shows a relative risk reduction in excess of 20%. Below are the reasons:
The hypercholesterolemia market in the U.S. is estimated at around $69 billion in the United States alone, dominated by statin therapies. Lipitor peak sales exceeded $12 billion before going generic. Granted, we are talking about cholesterol-lowering therapies, but if Vascepa shows a relative risk reduction at least close to statins, I believe its sales potential should far exceed the $1-1.5 billion range I envisioned in my bullish model.
U.S. sales of fibrates as a class of products were $2.8 billion in 2017 with generic fenofibrate and gemfibrozil leading the class. I believe Vascepa should generate higher peak sales in the 2020s than fibrates on a resoundingly successful REDUCE-IT trial outcome.
Generic Lovaza is still generating twice as much weekly and annual prescriptions than Vascepa. Gross sales of Omega-3 therapies in 2017 have exceeded $1.2 billion. I see no reason why a drug showing positive results in a CV outcomes study would generate less than a class of drugs that failed to show a benefit.
I believe that Amarin should trade at least above $6-7 per share based on positive REDUCE-IT results and I am likely to be a buyer if results are positive and the stock trades at "only" $6 or 7 per share, assuming my Amarin allocation does not exceed 10% of total portfolio (and it shouldn't, based on my current allocation). I say "only" $6-7 per share since the stock would rise more than 100% from current levels, which in itself is an excellent gain. If the stock is to come anywhere near its potential (again assuming positive REDUCE-IT results), it should trade above $10 per share.
I believe that the stock will fall if REDUCE-IT fails:
20-30% if trends are in Vascepa's favor but not statistically significant (6-7% relative risk reduction, for example) and/or if Vascepa shows statistically significant effects in secondary endpoints. I am likely to be a buyer in such a scenario.
40% or more if Vascepa shows only minor relative risk reduction (1-2%). I am unlikely to be a buyer in such a case and will probably close my position at a loss and search for better investing opportunities.
60-70% or more if Vascepa is worse than placebo. As I mentioned earlier, this is a highly unlikely scenario. If such a scenario happens, there is no question what I will do – I will sell all of my shares immediately.
Overall, I believe the risk/reward is skewed to the long side and intend to take advantage of the latest decline to add to my position next week.
Additional considerations and recent updates
Amarin is in good financial shape after the recent equity raise, though the company will probably need to raise more capital to fund the sales force expansion, assuming REDUCE-IT trial is a success.
There are two positive drivers of profit/cash flow post-REDUCE-IT:
R&D expenses will decline substantially once the trial is wrapped up, from $40 million a year to $10 million or less (my post-trial estimate). Based on the current sales run rate, Amarin is already operating at breakeven when only commercial operations are taken into account.
The partnership with Kowa ends in 2018 and Amarin is unlikely to have a co-promotion partner post-REDUCE-IT, which should further improve cash flow. Kowa was entitled to as much as 18% of gross sales in 2017. That's at least $30 million more in Amarin's pocket based on $230 million in annual sales guided for 2018 (and assuming a 75% gross margin).
I don't believe Amarin is going to need to raise more cash if REDUCE-IT fails given the current sales and cost structure.
My valuation and peak sales estimates are U.S.-only. International sales represent upside to my expectations, though I do not expect material contribution from ex-U.S. territories in the next 3-4 years.
Amarin is likely to have a pipeline after REDUCE-IT regardless of its outcome. The company recently entered into a multi-faceted collaboration focused on the development and commercialization of early-stage drug products and indications based on the omega-3 acid, EPA. Mochida is an integrated Japanese pharmaceutical company that developed and markets a prescription pure EPA drug Epadel, as a treatment for hyperlipidemia and arteriosclerosis obliterans in Japan. Mochida sponsored and successfully completed the JELIS study in Japan with Epadel – the world's first large-scale randomized controlled cardiovascular outcomes trial of a prescription pure EPA drug product and showed beneficial effects of the drug in further reducing cardiovascular events in statin-treated hypercholesteremic Japanese patients. Among other terms of the agreement, Amarin obtained an exclusive license to certain Mochida intellectual property to advance Amarin's interests in the U.S. and certain other territories and the parties will collaborate to research and develop new products and indications based on EPA for Amarin's commercialization in the U.S. and certain other territories. The potential new product and indication opportunities are in relatively early stages of development.
I don't expect this collaboration to drive any shareholder value in the near-term, but it is something worth considering in the long run.
Conclusion
I will summarize the reasons I think REDUCE-IT trial will succeed:
Vascepa is a highly-pure EPA product which reduces triglycerides, inflammatory and atherogenic biomarkers, all of which are associated with cardiovascular and overall health benefits.
There is an abundance of epidemiological, genetic and clinical data supporting the connection between TG-lowering and positive outcomes.
Prior failed Omega-3 studies used either too low EPA doses or had significant amounts of DHA which increases bad cholesterol and potentially negates the positive effects of EPA. Most of these studies also enrolled a lower-risk patient population where much longer follow-up is needed to show a benefit anyway. REDUCE-IT is enrolling high-risk patients.
The JELIS study has positive read-through for REDUCE-IT (despite the caveats mentioned in this article).
Vascepa has a placebo-like safety profile and should not produce any negative effects compared to placebo in the REDUCE-IT trial.
The main reason the study may fail is Vascepa failing to show enough benefit for the study to reach statistical significance.
I believe the risk/reward is skewed to the long side and expect Amarin to rally at least above $6-7 per share on positive results and above $10 per share on resoundingly positive results. I intend to buy more shares this week and as explained in the article, I would be a buyer if REDUCE-IT fails, but only under certain circumstances.
Disclaimer: This article reflects the author's personal opinion and should not be regarded as a buy or sell recommendation or investment advice in any way.
Disclosure: I am/we are long AMRN.