We had a nice week in the Growth Stock Forum with several positive events – earnings reports and clinical trial readouts.
One event impressed the most – Horizon Pharma (HZNP) reported overwhelmingly positive phase 3 results of teprotumumab in thyroid eye disease or TED. In my October 2018 article on Horizon, I noted that patience should start paying off soon:
I expect the slow grind higher to continue or accelerate in the following quarters based on teprotumumab's phase 3 results in Q2 2019 and Krystexxa's growth acceleration in the following quarters, as well as the company's continued pipeline expansion through M&A.
The stock was trading in the high teens at the time and has not reflected its real value (and I think it still isn't reflecting its real value today). The guidance for teprotumumab's phase 3 results was Q2 2019.
We have two out of three so far – Krystexxa has continued to deliver robust growth and has a solid outlook for 2019 (despite the negative 340B impact on 20-25% of total Krystexxa sales) and, as mentioned above, the company reported very strong phase 3 results of teprotumumab in TED.
Teprotumumab's results delivered everything a biotech investor would want out of a clinical trial readout:
Very strong efficacy with the vast majority of patients responding to the drug – teprotumumab easily achieved that with an 82.9% response rate, which was above the 69% response rate in the phase 2 trial and far above the 9.5% response rate in the placebo group.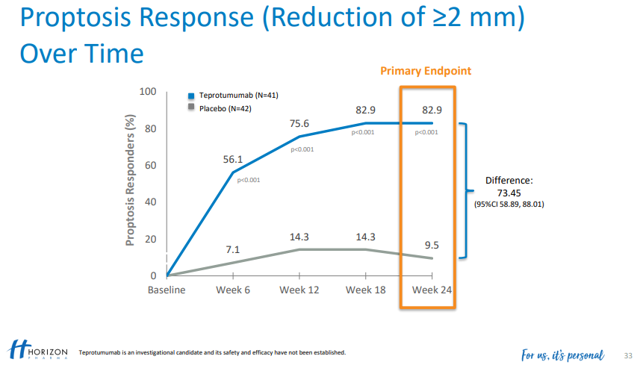 Source: Horizon Pharma presentation
Almost all patients completing the treatment course and the drug being generally safe and well tolerated. The low discontinuation rates and good safety and tolerability should translate to good uptake for the drug if/when approved.
With teprotumumab's positive results, I believe Horizon will ramp up its business development efforts, as it is almost certain to have a very valuable product with high peak sales potential approved in the first half of 2020 and generating revenues shortly thereafter. A detailed write-up on Horizon Pharma and teprotumumab's phase 3 results is available to Growth Stock Forum subscribers.
Join us! A 2-week free trial is available, no strings attached.
Our model portfolio is up 30% year-to-date and up 87% since inception, so far handily beating its benchmark – the small-cap Russell 2000.

Kind regards,
ONeil Trader, Growth Stock Forum
I publish my best ideas and top coverage on the Growth Stock Forum. If you're interested in finding great growth stocks, with a focus on biotech, consider signing up. We focus on attractive risk/reward situations and track each of our portfolio and watchlist stocks closely. To receive e-mail notifications for my public articles and blogs, please click the follow button. And to go deeper, sign up for a free trial to Growth Stock Forum.
Disclosure: I am/we are long HZNP.
Additional disclosure: This article reflects the author's personal opinion and should not be regarded as a buy or sell recommendation or investment advice in any way.