Axsome Therapeutics (AXSM) has been the Growth Stock Forum's most impressive performer this year. Axsome was added to our model portfolio in late December 2018 below $3 per share along with a detailed article discussing the reasons for the initiation of the position – 5-6 catalysts over a period of 18 months and the rationale behind some of those catalysts are the main reasons for the stock to be added to the portfolio. Two of those catalysts were positive already – AXS-05 was successful in a phase 2 major depressive disorder study in early January and the company recently announced positive topline results from the phase 2 study of AXS-05 in nicotine addiction (in collaboration with Duke University).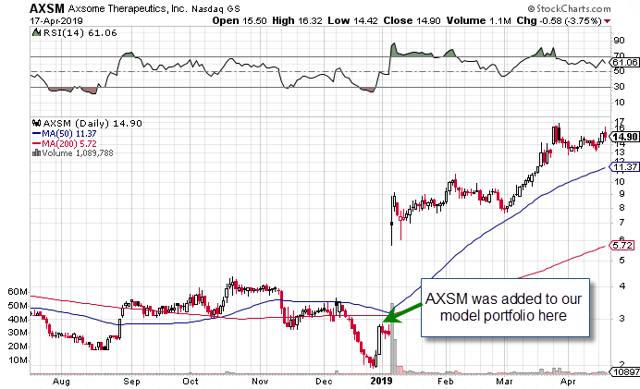 Source: Stockcharts.com
My analysis of AXS-05's phase 2 results in MDD was available to subscribers in January and below are two excerpts from this week's article on AXS-05's results in nicotine addiction:
On the surface, these results don't look particularly pleasing, as these are not the endpoints for FDA approval (more on that in a bit), but I should note that bupropion is an approved treatment for smoking cessation, but not a very good one. And there aren't good treatment options for patients that want to quit anyway. The commercial success of Chantix is evidence enough of the unmet need – it became a blockbuster with $1.08 billion in net sales in 2018 despite a moderate treatment effect and not many patients with continued abstinence in longer-term follow up.
And the second one:
Along with being a potential new treatment option for people who want to quit smoking, there are additional reasons to like phase 2 results:

We've seen additional evidence of the synergies between dextromethorphan and bupropion, the two ingredients of AXS-05 compared to bupropion alone.
AXS-05 was generally safe and well tolerated with no serious adverse events, with similar incidences of side effects in both treatment arms (headache, dry mouth, insomnia/vivid dreams) and with adherence rates comparable to bupropion.
Two important catalysts coming in the next few months and two more in 1H 2020
Axsome has a rich catalyst calendar over the next 12 months:
Phase 3 results of AXS-05 in treatment-resistant depression this quarter.
Phase 2 results of AXS-12 in narcolepsy are due this quarter as well.
Phase 2/3 results of AXS-05 in Alzheimer's disease agitation in 1H 2020.
Phase 3 results of AXS-07 in acute migraine.
I am not a buyer at these levels and have actually used the opportunity to reduce my stake around current levels, but I am still keeping a core that has grown considerably beyond the initial portfolio allocation due to the healthy gains the stock delivered in the last few months. I would be a buyer in the low double-digits ($10-12 range) and possibly at higher levels depending on the outcome of upcoming catalysts.
Lock in our current reduced rate
The price of the Growth Stock Forum is going up in May. Those who sign up now (before the end of April) can secure a 2-week free trial with zero obligation followed by guaranteed grandfathering for the life of the membership at current rates - $25 for monthly subscriptions and $200 for annual subscriptions.
Reviews from our members
We have 28 reviews with an average of 4.9 stars (26 five-star reviews and 2 four-star reviews). Below are the latest reviews and click here to view all of them.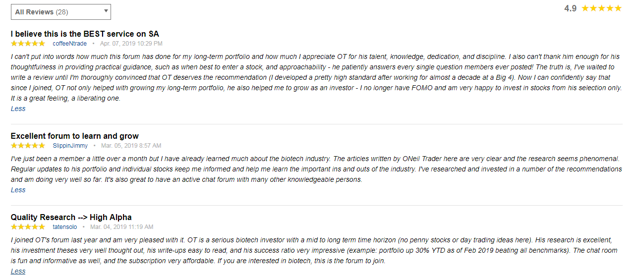 ONeil Trader, Growth Stock Forum
Disclaimer: This article reflects the author's personal opinion and should not be regarded as a buy or sell recommendation or investment advice in any way.
I publish my best ideas and top coverage in the Growth Stock Forum. More than 80% of research is exclusive to subscribers. We focus on attractive risk/reward situations and track each of our portfolio and watchlist stocks closely. If you're interested in finding great growth stocks, with a focus on biotech, consider signing up for a free trial to Growth Stock Forum. Join by May 1, to lock in the current rates before prices increase. To receive e-mail notifications for my public articles and blogs, please click the follow button.
Disclosure: I am/we are long AXSM.