NovoCure (NVCR) reported strong Q2 results, beating both revenue and EPS estimates. The company saw good news on all fronts in the last few months – approval for Optune in mesothelioma (though it's called NovoTTF-100L™ specifically for mesothelioma), Medicare reimbursement for newly diagnosed GBM and now, a strong quarter for Optune with a revenue beat and solid gross margin and net price per patient improvements.
I think NovoCure is fairly valued at current levels based on the low end of my valuation range (the range is $75 to $111 and based on Optune's approved indications and the late-stage pipeline, complete valuation available to subscribers), but I see room for additional upside in the following years (and to the high end of my valuation range in the medium-term) based on the company's continued solid execution and pipeline de-risking and expansion.
I added NovoCure to our Growth Stock Forum model portfolio in February 2018 and the stock delivered a 266% gain to date. I reduced position size on the way up at an average price of $68.7 (+218%) but NovoCure remains a top 10 holding in our model portfolio as of today.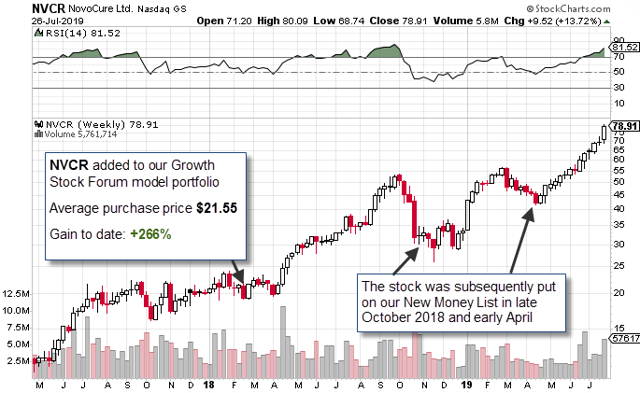 New Money List = stocks that I already have a full position in but that I would have considered buying if I didn't have a full position.
Detailed coverage of NovoCure is available to Growth Stock Forum members and has included NovoCure as an exclusive investment idea in February 2018 and inclusions on the New Money List at opportunistic times (if a member joined later or didn't buy the stock initially).
Growth Stock Forum model portfolio performance
Our model portfolio has delivered solid gains since inception, double the gains of its benchmark.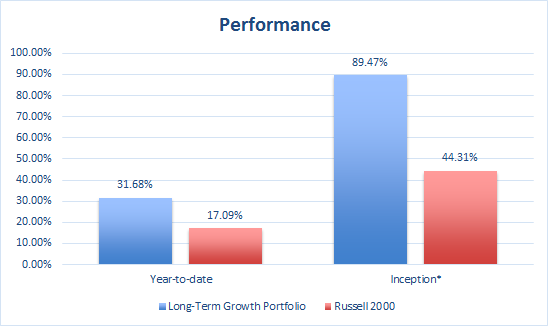 *Inception date March 7, 2016.
Reviews from our members
We have 28 reviews with an average of 4.9 stars (26 five-star reviews and 2 four-star reviews). Below are the latest reviews and click here to view all of them.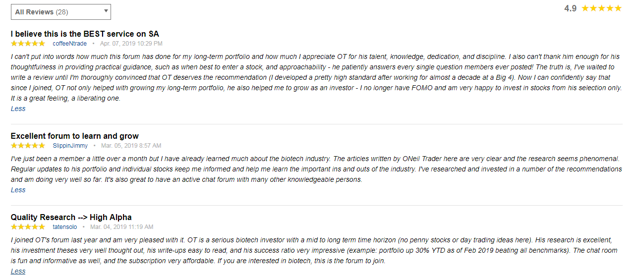 I publish my best ideas and top coverage on the Growth Stock Forum. If you're interested in finding great growth stocks, with a focus on biotech, consider signing up. We focus on attractive risk/reward situations and track each of our portfolio and watchlist stocks closely. To receive e-mail notifications for my public articles and blogs, please click the follow button. And to go deeper, sign up for a free trial to Growth Stock Forum.
Disclosure: I am/we are long NVCR.
Additional disclosure: This article reflects the author's personal opinion and should not be regarded as a buy or sell recommendation or investment advice in any way.