Could we see the long-awaited return of the bulls in Silver (XAGUSD) before it reaches its ten-year low? Both technical and fundamental arguments present a compelling case for a buy on the weekly chart for the precious white metal, but this comes free from guarantees.
Based on the following analysis, Silver is potentially set to surge at its current level. Why?
Last week closed as a doji bar, rejecting $14.34 for Silver as it inched closer to the white metals' ten year low at $13.88. While this ten-year low is one that is likely to represent a value for both traders and value investors alike, I argue that those who wait for a further decline will be sorely disappointed as they may miss the opportunity to capitalise on a potential surge in Silver, at its current level.
The technical argument:
A confluence of technical reasons has given us a robust technical argument after last week's close.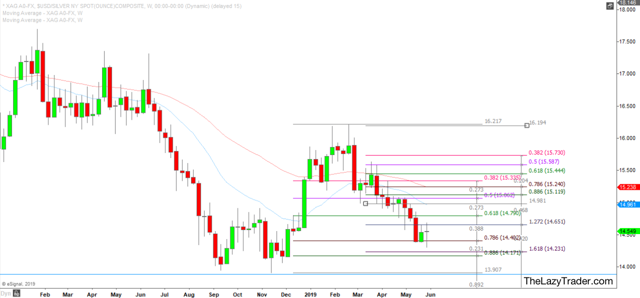 Above: Silver (XAGUSD) weekly chart with application of technical analysis
The anatomy of last week's close revealed a "doji" candle – reflective of relative indecision and a potential change in sentiment. When taken into consideration with the below additional factors, it carries far more weight.
Price rejected a 0.786 Fibonacci retracement (taken from the multi-year low last tested in November at $13.88 and the most recent swing high of $16.17 in February 2019).
The $14.34 level represents the completion of the harmonic 3-wave ABCD pattern. The "D" point typically represents an area price could reverse and turn against the prevailing trend. In this case, the 1.618 Fibonacci extension overlapped with the same "buy zone" as the 0.786 Fibonacci retracement level, giving us a Fibonacci-based "cluster".
Bullish reversal divergence on the Stochastic has given us an additional evidence to suggest the strength of the sellers is diminishing and that buyers are potentially creeping into the market.
The fundamental argument
The alignment of both the technical and the fundamental argument contribute in making a highly robust set-up.
Seasonally bullish:The view that silver is on the cusp of entering a historically bullish time of year is one which is espoused by fundamental traders. "Silver should provide us with an excellent buying opportunity in the coming weeks," said Raymond Gilmour, CEO, MarketsMadeClear.com. "Following its typical pattern of strength from November to February, Silver has since moved lower in line with its weakest period from March to June, (seasonal graph below) which typically presents a low around mid to late June (June 22nd on average), when Silver then has a tendency to perform much stronger in the second half of the year," he added.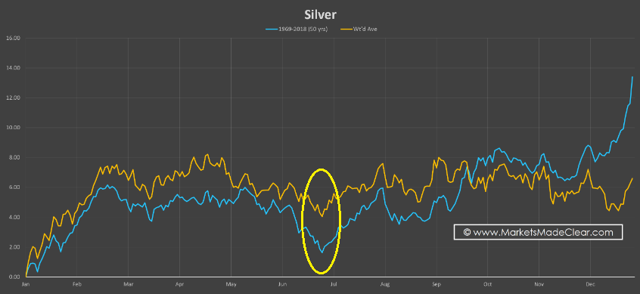 Above: Seasonal chart representing the typical movement of Silver throughout the year (based on a 50-year and weighted average).
Commercial traders are net long: According to research from MarketsMadeClear.com, the commitment of traders (COT), commercial traders have been heavy buyers of Silver despite the recent decline. This, arguably a pre-emptive strike in anticipation to an imminent rally in the previous white metal added additional evidence to a buy trade idea.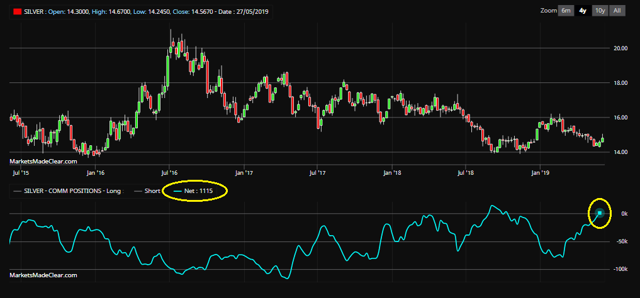 Above: Commercial traders have gone NET long (blue line) for only the 2nd time in this market's history, accumulating a larger long position at current price than what was seen at the 2018 low when Silver dipped below $14.
The combination of both technical and fundamental factors in support of a Silver is compelling. However, it would be remiss not to acknowledge the metal's pronounced weakness compared to gold. Any weakness in gold has, in recent months, been emphasised by a more amplified weakness in silver and any strength in gold has been met with a more muted bid move in Silver.
Trade Method:
We have bought the high of last week's doji bar with a stop loss below the low. We will scale out of half of the position at a 1:1 reward to risk and target $16 for our final "take profit zone". This has granted us favourable reward/risk at a 3:1.
Below: Silver (XAGUSD) weekly chart revealing trade set-up reward/risk profile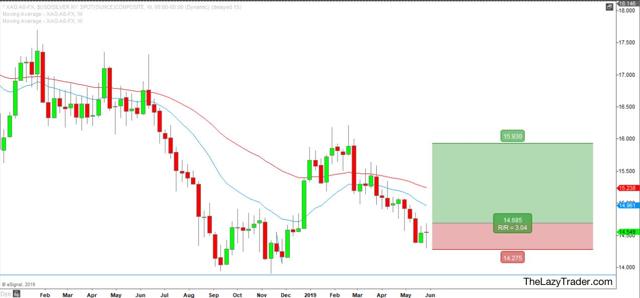 If we do not see any sufficient (bullish) movement within the next three weeks, we will exit the position as per our strategy rules.
Despite the validity of the trade set-up from both fundamental and technical perspectives, it is important to take into consideration that this is a reversal trade and carries additional risk than a trend-following play. Moreover, nothing is trading is ever guaranteed no matter how convincing the argument may be.
Disclosure: I/we have no positions in any stocks mentioned, and no plans to initiate any positions within the next 72 hours.
I wrote this article myself, and it expresses my own opinions. I am not receiving compensation for it (other than from Seeking Alpha). I have no business relationship with any company whose stock is mentioned in this article.