The 10 stocks dominate in their industries, and that has meant strong returns over the last few years.
One Goldman Sachs portfolio has done remarkably well over the last three years, and its constituents might surprise you.
Comprised of industry dominant "superstar" companies that have the highest share of sales in their respective industries, the group has returned 49% since 2015 compared to 16% for companies with the lowest share for the industry group.
The portfolio includes names such as consumer products heavyweight Procter & Gamble (NYSE: PG), tobacco company Altria Group (NYSE: MO), PepsiCo (NASDAQ: PEP), and Google-parent Alphabet (NASDAQ: GOOGL, GOOG).
These "superstar" companies typically benefit from snagging a high percentage of sales in their respective industries, have strong pricing power, and fat margins. And according to Goldman's chief U.S. equity strategist, David Kostin, all of those factors make for a compelling investment thesis.
"The market positioning of superstar firms often allows for greater bargaining power over consumers and workers and higher profitability," Kostin wrote in a note to clients. "Superstar firms have been one driver of the explosion in U.S. corporate margins post-crisis."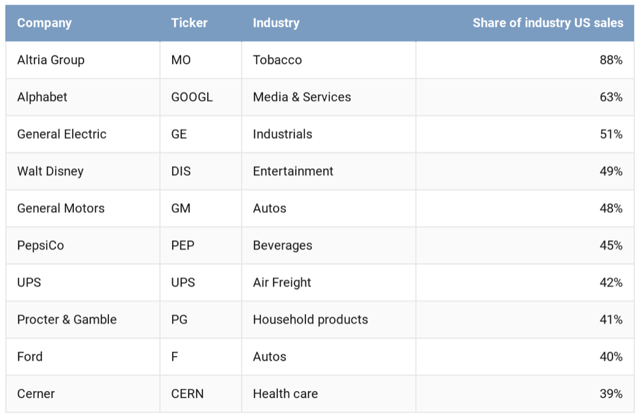 Kostin also noted that the dominance of these companies has led to substantial bottom lines at several well-known conglomerates that have been able to maintain sizable market share, though regulatory threats are simmering on the horizon for some of these "superstar" companies.
In the last few weeks, U.S. lawmakers have been discussing cracking down on big tech companies like Facebook (NASDAQ: FB), Amazon (NASDAQ: AMZN), and Alphabet. Both the FTC and Department of Justice have launched investigations into whether some of these tech titans could be prosecuted on antitrust concerns or privacy violations.
As a result, these stocks have been under pressure, with Alphabet down -4% over the past month and Facebook down -3.15%. Kostin noted that while regulators are months, if not years, away from coming to any kind of conclusion on this front, investors should still keep an eye out for any developments.
"From a strategic perspective, we believe that uncertainty is still too high to recommend investors avoid stocks in the regulatory spotlight," Kostin wrote. "But while the impact of regulation on today's stocks will be case-dependent, similarities among historical outcomes suggest that investors should reduce exposure to any stock that becomes subject to an antitrust lawsuit. In the past, stock valuations and share prices declined between lawsuit filing and resolution."
Disclosure: I/we have no positions in any stocks mentioned, and no plans to initiate any positions within the next 72 hours.